VMO has taken its premium large-format digital proposition to new heights unveiling six impact banners positioned in premium shopping centres throughout Melbourne. In a competitive tender process, property partners Blackstone, Pacific and QIC awarded VMO the rights to install the impressive 5.5m x 3m digital screens in Pacific Werribee, Pacific Epping and Forest Hill Chase – key destination shopping centres, each with more than 200 retailers.
The latest instalment sees VMO's retail network reaching an additional 2 million shoppers weekly and has extended its large format footprint to 51 screens nationally with plans for further growth.
Paul Butler, Managing Director VMO commented: "Audience engagement is at the forefront of our strategy. A key focus for the year is to expand our large format 'impact' offering. The quality, placement and sheer size of these screens is guaranteed to elevate brands and capture audience attention. The screens are the highest quality available in the retail space – they're designed to deliver results."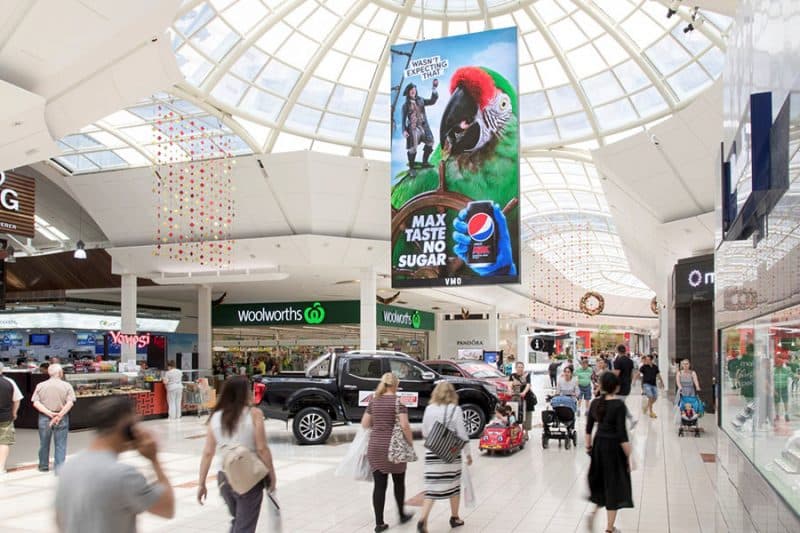 Testament to harnessing the power of retail to build brands, the atrium banners which are part of VMO's easy to buy 'Impact +' solution have attracted a broad range of categories and advertisers with the likes of Hyundai, Optus and Nintendo leveraging the strengths of VMO's newest format.
Butler, added, with most Australians visiting a shopping centre two or more times per week, VMO's large format retail network provides advertisers with an opportunity to cut through and showcase their brand to a large audience while they're in the mindset to achieve, escape and explore."
Having recently re-classified its product suite to offer three key buying solutions; 'Reach', 'Impact' and 'Impact+', the latest installation indicates VMO's focus on growing its large format retail network.