This article by Bel Harper, Group Director – Product Strategy, oOh!media, was first published in SCN's – September/October Mini Guns edition. Premium subscribers can view the full digital magazine here.


With every industry being at the mercy of continual disruption, there is certainly no time for the world's oldest media channel, Out of Home (OOH), to stand still. So, what does disruption look like? Think of the world's largest taxi company, Uber, not owning a vehicle, or one of the world's largest accommodation providers, Airbnb, not owning real estate. Facebook – the most popular media platform – creates no content and the largest media platform of filmed entertainment, Disney, now brings the box office to the home, globally.
It's mind boggling to think that a decade or so ago we wouldn't have thought of these brands like this or even heard of some of them; however, today they lead the ever-evolving disruption war.
Retail is not immune – Alibaba, which was born just prior to the turn of the century, doesn't own bricks-and-mortar, or its own inventory, yet the company employs 250,000+ people and wrote close to AU$150 billion last year. These giants understand the wants of their customers and, as a result, have forged new markets and built brands so powerful they have morphed into verbs – think, "I'm Ubering" or "I'm Netflixing this weekend"…
As an Out of Home industry, we've seen the disruption across the media sector rage on – free TV faces stiff competition for eyeballs from subscription platform giants like Netflix, Binge, AppleTV+, Kayo, Prime, Presto and Stan. Traditional newspapers and magazines continue plummeting down the slippery revenue slope because, in the media world, revenue follows audiences. The need for scale – and the proof to demonstrate not just who you're reaching, but also how you can deliver results for advertisers – is the only pathway for growth.
At oOh!, we think about the needs of three different customer segments and each are intrinsically linked:
Commercial entities, whom need partners that understand the importance of customer experience, can drive customers into their retailers from the broadest number of categories, share granular insights into the volumes of specific audiences based on their transactions at a centre level and, ultimately, are a partner that will maximise revenue.
Advertisers and agencies are looking to reach the right customers efficiently and, ultimately, influence their view of the brand and encourage buyers into store or shelf.
Understand the end consumer – who they are and, most importantly, what do they buy? This is important, because when you target customers whom already transact within a category, the effectiveness of advertising returns more than doubles (Source: oOh! Analytic Partners 4.0 Study, 2021).
Understanding these customer segments' needs enables more visibility and conversion of advertising revenue by proving our ability to best reach and influence audiences beyond just FMCG clients. Advertisers across all categories – from fashion, to luxury goods, auto to telco – brands need their money to work hard and deliver tangible campaign results, guided by well-informed media planning principles.
For the end consumer, we need to serve relevant advertising at the right moment as they navigate the centre.
This trinity approach can only be achieved by having robust data at site level, the ability to place the campaign in front of as many members of the right audience and then have the means to measure the outcome – did the campaign attract more buyers, did it outperform its competitors, did it bring new customers and from where?
So, let's unpack both critical elements starting with data. We all have it, some great, some okay, some ugly. Some operators collect it from beacons, mobile phones or even from surveys. Generally speaking, if it isn't sourced from a credible third party, based on actual consumer behaviour (versus claimed behaviour), or easily explained, it's probably for show rather than effect.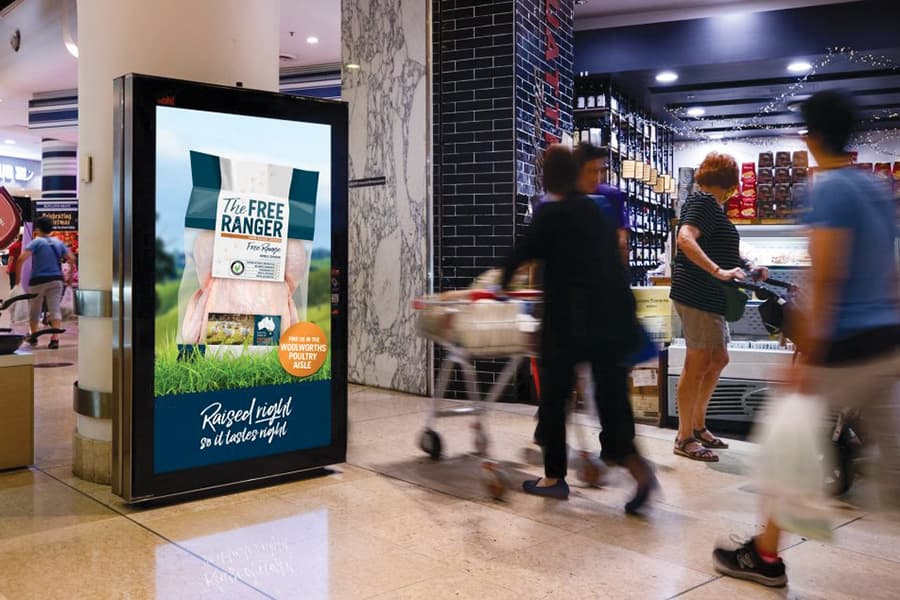 At oOh!, and along with other major Out of Home operators, we use the media industry measurement data from the Outdoor Media Association (OMA), called MOVE. This allows our clients to compare 'apples with apples' – the reach of a collection of sites against demographics such as Main Grocery Buyers by supplier. For Retail, we also use Location IQ data, so we can understand, via third-party verified data, the footfall of every centre and we make this available for all our clients to use at no charge. We've partnered with leading customer analytics firm Quantium to get the most accurate picture of our audience, based on the transactions of more than 80% of Australian households. This data allows us to plan campaign placement, limit duplication and reach specific category buyers more accurately than ever before.
We recently worked with Ingham's to help plan the company's campaign, targeting its placement exclusively with oOh!, to reach the top 50% of chicken buyers. The campaign delivered stunning results – the FreeRanger product outperformed the category by a factor of ten and 72% of the buyers of the product were new to the brand (Source: Quantium data, 2021). For CMO Seb Brandt at Ingham's, this was the "killer stat".
This new level of accountability is piquing the interest of our broad customer base and shifting budgets and buying behaviours from within Out of Home, as well as from traditional media channels such as TV. Within the highly disrupted media sector, we are seeing businesses thrive by mirroring the attributes of digitally enabled companies. These businesses are using data to find, engage, understand and grow with their customers, and ultimately it will be this strategy that positions them for ongoing growth within the OOH sector, as well as the wider media landscape.