Steve Forbes, CEO of Forbes states: "Your brand is the single most important investment you can make in your business." In this article, published in the latest issue of SCN – CBD Guns 2022 – The Gallery's John Karas discusses the critical role of brand in retail, beyond the logo.
Now that we've (mostly) emerged from COVID hibernation, it's telling to see which organisations were able to withstand disruption and bounce back fastest. Online sales aside, the numbers overwhelmingly point to the strongest and most trusted brands as being the most robust – and profitable.
While the ability to stand out is more important than ever before, 'standing out' in itself is not necessarily the end goal. Like it or not, many organisations and retail assets stand out for the wrong reasons.
Amazon's Jeff Bezos once said: "Your brand is what people say about you when you're not in the room."
For shopping centre marketing managers, structural issues such as tricky car parking, inconvenient access, or an uninspiring dining offering – are often beyond their control. As centres and retail precincts become increasingly homogenised in terms of retail offering and amenity, the challenge to create memorable differentiation among potential shoppers becomes more complex and profound.
Technological innovation (and disruption) has redefined the meaning of brand and revolutionised traditional business models. The world's largest taxi company owns no vehicles. The world's largest accommodation provider owns no real estate. Similarly, shopping centres, visited by thousands of shoppers every day, don't operate a single retail store. Like Uber and Airbnb, shopping centres are the facilitator between consumers and brands, providing the space to sell products, services or experiences. Successful shopping centres also become brands in their own right – as desirable destinations people trust and engage with, independent of their retail mix.
Branding, particularly in retail, has always been about creating a memorable impression. The strongest brands serve the purpose of helping people to know what to expect from their product or service as a way of differentiating from competitors and clarifying what makes it the better choice. The goal for these brands – including retail centres – is to become the preferred destination for shopping. And to do that successfully, centres need to define why they exist in the first place. Being a place for people to buy stuff isn't enough. Amazon already does that phenomenally well.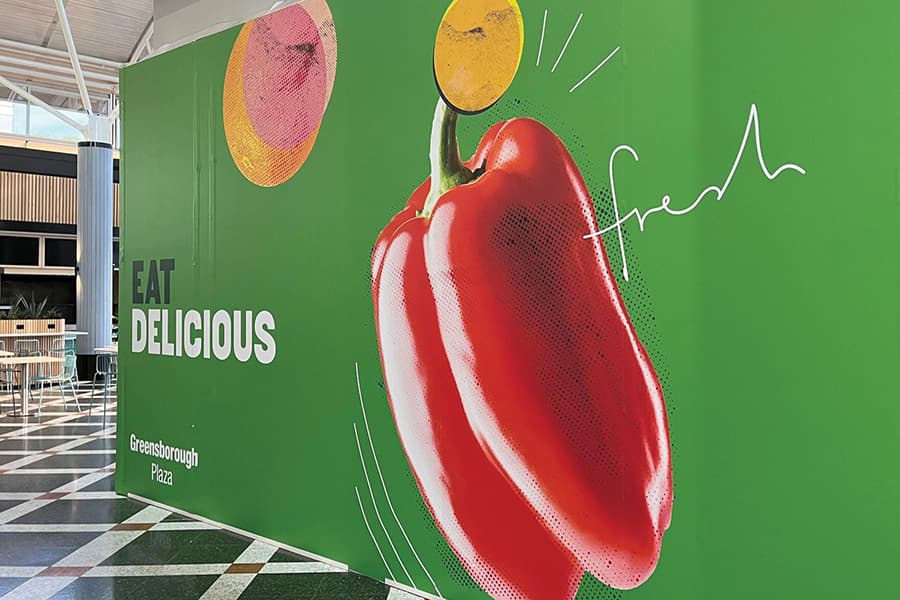 What is your purpose?
Centres need to discover what customer proposition they can own, and what perception they want the community to have of them.
Department store David Jones told people: "There's no other store like (them)" and followed through with premium fit-outs, exclusive brands and superior service. Of course, the reality doesn't always match the hype; however, having a singular, unrelenting determination to own 'experience' and aligning all brand touchpoints with that one focus, they grew to become the most respected department store brand in the country.
No brand or business can be all things to all people. The most successful ones aim to be most things to most people. However, long-term success often comes down to being very good at a very small number of things. It's about being honest with yourself and your visitors and finding the few things, or even one thing, that you can confidently 'own' in the marketplace, creating a brand story that supports that in everything you do. This, in turn, helps define your purpose, your 'why'.
Your 'why' might be the diversity of contemporary fashion brands, or the scale of your dining options, however it doesn't need to be sexy. If parking at your centre is a breeze compared to your competitors, own it. If you've just refurbished your amenities and customer feedback is enormously positive, own it. Congratulations, you're now the centre known for 'ease' and 'comfort'.
Whatever your 'why', it's critical your brand story is packaged and presented in a way that's inspiring, unique and supports your desired perception. Your brand is a story unfolding across all customer touchpoints. Every sign, every display, every activation, every event, every post is part of the story. And that's where design comes in.
Creative icon Paul Rand describes design as "the silent ambassador of your brand". Design is perhaps the most powerful tool in the marketing arsenal to amplify your brand story. Colour palette, tone of voice, typography, illustration, photography, and layout are all critical ingredients to creating a platform that is unmistakably you – maximising the return on marketing investment and helping your customers understand your story and what makes you unique.
Your brand isn't just your logo
The cost of updating a centre's logo (however dated it may be) throughout the physical asset of a shopping centre is becoming increasingly prohibitive and difficult to justify. However, investing in a style guide that is contemporary, creative, inspiring and unique can deliver significant long-term value.
Your brand aesthetic expresses your brand story and helps validate the decision customers make to visit and remain loyal. Every touchpoint – wayfinding, operational signage, campaign marketing, website and social media tiles – even the style and flavour of promotions and activations – all support your brand positioning and the perception your target market has of you.
In the absence of large-scale capital investment in your asset, a well-considered, strategic approach to how your centre looks and behaves can be the golden ticket to cementing your purpose in the minds and hearts of your customers.