We all know how our food courts as well as other food and beverage components in centres has, and is undergoing dramatic change as consumer habits change. The Big Gun centres have seen large scale redesigns over the last few years when it comes to F&B. But it's not just the Big Gun centres that need this specialist attention; Mini Gun and Little Gun centres must accommodate this shift in consumer demand. Francis Loughran ends his two-part article with a focus on the smaller centres.
Food and beverage is not only moving fast in our cities' Big Gun shopping centres, it's also progressing at a rapid rate in smaller neighbourhood shopping centres, commonly referred to as our Mini or Little Guns (determined by their size in GLA terms). With urban sprawl occurring alongside population growth, these smaller shopping centres contribute to neighbourhoods, suburbs and regional towns by providing a fundamental space for the community to come together and grow. Over the past five years, there has been a consistent trend in the increased demand for specialist professional food consulting with Little Gun's wanting to elevate and validate the food and service offers, shifting them to the next level.
The importance of food is now well instilled into the minds of the smaller shopping centre planning teams. The value that good food brings, not only in dollar terms but also in creating a 'destination', has been proven invaluable in extending the food and beverage trading day, attracting new customers, retaining customers, creating employment, engaging local businesses and increasing spend across all food price points.
Eating out is now part of everyday life and continues to grow due to a range of social, cultural and demographic changes taking place throughout our cities and suburbs. Food and eating options have never been more attractive and diverse, and the potential to grow MAT and asset value is only limited by the imagination of the people developing them, not by the shopping centre size or location – the Little Guns can and should continue to have it all.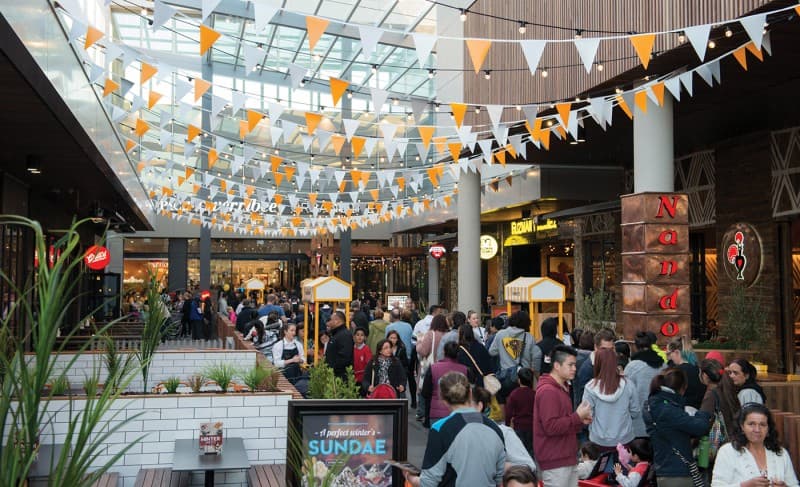 Pacific Werribee's recent opening saw the addition of many new and exciting best practice food and beverage venues, the inclusion of cafes, bars, smart casual restaurants and pop-ups – key concepts which contribute to successful placemaking.
One standout offer, located outside the entrance to Myer, is the Zumbo Pop-up which, in my opinion, looked pretty darn special and sets the benchmark for the direction the Little Guns are taking. This is a first for the suburbs of Melbourne and it affirms that more and more city-to-suburb food and beverage concepts are populating our suburban and smaller centres, and so they should as our population spreads to new and growing areas.
In the case of fresh food, local offer Sacca's Fine Food at Altona Gate has become a true food destination in the western suburbs of Melbourne due to its reputation for fresh food, a global food mix and exceptional customer service. Small is beautiful and increasing numbers of shopping centres are capitalising on the community, convenience and customer by installing offers such as Sacca's Fine Food that exceed the needs and expectations of the communities being serviced. The proof that these concepts work is in the customer reviews with Sacca's Fine Food gaining four out of five stars on the popular review website, True Local.
More and more shopping centres, both Big Guns and Mini Guns, now realise their food and hospitality offers are the true retail category by which they can differentiate themselves from their competitor centres, shopping strips and neighbourhood clusters. Why? Food and hospitality can be carefully curated and masterplanned around a unique selling point (USP), giving the centre an edge that cannot be replicated by competitors. A USP for a Mini Gun is the key to gaining a loyal customer base and to having your centre perceived as a dining destination.
It is no secret that the demand for retail food, food catering and hospitality continues to drive MAT and turnover rent. Because of this, increased numbers of developers and shopping centre management teams are engaging the services of retail food specialists and place making consultancies. These experts are employed to assist in masterplanning, implementation and control of the food and beverage offers that work towards the goals of maximising MAT, asset value and customer experiences. These goals can only be achieved if the key principles that make up a modern food and beverage mix are obvious and consistent. In simple terms, does your shopping centre offer a place for people to go to? Does it offer a reasonable mix of food and dining options, a pleasant and safe environment and welcoming customer service?
Today's retail food, food catering and hospitality within shopping centres, both large and small, are characterised by their ever-increasing dynamism in the form of diversity and elevated food concepts. This, in turn, has crafted competition and pressures are growing from not the only neighbourhood and suburban centres, but from high-street cafes, restaurants, truck parks, dining picnic parks, pop-ups and food markets. Customers are fickle when it comes to eating, always looking for the next new cafe or restaurant, particularly when an experience is poor. For today's discerning diners, it's not only poor service and bad quality food that can turn them away but finer inconveniences such as no split bills, "we don't take AMEX", or no reservation for groups over or even under 10 people. This means that the competition presented by a high street, Mini Gun shopping centre's pizzeria or dumpling restaurant has the power to win over customers if they keep the customer and convenience at the centre of the food strategy.
Whether it's Barkly Square in Melbourne or East Garden Village in Sydney, the usability and appeal of these food and beverage precincts comes from the quality of the offer, including the relevance of the concept, operator capability, food quality, passion on behalf of the operators and their team and most of all, excellent customer service. These factors must be planned and executed in a Mini Gun food and beverage masterplan, just as it would for the Big Guns because size does not matter – it's the experience of the customer that does. Customer-centric service boosts enthusiasm and maximises food sales opportunities. Today's customer is king, whether it is in the city or the suburbs, and this is why their perspective and opinions (TripAdvisor, social media and restaurant and cafe reviews) on food and hospitality are indispensable.
'Focus on the customer' is the most important first principle when developing the food mix for a shopping centre. Whether it's Broadmeadows, Blacktown or Barangaroo, it is all about building a food and beverage mix that provides positive eating and dining experiences and enhances the retail shopping, social or dining journey.
The declared goal must always be to ensure the entire journey, from entering the car park to being farewelled by the cafe or restaurant, is enjoyable. This is crucial in a shopping centre's ability to attract that same customer and new ones, time and time again. It is all about modern hospitality, not hostility.
The Mini Guns and Little Gun centres are not benefiting as much as they could be from the push towards local. The smaller shopping centres such as Claremont Quarter in Perth, Burnside Village in Adelaide or Malvern Central in Melbourne all hold a very strong place in the hearts and minds of the communities in which they trade. The centres are respected, considered safe and welcoming and overall they satisfy many of the social and need-states of their immediate communities. However, clever repositioning can create a new drawcard, a mini anchor, and a reason to visit for potential and curious customers. New customers mean a growing community that uses the space leading to a growth in asset value for your centre. Rather than just satisfy, Mini Guns need to aim to be aspirational and exceed customer expectations.
The smaller shopping centre of the future will continue to rethink how it can use food to attract and retain its customer base. The days of the fast food majors, coffee franchises and mom-and-pop cafes are declining fast. The future food mix of a neighbourhood centre is one of diverse yet balanced family focused smart-casual dining options, espresso bars and cafes and a externalised dining strip that offers alfresco, full table service dining and alcohol licensing. Overarching these concepts need to be impeccable service and hospitality that is memorable for the customer. This is the blueprint for developments such as the new Pines Shopping Centre in Elanora, which is not only elevating the food offer to their existing customers but attracting new customers from its competitors by delivering a customer-centric food and hospitality masterplan for today, that will see it beyond a 2020 vision.
Summary:
Food is the future in both small and large shopping centres and now is the time to review how small centres and retail precincts can plan a 2020 strategy in order to maximise sales, develop destination status for their food, connect locally with customers and community groups and most of all, earn creditability for their food and hospitality offers. Chefs, foodies, hospitality companies, retail food groups and local entrepreneurs are all looking for new and exciting business opportunities. Food is, and will continue to be big business in shopping centres – who's masterplanning your centre's 2020 food and beverage mix using a customer-centric, forward-thinking focus?