The three graphs in this article paint the picture. Figure 1 shows the international tourist arrivals over the past decade; Figure 2 shows Sydney CBD rental levels and Figure 3 the office occupancy. It's bleak right now but the forecasts are optimistic. This article by Andrew Quillfeldt, Senior Director, Research Australia, JLL forms part of a special feature published in SCN's CBD Guns edition.
There's no doubt that CBD retail was the most tested retail sub-sector since the onset of the pandemic. We believe CBD retail will rebound as the impact of the pandemic fades and people acclimatise to living in a post-pandemic environment. Nevertheless, the recovery is likely to be prolonged and uneven during the next few years.
Cyclical drivers are partly policy-related and partly consumer preference-related. The delayed re-opening of international borders in Australia (by global standards), and slow return of international travellers, is likely to detract from CBD retail for the next two to three years. Daily visitors to the CBD will ebb and flow with peaks and troughs in COVID-19 infection rates, and are likely to weigh on retailer performance in the medium term.
Early indications from border re-opening data showed a sharp increase in the numbers of international tourist arrivals in NSW, albeit from a low base. However, the total number of arrivals into NSW (temporary and permanent) remains approximately less than 10% of pre-COVID levels.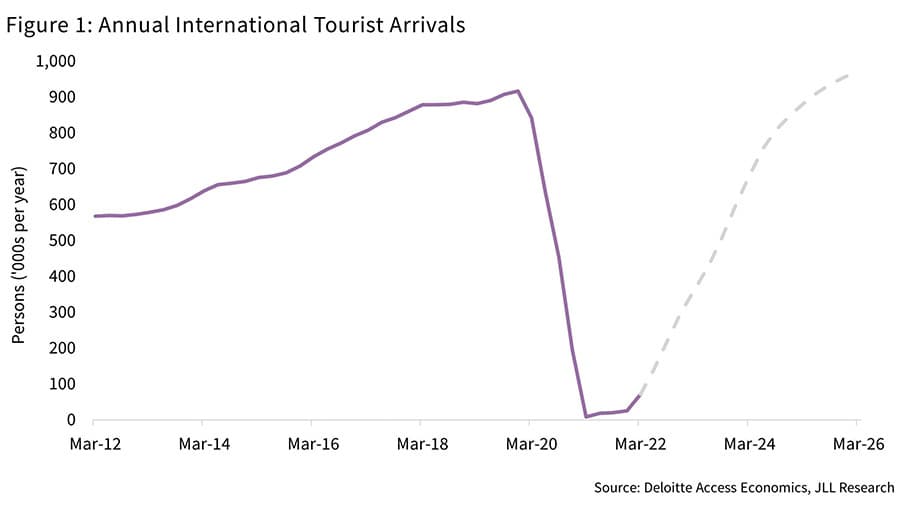 How quickly inbound arrivals accelerate will be important for reactivating the CBD, with Deloitte Access Economics anticipating a strong increase in international tourist arrivals to grow to pre-COVID levels by 2025.
Nick Willis, Senior Director of the Retail Investments Australia team at JLL noted: "Following the closure of international borders, the 2020 calendar year saw the second-highest domestic investment into CBD Retail on record, with 88% of total transactions by deal volume acquired by local investors. However, in 2021 the balance of investment shifted back to normalised levels following Link REIT's partial acquisition of QVB, The Galeries, and The Strand Arcade. As international tourist arrivals continue to increase, we see a balanced investment horizon, as our current enquiries reflect equal demand for CBD retail assets from both local and offshore investors."
Sydney CBD retail gross rents have already declined by 33.4% over the two years to 1Q22, with current rents now in line with 2003 levels. There continues to be a significant disconnect between landlords and occupier expectations for rent levels in the CBD. Retailers are factoring in uncertainty, volatility and subdued trading patterns when pricing space in the CBD and considering committing to new leases. Nevertheless, some promising opportunistic expansion activity has been seen with retailers taking a long-term view and advantage of the opportunity to secure sites in prime locations at attractive rates in preparation for a rebound.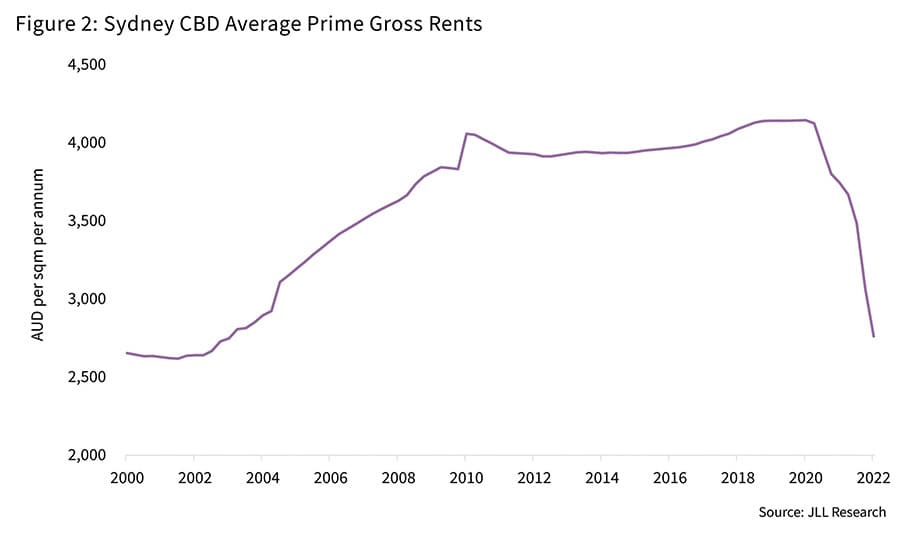 Notably, opportunistic expansion by premium and luxury retail brands into new developments was seen towards the end of 2021 and into 2022. Valentino, Dolce & Gabbana, Missoni and Brunello Cucinelli all signed long-term leases to set up flagship stores in the recently completed refurbishment and extension to 25 Martin Place (formerly MLC). Cartier also signed a lease to set up its flagship store in the recently developed 388 George Street by the end of 2022. Additionally, luxury Swiss watch brand Roger Dubuis launched its first standalone store at the end of December 2021, while Dior moved into its newly refurbished flagship store in February 2022.
The influx of demand from several luxury brands suggests the CBD is becoming more of a key retail precinct, and we expect the area to be highly sought after from brands alike in the medium term.
P.E Nation will be moving into its global flagship store in The Galeries at the end of May. The positive leasing news continues with Woolworths Group announcing they will be opening a Big W alongside its refurbished Woolworths supermarket at Sydney Town Hall in 2022. This quarter, Fortius also announced it will open Fortress Sydney, an esports entertainment and video game venue, in Central Park Mall following the opening of the Melbourne store in 2020. The lease was signed for 15 years and the new gaming venue is expected to be the biggest gaming venue in the southern hemisphere.
Sam Hatcher, Joint Head of Retail Investments Australia at JLL stated: "Despite ongoing macro-economic factors, strong capital demand remains from both investors and luxury owner-occupiers for key sites that are rarely offered to market. The calendar year 2020 and 2021 were the third and fourth largest deal volume years on record for CBD retail investment, recording $1.2 billion and $1.1 billion in transactions, respectively. The raft of ultra-premium retail leasing deals being completed in the CBD markets are further expected to unlock opportunities as vendors capitalise on the current demand in this space and be rewarded for locking in a premium tenant."
Going forward, the structural element of the working from home theme is the main factor for determining how much of a correction retail rents are likely to undergo.
It is highly likely that some proportion of CBD office workers will work from home more frequently than they did before the pandemic. Freshly pressed suits and the sound of heels is an increasingly familiar sight in the CBD, with the latest office occupancy results published by the Property Council of Australia revealing 42% of CBD office workers had returned to Sydney offices in the month of April 2022, increasing from 41% recorded in March 2022 and just 7% recorded at the start of 2022.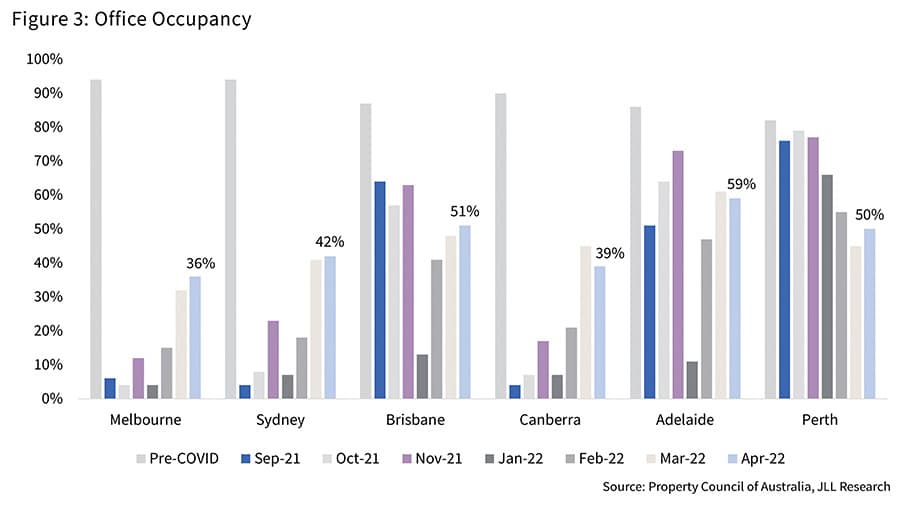 However, trends evident in the office market suggest that despite occupancy still less than half of what it was pre-COVID, employers are not reducing their overall space requirements but are instead opting to reconfigure and upgrade their space for the new hybrid working model. Only a small proportion of corporate occupiers appear to be downsizing. There are a variety of reasons, some of which include headcount growth, the training and collaboration benefits of a team environment, and the preference from staff for social interaction.
In the scenario that CBD office workers work from home one additional day per week or one day per fortnight, that would imply a 10-20% reduction in foot traffic and, subsequently, CBD retail spending and rents. That scenario does not factor in spending, which may be deferred/transferred to other days when people visit the CBD. Given rents have already been corrected by 33%, much of the structural adjustment has already occurred.
While high office occupancy will be one of the drivers of retail spending levels in the CBD, reactivating the CBD as a weekend destination will be just as crucial for retailers in the CBD.
A recent publication by Investment NSW and EY, Flicking The Switch, outlines 29 recommendations to be made to reactivate the CBD. We expect many of these recommendations, if implemented, to fuel visitation to the city and will be the boost retailers need following the turbulent past two years.
Over the long term, the multi-decade theme of urbanisation – people moving to capital cities for employment opportunities (or benefits of agglomeration) – will also support CBD retail. There are already signs that CBD residential markets are starting to recover, with apartment vacancy rates trending down from their COVID-19 peak level.
Consumer sentiment heading into 2022 remained resilient, with all states posting consecutive months of positive spending growth on a year-on-year basis. However, we anticipate consumer sentiment to be subdued in the near term as concerns over rising interest rates and inflation continue to dominate headlines. Nevertheless, the build-up in household savings accumulated during the COVID-19 pandemic, coupled with a rebound in wage growth, is likely to support retail spending.
While the recovery will be slow and uneven over the next three to five years, the longer-term outlook for CBD retail is positive.