As the nation's lockdown restrictions ease, we are seeing a return to growth in footfall within shopping centres after an initial softening of figures due to increased restrictions. A recent Shopper Media study has revealed that Australian shoppers are now experiencing longer wait times due to social distancing measures in place to keep communities safe. 
The latest Shopper Study reveals that 50% of Australian shoppers have experienced queuing before entering the supermarket. These figures support the fact that shopping centres remain essential for Australian consumers' and as a result they are willing to wait to get what they need. 
Across the states, more than one in two Australian shoppers confirmed they have waited for less than 10 minutes, but 27% of shoppers in South Australia and Tasmania reported to have waited longer than 20 minutes, closely followed by Queensland at 26%. The longer waiting times are being recorded on Fridays, Mondays, and Tuesdays. Changes are however expected in coming weeks as social distancing guidelines are amended and shoppers begin the process of returning to work and school. 
Shopping centres across our Australia-wide network are following the Retail Recovery Protocols for COVID-19 to ensure shoppers continue to have confidence in their centres as restrictions ease.
This includes offering alcohol-based hand-sanitiser at key locations throughout centres, as well as increasing the frequency of cleaning hard surfaces and facilitating social distancing with clearly marked queues. In addition, shopping centre managers are working closely with retailers to ensure they are also following best practice in hygiene to provide a safe, healthy, and  inviting environment for everyone.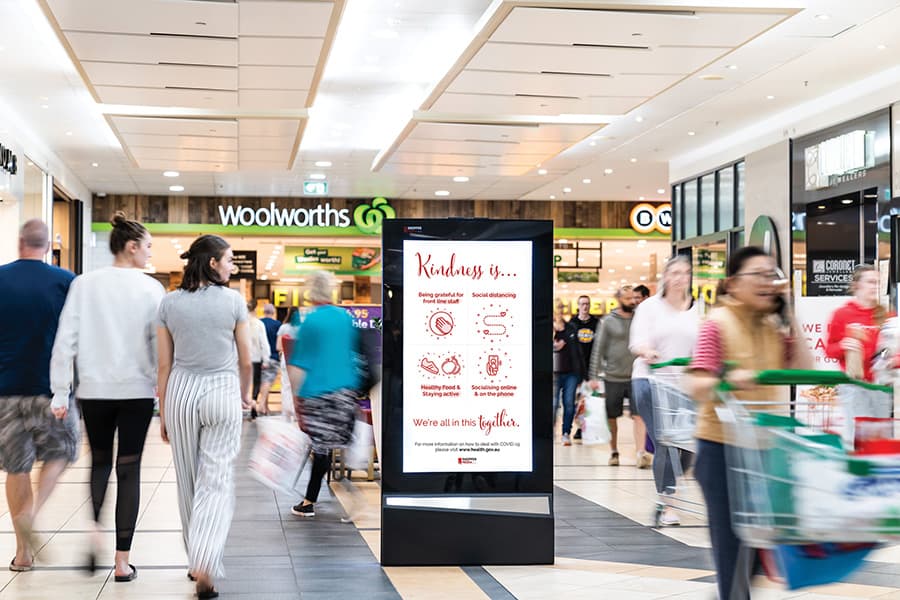 Shopper Media utilises market-leading technology that is 100% digital. Its network of Smartlite® panels installed in more than 370 shopping centres includes Wi-Fi and virtual Bluetooth beacons, giving Shopper Media the advantage of knowing exactly what is happening  in any of its centres in real-time. We have the unique capability to capture first-party, real-time data, enabling us to understand foot traffic in our centres.
We know exactly how many shoppers  are in our centres, how often they come, the time of day and day of week, allowing us to see visitation patterns, peak trading, dwell times and more.  
Couple this with our ability to survey shoppers in real-time, we demonstrate unrivalled expertise in essential retail. The recent Shopper Study was an online survey of 7,698 Australian consumers nationally, with field work conducted between Friday, 1 May and Thursday, 7 May 2020. 
According to the latest Roy Morgan Research Shopper Media's Smartlite® network has the potential to reach 12.3 million Australians aged 14 +, a staggering 59% of the population. This means Shopper Media can potentially reach at least one in two Australians across every generation, so our real-time insights are not only rich, they are a genuine reflection of Australian shoppers' behaviours and attitudes.    
By working closely with our shopping partners and regularly sharing our real-time data, we can identify trends and actionable insights that can assist shopping centres as they manage the ongoing shifts as restrictions ease and more retailers re-open.