It seems Brisbane CBD has weathered the COVID storm better than most other capitals although what's clear is that 'secondary locations' have taken a hit. This report by CBRE's Kate Bailey forms part of a special feature published in SCN's CBD Guns edition.
Brisbane's relative affordability and lifestyle advantages are driving a new cycle of interstate migration, economic growth and investment. Net interstate migration to Queensland totalled more than 40,000 during the year to September 2021, its highest 12-month total in more than a quarter of a century. Quarterly migration figures have been trending up for most of the period since 2015. This is driving investment and demand into the retail property sector, with many occupiers looking to the Brisbane market for expansion and growth.
Although lockdowns and COVID restrictions in Brisbane were not as severe as in Sydney and Melbourne, vacancy and foot traffic in the CBD have been impacted. Retail vacancy in Brisbane's CBD increased in H2 2021, rising 160bps in the six months to December 2021. A broader shift to flexible working has seen many workers reduce their number of days in the office. Moreover, much like other major cities in Australia, COVID drove many to seek a lifestyle change by moving to regional areas, which has further encouraged flexible working.
Brisbane's CBD shopping centres have been more resilient than CBD strip shops. CBD shopping centres recorded a vacancy level of 12.6% in H2 21 (up 20bp compared to H1 21), while strip shops had a higher vacancy count of 17.2% (up 310bp compared to H1 21).
This sharp increase is partially due to a spike in secondary vacancy in secondary locations in the CBD and those dependent on tourism (e.g. Flight Centre, Asian F&B etc).
Foot traffic has remained relatively stable since April 2020, however, is about a third of pre-pandemic volumes (see Figure 1). As international students and tourists return to the city, there should be a recovery in volumes which should, in turn, support a recovery in vacancy and rents.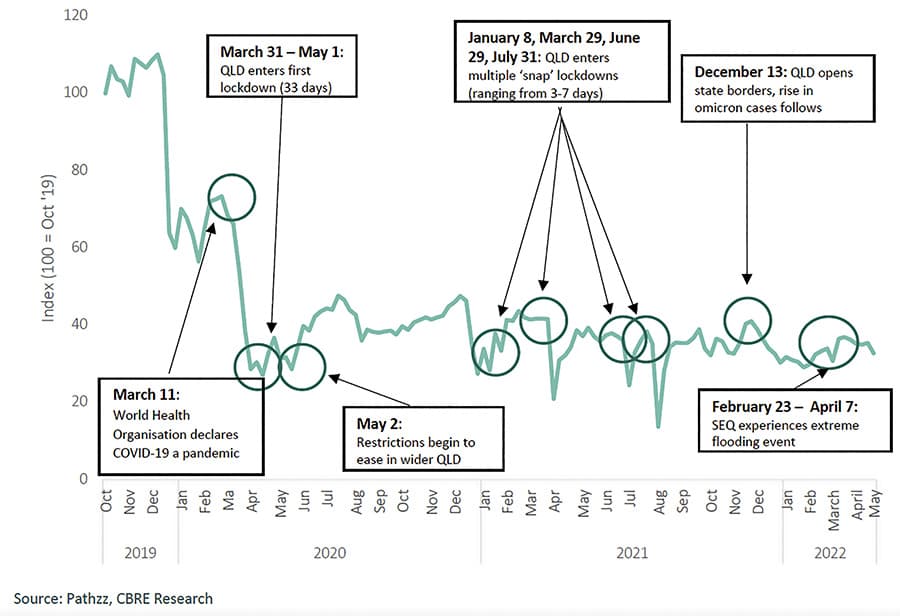 Flight to quality reflected in rents
After an initial correction in mid-2020, super-prime rents in Brisbane's CBD have been stable since Q3 2020 (see Figure 2). Super prime net face rents in Brisbane have declined 11.1% since March 2020, which is lower than what was seen in Sydney (-28.0%) and Melbourne (-24.5%). This is a reflection on the continuity of trade and underlying demand in Brisbane's CBD.
Limited new retail supply is forecast for Brisbane's CBD in the coming years, which should help support rental recovery. The major upcoming development is the construction of the Queens Wharf Precinct, which will include about 50 food and beverage outlets. The redevelopment is expected to open in 2024.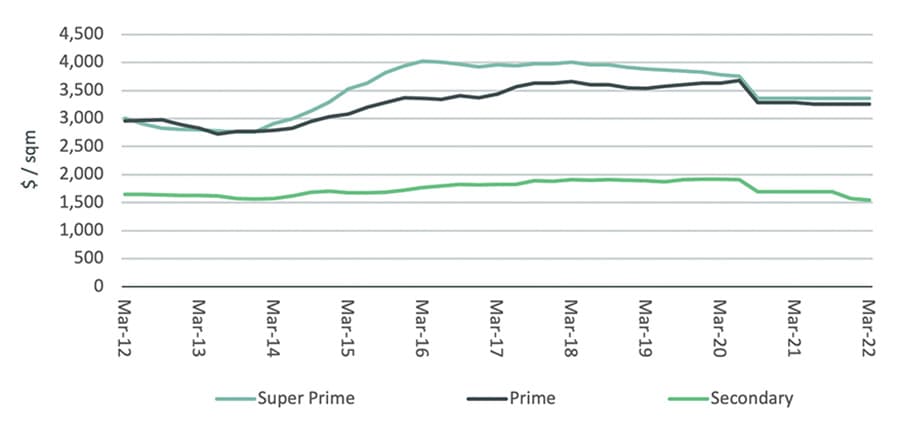 CBRE Research's Retail Occupier Survey asked retailers about their outlook for 2022. Almost 70% of Australian respondents said they would increase the number of stores in their network in 2022, with just 19% saying they would reduce their store count, while 60% of respondents said they would not change the size of their store footprint and 35% said they would look to increase the size of their stores.
Unsurprisingly, no respondents said they would look for a lower quality of store location, while 61.9% stated they would upgrade their location.
This is reflected by the decline in Brisbane CBD's secondary rents, which have seen the greatest amount of reversion in the CBD, falling 19.6% since the onset of the pandemic, with retailers taking advantage of lower rents to reposition their network toward well located, high-quality assets.
Luxury occupiers look to Brisbane for flagship stores
Recent evidence suggests that enquiry levels for flagship locations in Australian CBDs from luxury retail occupiers have picked up significantly in the past 12 months. Luxury retailers are positioned within the heart of Brisbane's CBD along Edward Street, however, there has been a recent shift in demand to be at, or in close proximity, to the Queen Street Mall/ Edward Street intersection.
The luxury market is maturing with demand from brands who previously had little interest in having a Brisbane store.
Christian Louboutin recently opened its first Brisbane flagship, Longines has committed to a tenancy on Edward Street, and Balenciaga has committed to a store at QueensPlaza. Furthermore, there are a number of active requirements in the market including Ralph Lauren and Breitling, among others.
Investor's back a CBD recovery
Brisbane CBD yields have continued to compress off the back of solid investor demand. Super prime yields were stable in Q2 2022 at 4.75%, however, prime and secondary yields compressed 12.5bp and 38bp year-on-year, respectively, reflecting confidence in a broad-based CBD market recovery.
Since the pandemic, Queensland has seen the bulk of Australia's retail investment as investors seek to capitalise on strong economic growth and investment in infrastructure. Of all Australian retail transactions across 2021, 37% were in Queensland, and there has been further momentum in Q1 2022, with 62% of all retail transactions occurring in the Sunshine State. This trend is expected to continue during the next 12 months.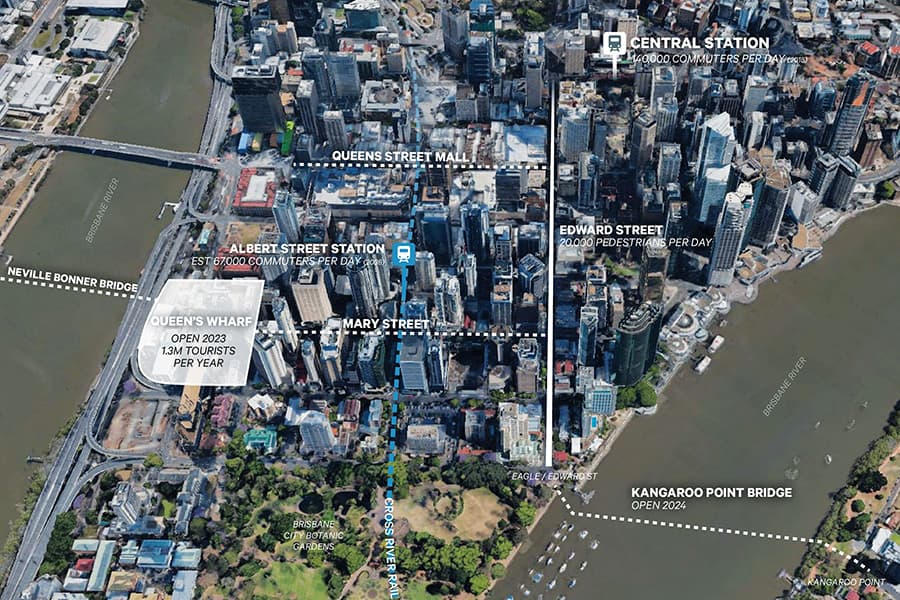 Investment in infrastructure will drive further investment
The announcement of the 2032 Olympics will continue to drive new infrastructure projects and investment in Brisbane. A number of projects are underway in and around the CBD that will support growth and improve permeability and access to Brisbane's CBD (see figure 3 above).
• Queen's Wharf and the Neville Bonner Bridge are set to complete by mid-2023. The Star Consortium estimates that the precinct will bring in 1.39 million tourists annually, generating $1.69 billion in extra tourism spend per year.
• Cross River Rail is set to complete in 2024. State government estimates 67,000 daily users by 2036.
• Central Station sees 140,000 users per day, according to Queensland Rail.
• Green Bridge at Kangaroo Point is set for completion in 2024.
• Brisbane Live (located at Roma Street Station) is set to complete in 2026 (also in conjunction with the Cross River Rail project). It could attract up to $2.5 billion in real Gross Regional Product over 2026-2048, according to the state government.
• Brisbane Metro – connecting 18 stations between Eight Mile Plains and Roma Street (24-hour service) is due to be completed in mid-2024.