As the retail sector continues to evolve, so does the thinking around how best to reach existing and potential customers, and how to use the retail environment itself in novel and creative ways. Playing a key role in these new approaches is leading Out of Home media owner oOh!media, whose retail offering is focused on enhancing the audience experience within centres while boosting commercial opportunities for owners, tenants and brands. In this Q&A piece with Noel Cook, we touch on the focus for retail in 2020 and the role of content in the retail environment.
As a major player in Out of Home, and with an extensive suite of products across Australia, how does the scale of oOh!'s entire network benefit the retail space?
We've spent the past 15 years investing heavily in the retail sector, plus our wider network too, of course. It now has substantial scale, spanning multiple environments and more than 35,000 touchpoints across Australia. This breadth has real value to the retail sector, because it enables us to reach audiences where they live, work, shop and play, influencing them throughout their journeys as well as at the point of purchase within retail precincts. Through the strategic use of our assets and support from our partners, brands can tell a story, reaching audiences with contextually relevant messaging to prime them throughout those journeys, then reinforce this at the key moment of decision-making and purchase. Think of it as an audience-led approach, rather than a location one. 
For us, the ability to invest in retail environments with rental and capital is driven by our ability to deliver this scale of reach to our advertisers. While there are some advertisers who want a retail-only media buy, we are finding that many advertisers increasingly want to explore multi-format media campaigns to engage their audience at those multiple touchpoints I just mentioned. The volume of revenue that we receive from these media buys is then delivered back into our concession partner network.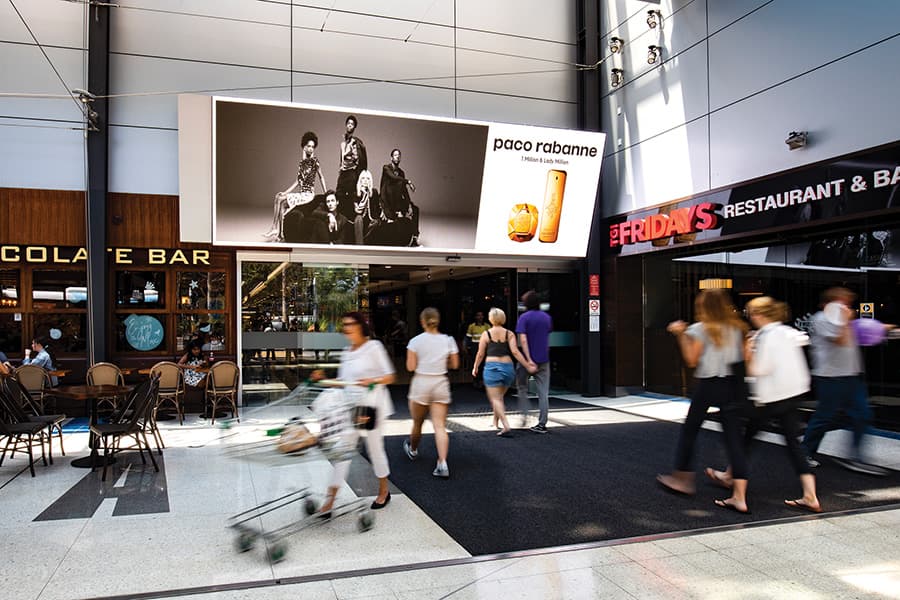 What changes will we see in the retail space in 2020?
There's no doubt that the retail space is shifting, much like the wider Out of Home industry. For example, we're seeing increased digitisation of signage, with the latest statistics suggesting that in December last year, 55.8% of revenue was written by digital Out of Home.
There's also a very significant move to greater understanding of target audiences through the strategic application of data analysis. We've spent the past four years pouring large amounts of dollars into our DataScience offering in order to really understand who and where our audiences are and, more importantly, to recognise the value of these audiences to our advertisers. 
These audience insights give us the capability to respond to non-retail briefs from advertisers, informing them of where their true buyergraphic audience is and how they move around their cities. This information is then used to drive a multi-format Out of Home approach that delivers the strongest ROI for advertisers and encourages investment into the retail advertising space.
What will content capabilities in the retail space deliver for retailers and commercial partners?
Our vision is to make public spaces better, and a key to delivering this in the retail sector is through deeper customer engagement and relevant information served to shoppers. Through content integration in the retail space, we can create a powerful value exchange for our unique shopper audience – one that drive trust and a deeper connection with our media assets to benefit both our shopper audience, our concession partner and their tenants. This empowers our partners and retailers to interact and engage with shoppers through interactive panels, for example.
Say you're a centre owner, and within your centre you host school holiday activities. Tailored advertising integrated with non-advertising content could enable you to display weekly updates of what's happening within the centre, an integrated map of where to go and at what time to catch the next event, plus plenty of other associated information.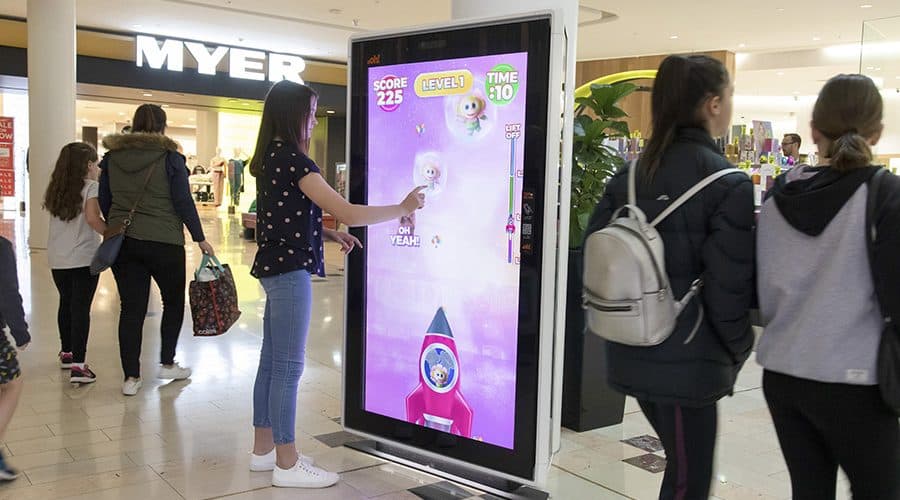 An example of how content can be used on a wider scale is our partnership with the National Gallery of Australia. For six weeks starting in late February, 76 artworks from leading female artists will run across 1,500 locations on our network. Shoppers, workers and commuters will have an experience like no other as we create the nation's largest Out of Home art event; and the scale and reach of our network will drive awareness of the female artists and the conversation around gender equality;  There's no reason why centre owners couldn't share similar content with their own audiences, informing and surprising them in engaging ways.
How does the use of data help inform the selection and development of oOh!'s retail offering?
The data and insights we have access to is incredibly valuable to our advertisers and to the retail sector. We have the capability to understand our audiences by number of buyers of specific products etc, at location, ensuring we have the right coverage across the right locations. 
There is really strong and growing demand from advertisers for greater audience insights, beyond mere demographics. Advertisers want to know in detail who their buyer audiences are and how to reach them, which we provide through our team's detailed understanding of those audiences, and our extensive use of location-based data. 
Simply put, we give these advertisers robust data that we source and combine from exclusive arrangements with trusted third parties. These datasets are unique, add value, and generate higher levels of ROI because of their accuracy.
Understanding audience behaviours in this way helps us inform the coverage we require within a retail centre, what locations we should look to increase, and how we could use digital assets based on demand to deliver more tailored content to the audience.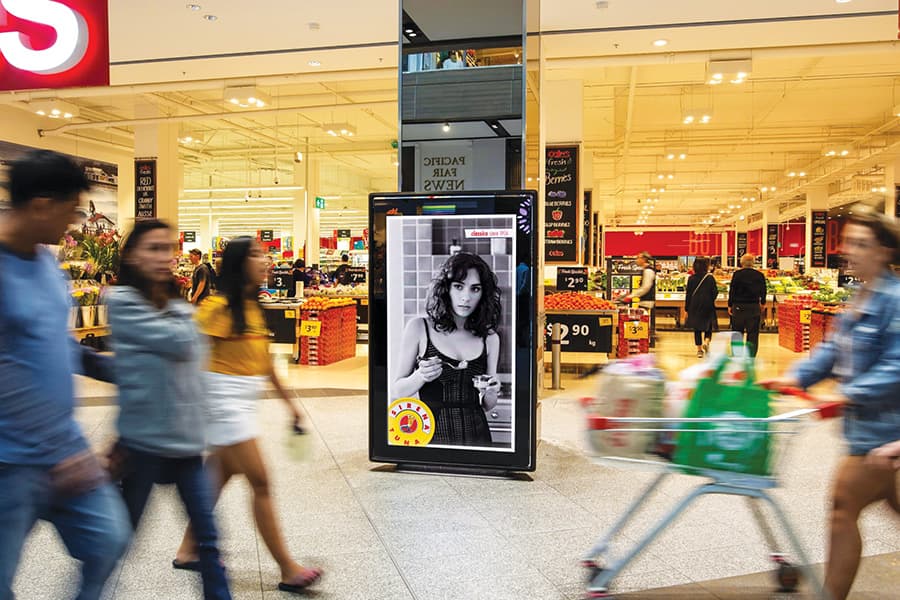 How does that tie into the evolution of oOh!'s audience-led proposition?
Our data investment provides us with much deeper insights into audience movements as they travel through cities to their destinations. This then enables audience-led propositions, which ensure that campaigns actually reach the specific audience an advertiser is targeting across multiple formats. 
oOh! will continue to lead and innovate in the retail space. There is always going to be a need for retail only media with category specific buyers investing heavily into retail oly. The demand, however, is growing for broader multi-format campaign delivery beyond the point of purchase to reach consumers before they hit the retail space. We're the only media owner in Australia that can deliver this audience reach, at the scale of more than 35,000 assets, priming and reaching audiences throughout their everyday lives, and driving action within the retail environment.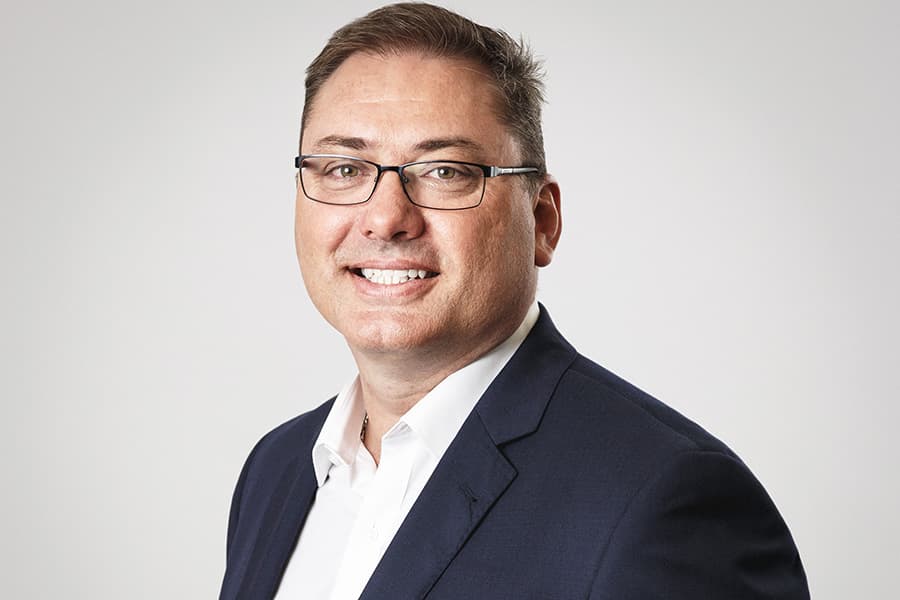 What can landlords and developers do to creat environments for new technology?
I think that the work that  Vicinity Centres have done with esports in Melbourne Emporium is a great demonstration of new technology incorporated into the retail centre environment. Kate Rooney, who recently featured in an SCN people profile, commented on the work that's being done, "diversity of thinking is particularly important as shopping centres explore ways to break the mould" she said. And Vicinity Centres are breaking the mould.
So where does Out of Home media come into the picture? If Melbourne has become the epicentre of esports culture, there's true capability to reach Melburnians throughout their everyday journey via our network, driving them to The Emporium and continuing the messaging through gaming leaderboards, for example, displayed at key locations within the centre. Ultimately, we want to work more closely with our partners to ensure they are making the most of our network to enrich the shopper experience throughout these key entertainment precincts.