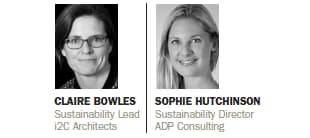 We talk constantly of 'place-making'. Our centres are community spaces and 'places' within them contribute significantly to the total experience. But as Claire Bowles and Sophie Hutchinson explains, a 'place' is far more than a space with something in it; it's an entity with many connections…
At last, the state of varied COVID restrictions across the country appear to be finally lifting, and people that have been confined to their homes and businesses that have been forced to close can start to emerge cautiously back into public life. This is a precarious moment with a high level of uncertainty and feelings of anxiousness about both work, our economy and wider community health.
COVID has taught us several key lessons, both positive and negative, about the fabric of our society. It has reminded us that we are deeply social beings who crave and benefit from interactions with other people and nature. We all need to reconnect, to get out of our houses, and public spaces will play a key role in inviting people to re-engage as citizens in a healthy and responsible manner.
It also highlighted our inherent human-nature connection – we simply are not meant to be indoors all day. Skyrocketing levels of the requirements for mental health services paint a grim picture of human suffering over this time.
The pandemic has also enabled a massive shift in technology, allowing jobs to be untaken purely online and giving people far more agency to work wherever they wish. The Big Movers: Population Mobility in Australia report details a huge shift of Millennials to regional areas, where they can take advantage of cheaper house prices, as they are no longer required to undertake the commute to the office. Within CBD areas, people are no longer limited to frequenting the cafés near the office – they are free to select where and how they spend their lunch break, and simultaneously regain their active participation and reconnection within their local living community.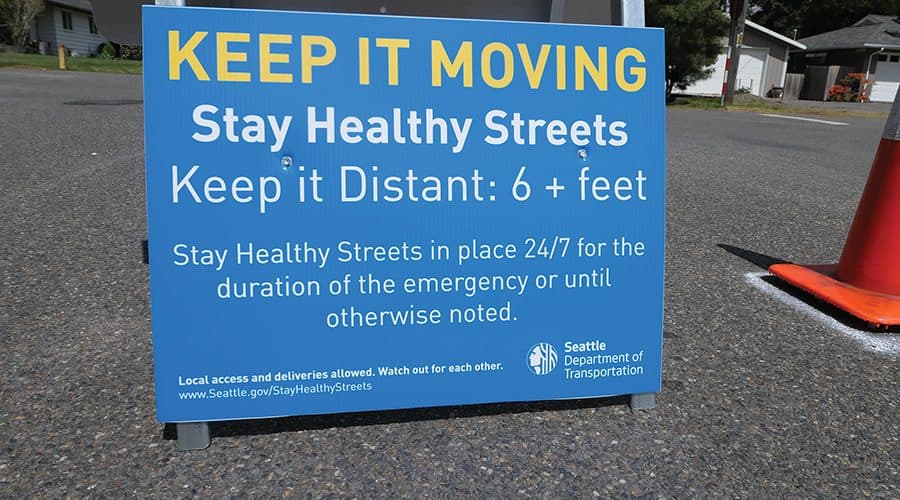 Revaluing outdoor public space
As we seek to reconnect both with each other, and with nature, outdoor public spaces will play a key role. We know from global virologists such as Julian Tang, from England's University of Leicester, that "the likelihood of a successful infection occurring from an exposure outside is less likely because the sunlight may damage the virus as it passes through the air between people".
Public space could be the key to opening up quickly and safely as social distancing is easier to manage in an open space and the risks of catching the virus are lessened. Let's spill the retail centres outdoors and encourage bike riding to the centre for outdoor fitness classes, yoga classes, karate groups, live music to a safe, distanced environment with limited numbers to re-engage our communities.
We will need to encourage people out of their cars and reallocate roads to much needed outdoor space to maintain physical distancing, but simultaneously leading to multiple benefits, such as Vitamin D boost from the sun and biophilic rewards from nature.
Pavements and roads, town squares and carparks are all community assets that are waiting to be reawakened.
Across the world, we are starting to see roads being closed off to traffic to increase the usable pedestrian space for community residents. In Seattle, we have seen the permanent closure to traffic of 20 miles of streets to enable residents to exercise and cycle. The Stay Healthy Street initiative has brought not only environmental benefits from reduced cars on the road but also in bringing communities together through outdoor exercise.
How do we best use this time to allow people within their communities to contribute to re-energising their high streets, shopping malls, parks and communities?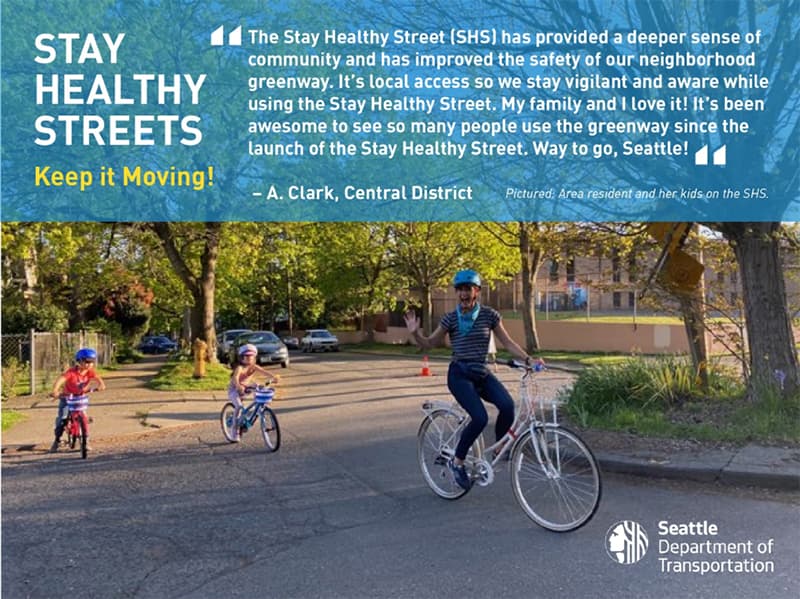 Rapid community engagement
Rapid community engagement is required to reshape our places in a meaningful way post pandemic. We know that place-making that benefits the community are most often shaped by the community and so the interventions must be local and specific to the place. There is not a one-size-fits-all for all places. The real value from place-making comes when we are not only reconnecting community with each other but also reconnecting them with a deeper layer of place that is the natural place that has been there and is hidden beneath the layers of concrete.
The process and journey for place-making is more important than the specific outcome. Focusing on the relationships that are formed through the process of engagement are the foundation for the vibrancy going forwards and the connection between people and their living environment. Rather than fixating on design outcomes, the focus needs to shift to focus on effective community engagement. Community health outcomes and benefits can be derived from a deeper reconnection of community with their natural places. Real authentic community engagement is an important step on the pathway to a just and equitable post COVID recovery.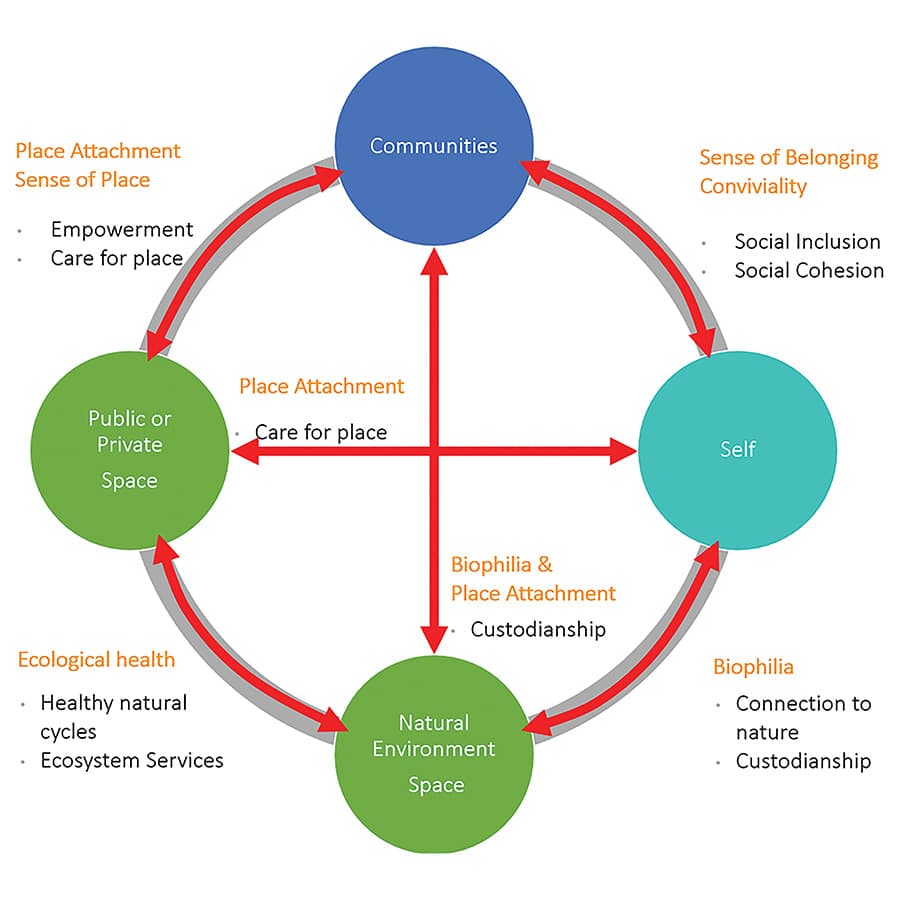 The 'how-to guide' to regenerative place-making
Regenerative place-making seeks to not only acknowledge the indigenous land of a community but also to reconnect communities with their natural environments. Educating communities and building relationships with local traditional owners and the land itself will create a sense of place, belonging and connection.
This concept moves far beyond the typical intent of fostering better social interactions within a community through space. This includes nature as a valuable partner for coevolution and ignites a spirit of care and compassion within community members for their place. Place attracts people and people create vibrancy and value for local enterprises.
Step 1: Whose land are you on?
Acknowledging the land that we are working on and who the key stakeholders are that can help guide the process is a crucial first step.
Regenerative place-making requires an awareness to seek to reconcile relationships in person, and also question the narratives and hierarchies that inform your beliefs about who and what make a space useful, utilised, beautiful and safe.
Step 2: Identify 'your community'
To really understand the 'place you are seeking to revitalise, a map is required to help navigate the multiple layers of Environmental, Social, Cultural, Spiritual, Economic and Political overlays that make the community so unique. This will help identify the right people to speak with to make sure the process is inclusive. Do not forget – Nature is a stakeholder. It is critical to understand what is alive in this unique place, which bio region does your street sit within, what are the predominant native flora and fauna? When considering community – this needs to expand to incorporate all life – human and non-human.
Step 3: Set goals – what does vibrant look and feel like?
It is rarely the case that all of the community will agree exactly on an outcome that will meet all users' need. Get the community to vision what the public space could look like when it's humming/vibrant. Check out StreetWisdom.org and their approach to walking and sensing the neighbourhood and acknowledging the living wisdom and answers that can be found there – literally bringing conscious awareness to the place in order to reconnect.
Step 4: Set the process to engage
Once you've clarified who is in your community, and which community members your project aims to serve, you'll need to create a process for engaging that key community to ensure you get it right. In a time of COVID, engagement may seem more difficult than usual. There are several guides that have been produced to help you resist jumping to 100% online engagement and to ensure you reach out to those who are vulnerable and marginalised within the local area.
Step 5: Connect business, community and nature
Gone are the days where business needs to take place at the expense of our natural environment and at the detriment to our health. This is not an 'either-or' decision, this is 'a both and'. 'Resilient' places are ones where community, business and nature are all connected and are all working together. It's best to identify who (including nature) will benefit from the place-making and how – identify the sweet spot where there is shared value for all parties.
Step 6: Identify an intervention – have fun with it!
Having identified where the nodal point is that brings benefit to retail businesses, local natural environment and local community – choose an intervention that is appropriate and delivers benefits to all of these three stakeholders. There is real strength in bringing people together to act purposefully towards a shared goal. Perhaps it's chalking part of the street or holding a kid's art class outdoors or having a wish tree on the main street for all to contribute to.
Step 7: Set measures of success and test interventions, one at a time
To measure what matters for your high street, define what success looks like, then determine ways to measure it, and set a timeline for reviewing the outcomes.
If you are a retailer on a high street who has been struggling through COVID or a shopping mall that has lost its vibrancy and life – COVID offers the potential to rethink place-making and consider the next steps forward. There is a real opportunity to provide real, meaningful, connected places, by enabling the community to participate in the reenergising of the streets and malls. This deepened process of engagement can rebuild relationships across communities and reconcile our relationship with each other, local businesses, indigenous land and nature, thereby delivering an even stronger long-lasting strong base for local economic and social health.