There's no doubt that retail and shopping centres will change post COVID-19. But how? Architects and designers are at the cutting edge. What's interesting is opinion on the sheer 'range of change'. There are forecast changes to shopping habits, visitations to traditional retail strips, sanitisation issues, tenancy mix changes, store design changes… the list goes on.
Forecasting the future of retail is problematic at the best of times and, in this particular time, even more challenging, so perhaps we should turn our minds to what we see already occurring and think about what might 'stick,' pandemic or not. 
For weeks now, people around  the world have replaced in-person interactions with virtual gatherings  and Zoom meetings. And yet, while social media has essentially been preparing the world for 'social distancing', what is now absolutely undisputed is the fact that virtual will never replace the physical act of people socialising. I would often look at my children and wonder if all our thinking around 'socialness' residing in the physical was terribly old-fashioned. Older generations have been most surprised that those born into a more digital era have seemed to struggle the most with the lack of the physical act of getting together.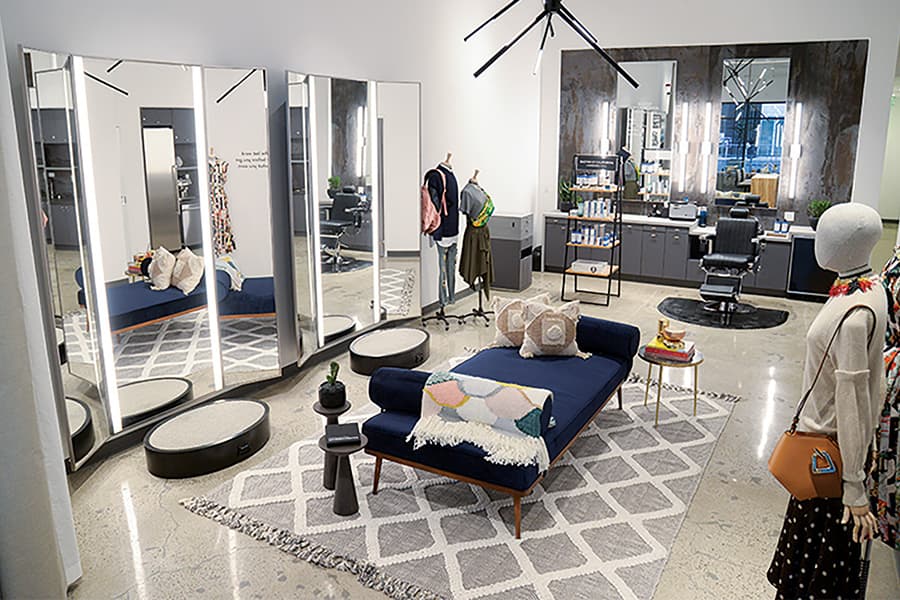 We are being starved of in-person connection, so going forward, people  will value more highly the opportunity to meet, connect and be social. We will want to go back and be with our communities perhaps now more than ever, and it could be that this rediscovery will help bricks-and-mortar bounce back. People are also appreciating their own suburbs and their local shops more and realising that places that provide little more than houses really fail to create  a neighbourhood and community.
The concept where 'real' neighbourhood shopping becomes the true community centre is of course not new, but it's being reinforced by the importance of locally sourced and homegrown produce during the pandemic and the fact that people are realising just how much they will miss their local small businesses if they don't survive.  
When this is over, there will be an expectation for authenticity. This continues to reinforce the idea that retail that gets the idea of providing a tantalising, researched, nuanced and evolving approach to brand – not through the lens of the 'customer' but of the 'citizen' – will capture the heart (before the head). Consumers will reward brands that "do the right thing" during this crisis. That means telling the truth, valuing people over profits and using resources for the greater good. In short, what happens to brands after this pandemic will be greatly affected by  what they did during it.  
The rise in kindness and empathy has been nothing short of inspirational during this crisis, and consumers will stick to brands that are nimble, who can pivot, who reflect local issues and causes and of course give them more than just stuff – we are one of you!  
Less is more
Undoubtedly, shoppers will return,  but they're living through a pandemic that will change them, maybe forever. The reemerging customer will be more comfortable with online transactions, fewer face interactions and really nervous about touching stuff. This, of course, may fade out, but some of these behaviours, habits and trends will stick. The physical store will be forced to change from trying to maximise foot traffic and  dwell time to allowing for a much  more seamless back and forth, with savvy shoppers expecting faster, more convenient and smarter transactions.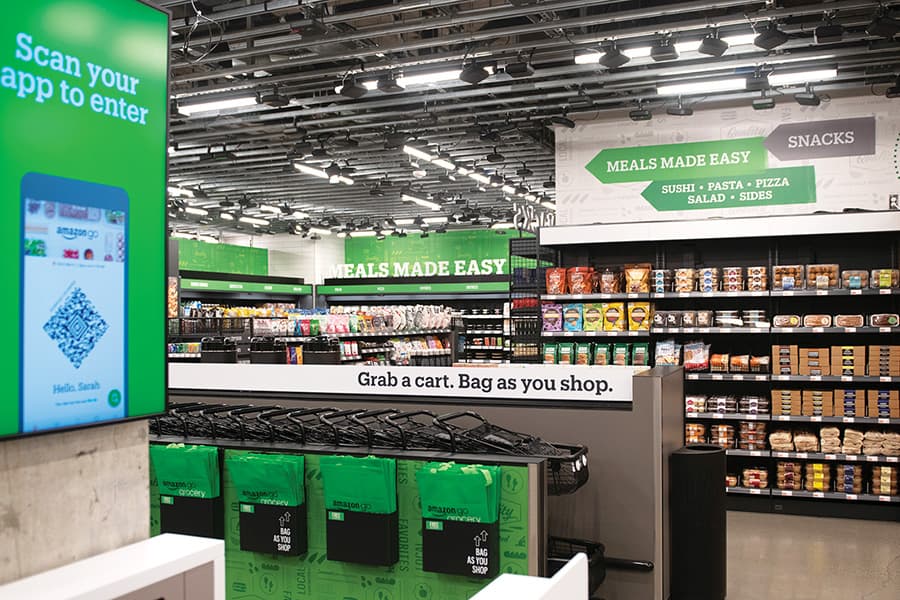 Touch-less, pay-less, contact-less, door-less! Retailers will be certainly implementing more 'less' solutions  by integrating touchless technologies such as sensors, artificial intelligence, facial recognition and voice activation  that can help reduce touch and eliminate physical interaction in-store.   
This evolution of the omni channel shopping experience was already underway even before the COVID-19 crisis emerged, but we can now expect  it to go mainstream. For example, Amazon recently opened Amazon Go Grocery that eliminates the checkout from the shopping experience – customers scan their own products, grab items off the shelf and walk out. However, we might soon take this model one step further by not just check-out free shopping, but also touch-free shopping. Technologies like RFID and Bluetooth, already implemented in stores in Japan and China, provide a seamless mobile handoff that transfers content to a shopper's mobile phone without ever coming into direct contact with anything in-store. Customers can build shopping lists, roam the store guided with an aisle sat-nav, scan and pay via the app and finally ship the goods directly to their homes, completely skipping the queue and touching  nothing on the way. 
The new (super clean) normal
COVID-19 will almost certainly have an impact on how we feel about crowds and tight spaces. We have also become aware of our mutual vulnerability and  the role we play individually in keeping everyone healthy. Right now, there's fear as the hyper-hygiene-aware customers move through a store and the question is if they will ever be able to feel safe again in crowded supermarkets and shared spaces in general?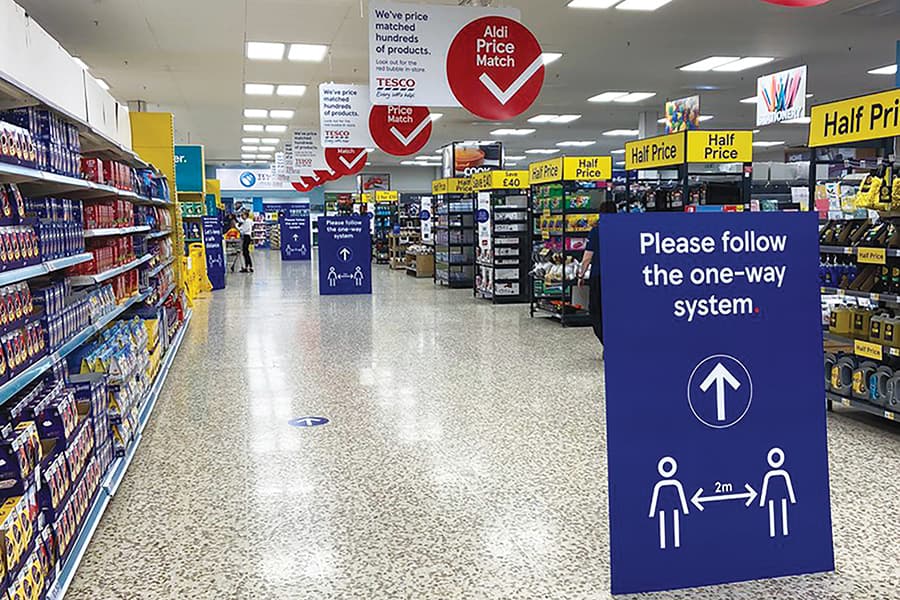 To inspire trust and confidence, retailers coming back will have to figure out how to bring a sense of structure and calm. Environments will have an ongoing expectation to be super clean and uncluttered, and we may have a different sense of our personal space. We could see a trend towards low-density shopping or what the Dutch call the '1.5 metre economy'. Many big brand supermarkets are already using floor markings to demarcate distance, with merchandising infrastructure shifting to fit this new grid. Some, like Tesco and Walmart, have enforced one-way systems, "a particular novelty for a retail typology known for intentionally confusing shoppers' sense of direction," as Peter Maxwell observes in his recent article in Frame magazine.
People also may gravitate to more personalised shopping to avoid crowds. Before the pandemic, some bricks-and-mortar stores, like US-based Nordstrom, had already been trying so-called showroom formats, with fewer items in stores, almost no inventory and with online-only sales. Shoppers consult with a salesperson and choose outfits online, then make an appointment to try on the clothes in the store but away from other shoppers.
Healthy building standards, existing but also new ones, will come to the forefront. While face masks, sanitisers and plexiglass tills might eventually fade out, experts say our current penchant for cleanliness is here to stay, hence we need to learn how to make our spaces and places healthier and safer.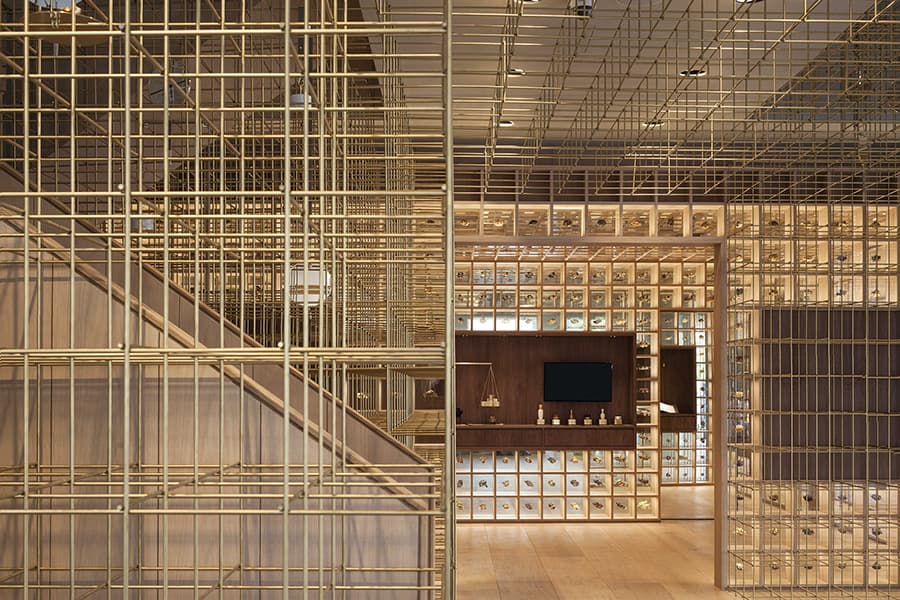 Surface treatments have been under particular scrutiny during the pandemic, especially plastic and steel. Some researchers have been advocating for a return to the mass use of copper and its alloys, including brass and bronze, which have antimicrobial properties that can help aid in cleanliness and design in a way that is easily disinfected.  
Air quality will also be a key factor, and this will accelerate the interest in design around biophilia and porous spaces as consumers come to expect access to fresh air at all times. Where appropriate, the Frame article explains, to help brands communicate that they're putting customer safety first this might also take the form of advanced filtration systems, like those currently employed by brands such as Stella McCartney  and Dr. Jart+, to protect shoppers against airborne pollutants.  
In the case of Dr. Jart+, customers enter the skincare company's Seoul store via an industrial air-shower  booth that blows off dust and germs accumulated in the outside world with the primary goal, according to the architects, "to show customers that  the space provides them with the cleanest air and water and protects them against pollution".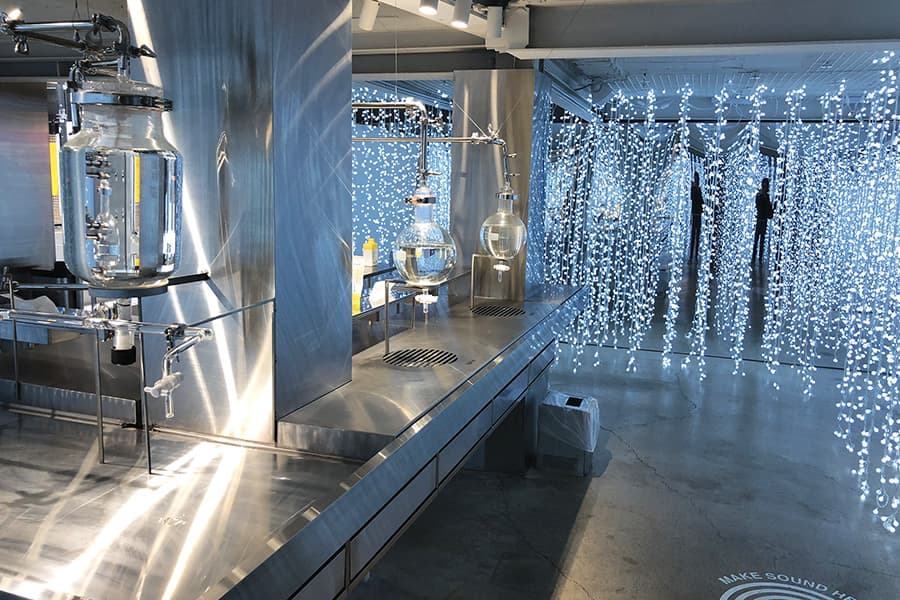 The time is now
Nobody really knows what the world will look like on the other side of the COVID-19 pandemic. Many generational attitudes have been tied to singular events that leave their imprint – 9/11 brought about lasting changes to the travel industry, but whether or not COVID-19 will do the same for retail remains to be seen and until there is  a cure or vaccine, there will be lots of uncertainty as to what is the right way forward. The only certainty is that it's bound to be different. The crisis is already pushing the global economy into a recession, and it seems it will forever affect how we live, work, play, shop and how we engage with customers. 
Suffice to say though, the pandemic is also likely to accelerate the structural changes we've been seeing and experiencing across retail and society for some time now, such as blurring borders between the physical and virtual world on the one hand, but on the other, reinforcing the vital role that public places play in bringing people together and promoting health and wellbeing.  
Once we reach the other side, there will be demand for new, fresh experiences as we will all be craving a bit of entertainment, which is what shopping has always been. Both retailers and designers will have to think fast and outside the box to deliver spaces that make people feel safe, healthy and connected but also stimulate them, giving them something to look forward to at the end of lockdown.  
The fact is that big crises often unlock creativity, and this disruption might open up the space to reinvent.  
We are seeing brands worldwide already moving swiftly in the fight against the virus: Dyson created a portable ventilator, Chanel and Gucci are making masks and a number of local distilleries have begun making hand sanitiser seemingly overnight. These forward-looking brands adapted easily to new circumstances, and that same spirit of innovation will have  to be used to engage weary customers and entice them back to the store.  
Clearly, there are more questions  than answers at this point, but we must learn to move quickly to understand and respond to the new customer mindset. According to Ernst & Young quoted in  a recent Forbes article, a third of consumers strongly agree with the suggestion that going through a pandemic will make them reappraise  the things they value the most and not take certain things for granted. Hence, there are increasing calls to instead of letting the havoc that the pandemic caused take over, we could start to harvest the good it forced us to recognise. In other words, we could take control of how we react and what's forced upon us. As the saying goes, "The best way to predict your future is to create it".