The changes we are going to see are numerous and far ranging. But much of the commentary is conceptual, intellectual, theory based. But what about 'specifics' – hard hitting stuff, winners and losers? Simon Fonteyn gets down to business…
COVID-19 has decimated the retail landscape, with retailers in shopping centres some of the hardest hit. However, it is not the first time the industry has faced a crisis, and therefore, we can look to the past to glean insights into the trajectory of the recovery of Australian retail as well as the unique challenges and opportunities created by this pandemic.  
Massive shift to online shopping
During the SARS epidemic of 2003 and the GFC (2008-09), there was a seismic shift in online shopping across most retail categories. According to a study conducted during the GFC, 91% of online buyers said they were more comfortable buying online compared to in store. Online shopping increased consumer confidence and security as well as allowing shoppers to compare prices more easily, helping them save money. Prior to COVID-19 as at February 2020 online retail was sitting at 9.4% of total retail sales (Source:NAB Online Retail Index April 2020). Globally, e-commerce sales will increase to 16% of all sales in 2020, representing an increase of 19% and may become the new normal.  
Table 1 shows the categories that experienced the greatest percentage change during the pandemic: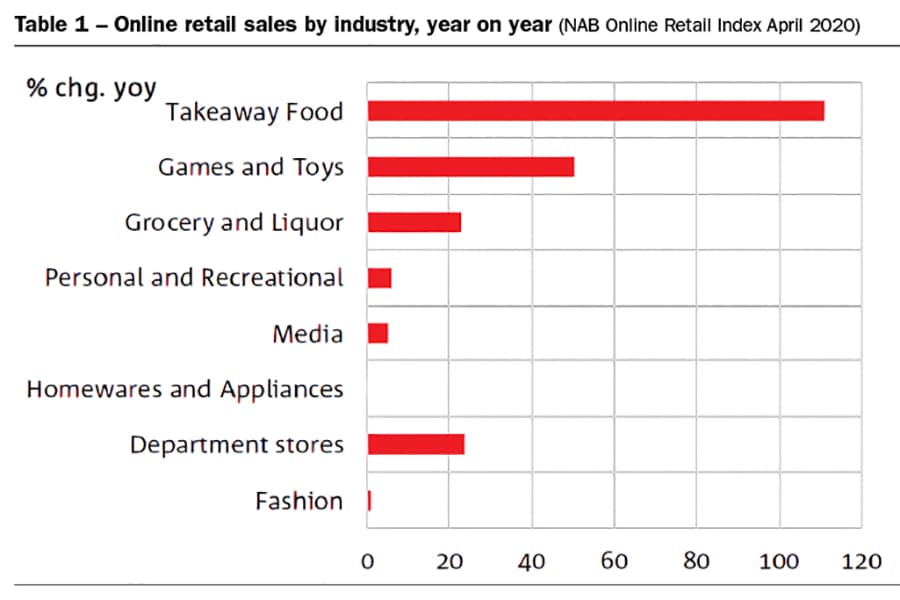 This greatly expedited move to online shopping represents an existential threat to bricks-and-mortar retailing, however a huge opportunity for shopping centres to ignite their e-commerce strategies.  
Shopping centres will need to become the focal point of their communities by facilitating multi merchant online ordering and delivering systems for their tenants. A good example of this is Panthera Property Group, who have invested in Rivershop and Mall of The Future to create a multi-merchant digital transaction system facilitating omni channel commerce and loyalty schemes between local businesses and their communities by transforming their centres into logistic hubs.  
This can be combined with food and beverage ordering platforms including order and delivery management, driver apps, click and delivery or click and collect. 
Rate of recovery in shopping centres
This shift in consumer spending patterns will greatly affect the rate at which different retail sectors will recover creating a multispeed economic microcosm in shopping centres. The recovery times will vary substantially between retailers, depending on their elasticity of demand, consumer spending patterns and the degree to which social isolation policy is relaxed.  
Unknowns such as total unemployment rates, reinfection rates and changes in government policy are excluded, however, based upon current data trends Chart 1 (below) shows the potential rate of recovery by the retail sector. 
Foot traffic patterns, vacancy factors and rental levels will differ depending upon the recovery rate of each sector.  
Due to the weakened balance sheets of retailers, it is likely that there will be a number of SME retailers, particularly in discretionary categories, including apparel, footwear, accessories, furniture, homewares and jewellery, that will be unable to re-emerge.  
Of the remaining categories, there is likely to be a series of mergers and acquisitions with ultimately fewer numbers of retailers and stores and higher concentration of ownership. Two DDS brands will re-emerge, and the further rationalisation of department store networks is inevitable.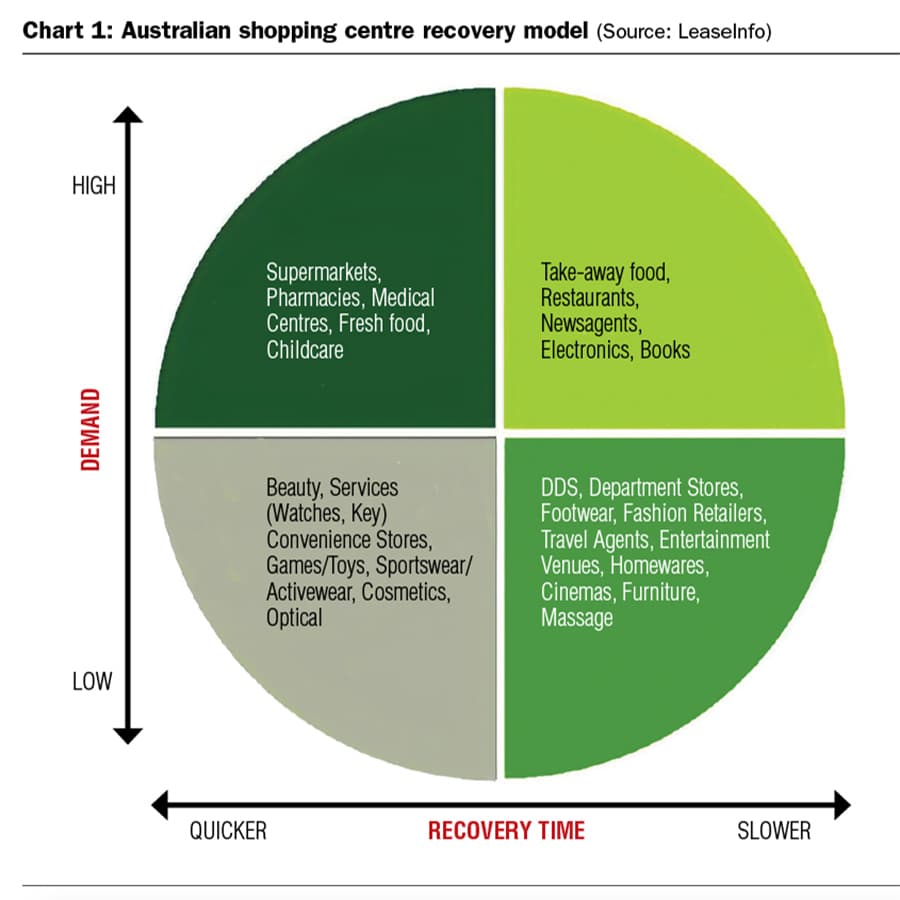 What factors will lead to a retailer recovery?
We have already seen agile and innovative retailers with effective omni-channel capabilities start to bounce back. The likes of Super Retail Group, which utilises fast and effective supply channels to fulfil demands for ravenous online consumers and thus increases their reach and reputation far beyond their bricks-and-mortar locations.  
There has been a significant increase in e-commerce sales across the group that have risen 145% in recent weeks. Rebel's online sales have risen to 300%, about one in four transactions are online, which has increased from one-twelfth from this time last year, Click & Collect has doubled due to contact–free pickup and delivery, which is offered by the company and click and collect is now live across all stores. 
Brian Walker, CEO of Retail Doctor Group states: "Those retailers that have a sharpness and uniqueness of their offer are positioned to recover the fastest as they can directly market to a specific interested consumer base and can adapt and change categories rapidly. Retailers who have really good processes around their points of difference, and flexible supply chains, will stand out amongst the rest. The pandemic will raise the bar for retailers." 
Shopping centre recovery
Just like retailers, shopping centres will also recover at different rates. Their recovery trajectory will depend upon three key factors: location, their exposure to retailers in the fourth quadrant of Chart 1 and management.  
Neighbourhoods and centres in regional areas will recover quicker as their foot traffic is not as impaired as their non-discretionary and metro counterparts.  
For some shopping centres that are anchored by larger legacy retailers including discount department stores and some fashion and apparel stores, they will need to remix their offerings. We have already seen retailers quickly adapt to the online marketplace through dedicating part of their store to fulfil and deliver online product.  
Shopping centres will have to focus on becoming points of distribution for their communities by providing Click & Collect facilities, BOPIS (Buy Online, Pickup In Store) and last mile delivery services. 
We are likely to see shopping centres offer business retail space dedicated to partial e-commerce fulfilment and smaller retail spaces with proximity to loading facilities. A remixing towards community service facilities such as childcare, medical and allied health will also occur. 
Finally, adaptive and agile management is key. Shopping centres will need to respond in the short term with contactless pick up, such as Westfield Direct. Considerable re-investment in technology as outlined and remixing will be required.  
Conclusion
The post recovery shopping centres will start to look and feel differently to the ones we knew only a few months ago. The pandemic will be a massive catalyst for change to an industry already facing significant disruption. A lot of inevitable change in the mix, leasing structures and industry consolidation must occur. However, ultimately shopping centres and retailers will adapt and renew.