The Shopping Centre industry is driven by people. It's the skills and expertise of the people that manage, develop and evolve shopping centres for their communities that creates this great industry. Shopping Centre News profiles a range of interesting people from the industry each week. This week we speak to Samantha Self who is the Retail Manager at Lendlease's Caneland Central, the centre recently celebrated its 40th birthday. 
What is your current role and main responsibilities?
As Retail Manager at Caneland Central, my responsibilities involve managing the ongoing performance of stores and overseeing the tenancy delivery process in the Centre. A key component of my role is maintaining retailer engagement from the time a deal is approved, through to tenancy delivery and throughout their tenure.
How did you get in to this industry?
I started as a David Jones Christmas Casual in 1996 while studying my Bachelor of Business at Newcastle University. I stepped away from the industry for a short while whilst I had kids, but inevitably returned.
Tell us a little bit about your career
After finishing University, I was offered a role as a Trainee Department Manager for Big W and in the years that followed I progressed into a Sales Manager role. In these early years I learnt many of the key aspects of working in a retail store, from planogram designs, merchandising, stock push/pull, staff management and customer relations. From there I was offered a role as Shopping Centre Marketing Manager with Byvan (now Savills).  After a number of years as a shopping centre Marketing Manager I stepped into a Centre Manager role until I left the industry for a few years to have my children. I re-entered the workforce in a contract and part-time capacity in a number of smaller roles which gave me exposure to bulky retail, commercial and industrial property management. These roles also required me to perform all of the Administration and Facility Manager duties which gave me a greater understanding of these roles. Prior to working with Lendlease I also held a contract marketing role for local government which gave me a real insight into how this industry works, and was a great starting point for local community engagement.
What has been your hardest career decision?
Leaving the industry to focus on my family was probably the hardest decision I've made, as both my career and my kids are so important in my life and it is really challenging to have both at the same time. At the time I was not quite sure that I would ever return to shopping centres or how successful that integration would be. As it turned out, my time at home raising kids gave me a real sense of grounding, and I've become a far more patient person for it. I am very grateful to have found myself working for an organisation that provides flexibility, embraces diversity and collaboration, which allowed for a very smooth transition back into shopping centres.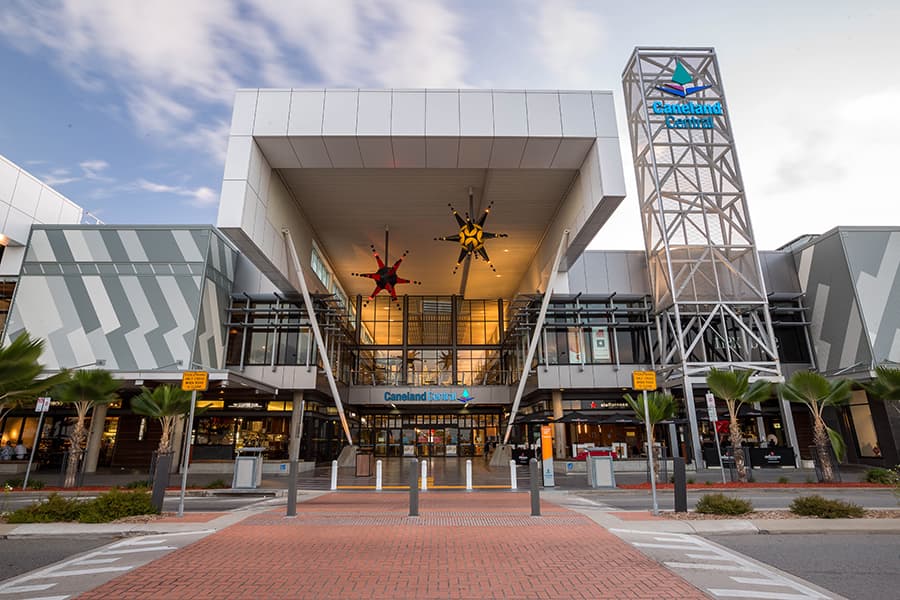 What do you love most about your job?
I love seeing retailers succeed. I also love working with a team of extremely hard working individuals who are really passionate about providing the best shopping centre for both retailers, staff and customers.
What do you least like about your job?
The misconception that as landlords we are greedy. I am always willing to discuss challenges with business and will assist wherever possible. While we do need to run a business and cannot fix every issue we will always try to work on an amicable solution.
What motivates you?
Seeing others succeed. I get a real sense of accomplishment when I've assisted a retailer transition through a tough time and watch their business turn the corner.
What makes a great Retail Manager?
The key to success in this role is having the ability to communicate well with a wide variety of stakeholders. Whether it is a national brand retailer, leasing manager, an independent operator, store manager, weekend casual, trolley collector, or owner's representative, having an understanding of how actions can affect all involved allows you to make well-rounded, informed decisions. Everyone has a part to play and we get the best results from collaborative efforts.
What is your most memorable moment of your career?
My most memorable career moment was not actually from my time in a shopping centre. I closed down 5 streets in the CBD and hosted a street party with over 50 vendors, an outdoor cinema, stage show, teenage dance party, roving performers, kids craft zones, and fireworks. We had around 25,000 people attend, and whilst it took many months of planning, and some really long hours, it was a sensational community event that brought people together to celebrate. I also hosted another street party and helped commission the Yellow Brick Road Elton John Mural in Mackay's CBD to celebrate Elton John's visit to Mackay in 2017 that gained international attention.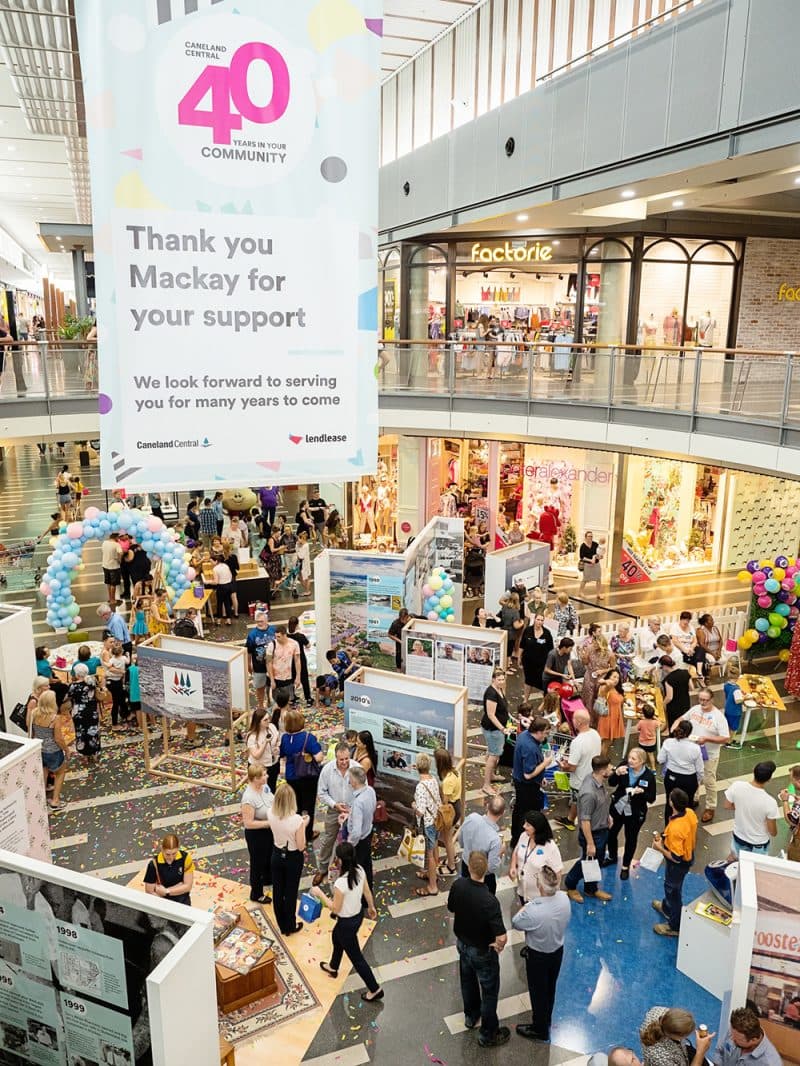 What do you think makes a successful shopping centre?
One that connects with the community, has the right mix that caters to the needs of the customers, provides the best possible experience for all who visit, staff and customers alike, and one that continues to evolve with the changing needs of the community.
Which in your opinion is the best example of a good shopping centre, retail precinct or place?
I don't get to travel to too many centres located outside of Mackay these days but I was so thrilled to see our fellow Lendlease centre, Sunshine Plaza last month. I had the rare opportunity to browse, and after shopping up a storm in Myer, David Jones many of their fashion stores I was able to have a really relaxing lunch by the water. I also noted: the kids play area was full of really happy kids with mums, dads, and grandparents nearby, coffee in hand.  This centre has incorporated the community elements in their design really well, and created a place that is jammed packed with offers, but still maintained easy parking and accessibility.
What are some of the trends you are seeing in the industry?
There is definitely a shift away from shopping centres being a purely transaction-based entity towards more lifestyle precincts. Shopping centres are becoming more of a place to gather and connect with the community, especially as we progress through this digital age.  There is certainly a need to embrace both digital and physical touch points, but meeting (and hopefully exceeding) customer expectations in terms of product, service and price are still crucial to success.
Did you think you would end up in the role you are in now?
When I moved to Mackay I told my husband that if I were to return to the workforce after having kids I was going to be the Retail Manager at Caneland Central. I knew this was the right centre for me and vice versa.
What advice would you give to someone starting in the industry?
The first, and best, piece of advice I received many years ago was take notes. I'm a little old school and still have a paper diary, but I'm always scribbling down notes to refer to later. The second piece of advice is follow up, it is often hard to do with our busy schedules but it is crucial to minimising the risk of anything getting missed or forgotten about.
What do you do in your leisure time to de-stress?
I live on 6.5 acres about 30 minutes from town and spend my downtime outdoors exploring the wildlife found on our property: from kangaroos, honey eaters, guinea fouls, scrub turkeys, to possums and the odd echidna. My kids are also really creative, and often fill the house with art and music. I found my home life and work life are very different, which creates a really healthy balance.
What's your favourite retailer and why?
I won't name anyone in particular, but from a Retail Manager's view I thoroughly enjoy working with retailers who regularly communicate, are open to suggestions and are willing to regularly review what they do so as to continually evolve as needs change. From a customer point of view, I love seeing the basics done well – great service, reasonable price, and quality products.
Do you like shopping?
I do like shopping, but tend to find I shop on the run due to my busy schedule. I'm not one to browse, but when I spot a bargain on my daily rounds I'll dash out at lunch.
What is the single most important quality you need to possess to be in this industry?
No two days are the same, and you need to be willing to drop all of your day's plans to deal with an unexpected issue.