The Shopping Centre industry is driven by people. It's the skills and expertise of the people that manage, develop and evolve shopping centres for their communities that creates this great industry. Shopping Centre News profiles a range of interesting people from the industry each week. This week we speak to Noel Cook, Chief Commercial and Operations Officer of oOh!media – a leading Out of Home media company that is enhancing public spaces through the creation of engaging environments that help advertisers, landlords, leaseholders, community organisations, local councils and governments reach large and diverse public audiences. 
This week, the Outdoor Media Association (OMA) announced the winners of its quarter one 2020 Creative Collection with oOh!media winning the category of 'Best Use of Multi-Format' for its campaign "Messages of Kindness, Consideration and Compassion"
"oOh!media's Kindness campaign captured the COVID-19 zeitgeist. oOh!media was quick to react in a time when people needed to be reminded to be kind and act with everyone's best interest at heart. Kindness, helped drive a more thoughtful sentiment in the community. The timely nature of this campaign embodies the power of Out of Home, to positively influence communities," said Charmaine Moldrich, CEO, OMA.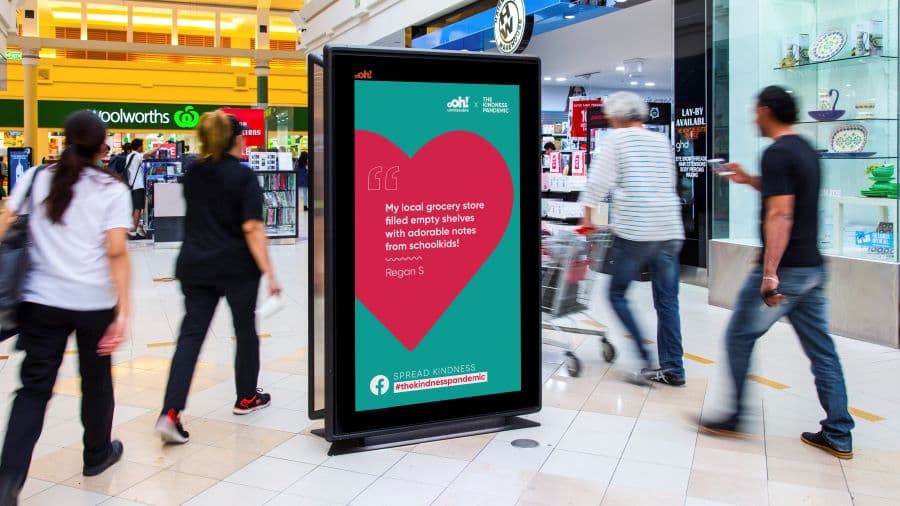 What is your current role and main responsibilities?
As Chief Commercial and Operations Officer, I sit on oOh!'s Executive Leadership Team driving the oOh! business strategy. I'm responsible for more than 350 people who look after all commercial arrangements with our valued property partners across our road, retail, office, university and café environments. This also includes our national operations workforce that install classic campaigns and provide repairs, cleaning and maintenance for more than 35,000 of our public space media assets in Australia.
What do you love most about your job/ what excites you?
There are three things here that I love most:

The first is the people – my team at oOh! and the relationships I've fostered externally. The culture of the company and the industry are great – both are full of creative, engaging people.
Then there's the industry's prospects and role. As a long-term trend, Out of Home continues to grow in audience, capabilities and with the use of our assets as public space media. For example, in the current climate, across the globe we're seeing Out of Home used as a national public noticeboard, demonstrating the power of our medium to communicate to the public and get crucial health and safety messages out there.
Finally, there's the oOh! business itself. It's multi-faceted, with plenty of diversity and variety and I take pride in contributing through my role and helping drive our success.
Can you tell us a bit about your career history?
This year marks my 29th in Out of Home –  and with oOh! for that matter. Yep, almost three decades in the business! Straight out of Year 12 I moved into the world of Outdoor Media (it was a little bit different back then). I worked in all areas of Out of Home from sales, operations, production, account service, accounting and in the early days, I even worked on Reception.
Did you think you would end up in the role you are in now?
No, not really. I probably imagined myself more on the sales side of media in our business because I really enjoy selling Out of Home. But my experience in Out of Home and the skills I've developed have allowed me to use my sales knowledge differently through workforce management and property negotiations.
What are some of the challenges you and the business are currently facing?
Businesses across Australia and around the world are feeling the harsh impacts of COVID-19, from the way we move about in our daily lives to the way corporations act. The challenges and changes that have come with COVID-19 have forced us to adapt and look at things differently.
We're in unknown territory, the health and safety of our people is crucial, so we are continuing to follow government guidelines and support our employees as they work from home, providing up to date internal communications and taking extra measures to ensure our team in the field are kept safe.
We're also working with clients to ensure they have all the relevant information they need to support bookings or to help them where bookings may be altered. We've experienced a drop in bookings through the crisis, which has impacted revenue, so we're working very closely with our commercial partners to support them and generate the best outcomes. But it looks like there is light at the end of the tunnel, with restrictions easing and people are looking forward to taking steps back to normality, which will be good for us and many other companies too.
What are some of the lessons the COVID-19 crisis has taught you?
No business is ever ready for a black swan event. But you must be prepared to react quickly and not bury your head in the sand around the current issues – adaptability is key.
We are all equipped to weather the storm that is COVID-19. The crisis we're experiencing has taught us all valuable lessons in business and life, and we need to remember that there's a bright future ahead beyond this economic slump, even if there might be challenges along the way. We have all done an incredible job at adapting to new ways of working and remaining agile as our company shifted to working remotely. Regular communication has been incredibly important through this process, bringing our teams across the business together with frequent and clear updates.
In what ways has the business had to adapt?
We are continuing to adapt and react to the current situation, with our people at the heart of everything we do. We addressed social distancing restrictions with our staff very early on in the picture, and we've continued to support the Federal Government's public health campaign and various state government campaigns. We have also brought to life our own messages of kindness and compassion across our network, rolling them out to communities as a simple reminder to continue to act responsibly and spread kindness.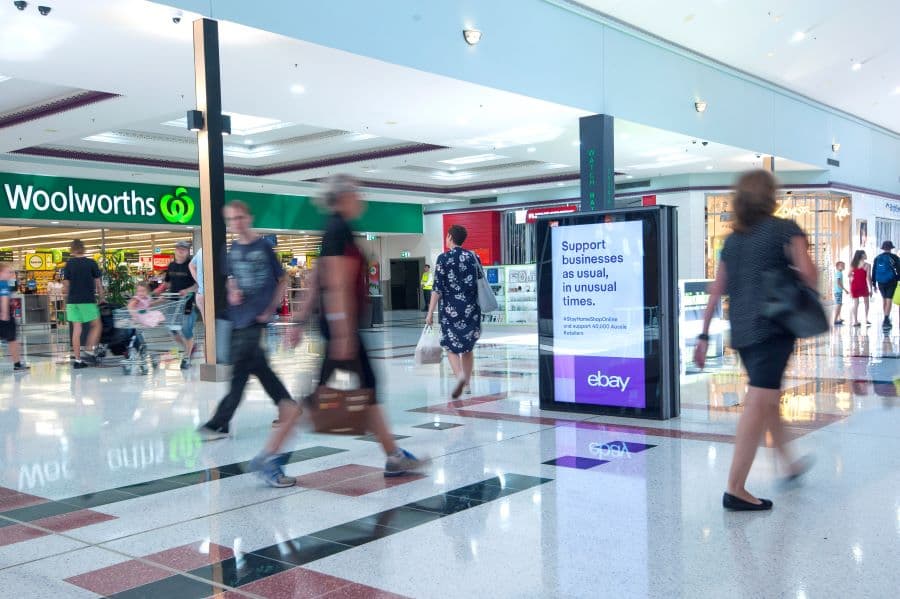 What are the current trends/technologies you are seeing in the industry?
Digital Out of Home is continuing to evolve rapidly. The clients and partners who are really exploring the use of our digital screens, and maximising them to their full capability, are seeing strong results. An example of this is the use of weather triggers built into a brand's creative, or news updates amplified across Out of Home. The use of this contextually relevant creative commands attention and is a value exchange for the consumer.
In addition, data capabilities will continue to play an important role in our industry, enabling granular audience targeting.
Through the right use of digital Out of Home, brands have the opportunity to reach their target audience with the right creative, in the right context, and viewed across multiple touchpoints. This is what our Smart Reach offering does – it's a very powerful tool to pinpoint audiences on the move while maximising ROI.
Where do you see the industry in five years from now?
Out of Home will continue to thrive, and market share for the industry will continue to grow, as clients continue to see the impressive ROI that Out of Home delivers as part of the media mix. There will also be an ongoing focus on real-time data to give clients the confidence in our audience targeting capabilities.  
However, it's not just about numbers. The strengths of our medium will continue to drive unmissable creative opportunities as brands use Out of Home to engage, inspire and connect with audiences through our advanced creative capabilities.
How important is data and what are some opportunities for the shopping centre industry?
It's important to have access to data, but absolutely crucial to really understand it. Access to robust datasets ensures that advertisers are not only reaching their target audience but reaching that audience with a message that is relevant to the time, day or people's mood and behaviour. In the retail environment, this, in turn, enhances the shopper experience as they're exposed to relevant and engaging advertising.
Through the use of oOh!'s DataScience capabilities, brands have the opportunity to understand audiences by movement and purchase behaviour, meaning the correct use of a multi-format Out of Home campaign can target a buyer from when they leave their house to when they reach the shopping centre – ensuring a brand is with that buyer at each stage of their journey and helping drive sales. 
Our data capabilities, combined with the scale of our portfolio, give us the power to unlock additional revenue opportunities for the retail environment – transforming what might have been a 'road only' media brief, unlocking the buyer graphic audience that could also be found in the retail environment. Scale and network diversity are critical here.
In your opinion, which landlords are making the best use of their media opportunities?
We are seeing many of our shopping centre partners using the inventory inside their centres in far more creative and sophisticated ways. The use of assets throughout shopping centres to provide shoppers with interesting and up to date information has grown noticeably over recent times.
oOh! Creative Scheduler is a self-service portal developed by our team, that enables shopping centre landlords to utilise oOh! creative assets and upload and publish their content to reach shoppers and drive community engagement within their centres. We've seen the likes of Stockland, Vicinity Centres and Charter Hall really tap into the capabilities of Creative Scheduler to reach their shoppers across oOh! assets.
Most recently the Creative Scheduler has been used by our retail partners to drive awareness of hand washing, highlighting the escalated centre cleaning measures and changes to centre opening hours. Campaigns like this continue to provide patrons with interesting and useful information, thereby really engaging the public and helping them.
How important is it to foster good relationships with landlords/shopping centre managers?
Relationships are extremely important for us at oOh! and we continue to work with all of our property partners to deliver the best possible results. In boom times, or more challenging ones, these relationships are crucial. There are mutual benefits in devising new commercial opportunities and bringing them to life both now and well into the future – we're all on this journey together.
How do you keep your large team motivated?
We have a large and exciting future in Out of Home. At oOh!, communicating these plans with my team drives motivation as they are a crucial part of that future.
I am also big on fostering an environment whereby my team has the autonomy to not only provide strategic and tactical input, but to then see those plans through to execution.
So, two mottos that I live by: Communicate, Communicate, Communicate. You see it, you own it.
What is the single most important quality people need to possess to be in this industry?
The ability to grow and evolve.
Want to be profiled? It's the perfect time to share your career and experience which connects all of us. Contact Belinda Daly: belinda@shoppingcentrenews.com.au