Elizabeth Craig, Digital Solutions Manager, Charter Hall – Winner of the Frank Lowy Fellowship 2021 – Winner of the Frank Lowy Fellowship 2021.
The Frank Lowy Fellowship is an industry initiative of the Shopping Centre Council of Australia that is proudly supported by Scentre Group. Now in its sixth year, the fellowship was established in recognition of the contribution made by Sir Frank Lowy AC to the Australian shopping centre industry.
In this special feature (published in SCN's CBD Guns edition), we showcase the talent of past fellowship winners and nominees who have demonstrated excellence in their field and celebrate them as next-generation leaders, collaborators and innovative thinkers whom will ensure Australia's shopping centre industry continues to be a world leader.
Elizabeth led a team to develop and deliver several innovative solutions for the Charter Hall Retail business including a digital platform to automate Tenant Customer sales collection that solved a number of process pain points and defects within the portfolio. She also developed and delivered a customer-centric national social media strategy to mitigate the disruption caused by COVID-19 across the Charter Hall Retail Portfolio.
What do you love most about the shopping centre industry?
Our industry has been impacted by an overwhelming number of economic, social and environmental events especially during the past two years. Among a global pandemic, devastating bushfires and floods, the Australian retail industry has demonstrated perseverance in times of the unknown and the agility to manoeuvre with pace to seek the best possible outcomes for our customers, people and the communities in which we operate. Although it's been a challenging period, I feel very privileged to have played a role in supporting our business to adapt and innovate. Innovation and technology have become a necessity in everything we do and, for me, it has been most exciting to watch new ideas come to life to build upon future proof strategies for success. Automation, Artificial Intelligence, virtual reality, reactive web apps and online delivery services have expediated the way we deliver convenience and service for our shoppers and tenant customers. We work in such an agile and resilient industry, and I look forward to seeing more innovative solutions derived from the desire to cater to evolving societal needs with less traditional priorities and expectations of retail landlords.
How have you adapted to the changing retail landscape?
With digital playing a vital role in the way we adapt to the changing retail landscape in Australia, we have continued to focus on collaborating with our operational teams to discover how we can deliver flexible experiences, compelling activations and innovative platforms. In the wake of the pandemic, a key focus for retail landlords was to utilise customer data and shifting behavioural trends to deliver experiences in our shopping centres that satisfied the needs and desires for an evolved customer.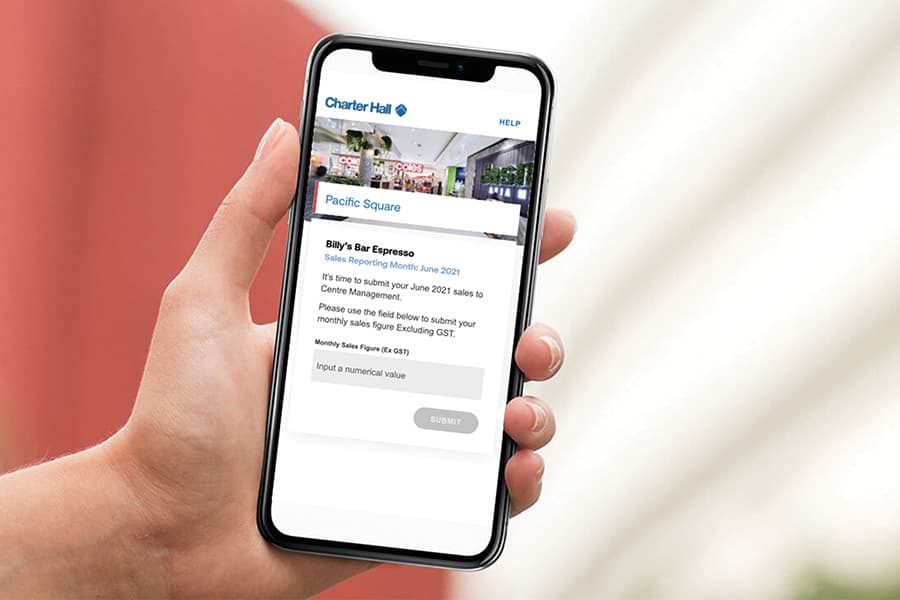 One of the key learnings we identified from this shift in social and economic environment was that communication is vital for instilling loyalty, compassion and resilience for the communities in which we operate. Identifying the evolving and changing needs of our customers and employees through a customer feedback communication strategy enabled us to turn feedback into learning and action for the future. Through implementation of shopper feedback surveys delivered across our social media, website and EDM database channels, we received and analysed data directly from our shoppers and employees, which resulted in the execution of a strategic road map to drive how we implement experiences for our customers following a global pandemic and the effect it has had on the traditional operation of shopping centres. Our refreshed strategy resulted in customers expressing a focus on community centric content and a desire for belonging. Following implementation, we experienced a higher level of engagement with our community, increased loyalty and record retention across our social media channels.
How have you applied technology to deliver better outcomes for your business and customers?
Throughout the past two years, we have seen a significant shift in how we live, work, shop and connect. This compelled us to reimagine how we best support our teams and our customers while ensuring connection, collaboration and belonging is at the core of all decision-making.
Contactless services and experiences continue to evolve and deliver at rapid pace, freedom to innovate has enabled our business to pivot our strategies to utilise technology to deliver better experiences for our people and our customers. Our Autom8 Sales Portal was designed and launched in early 2021 to digitally automate the collection of our monthly tenant customer sales figures, which has enabled our team and our tenants to spend more valuable time on the operation of their businesses. Autom8 was created to enhance the customer experience by auto-programming a usually paper-based task to drive scale of economy and industry leading efficiencies for Charter Hall tenant customers and centre management teams. With an average 97% of our customers reporting sales via our new platform, we have taken the learnings from this experience to deliver a machine learning AI enhancement to automate the manual sales collection for our major tenants, which has just completed its pilot launch. The use of AI technology and machine learning software will enable the platform to perform automated tasks, allowing our finance experts to spend more time on reporting and insight delivery to our business.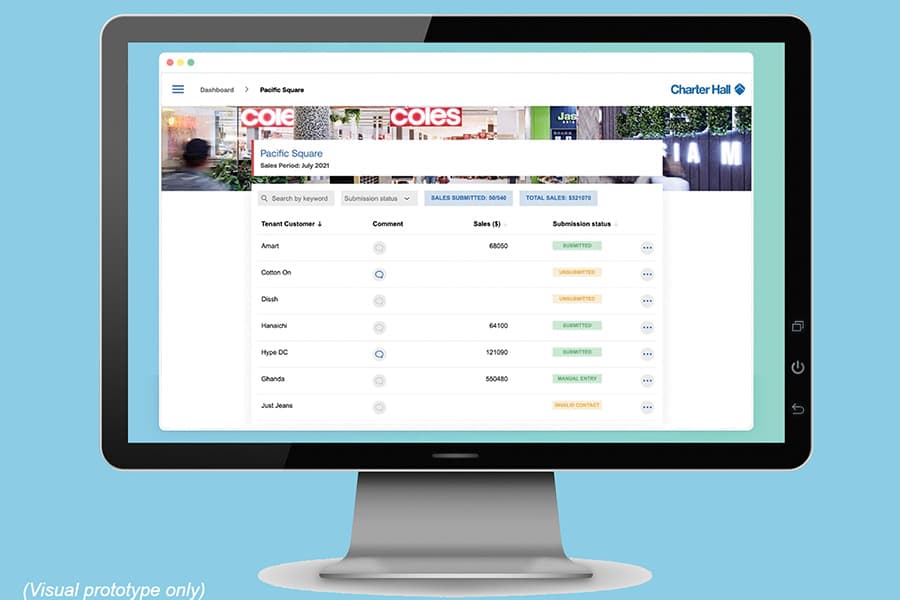 Currently we have another project underway to redesign the way we manage the 'lead to shop launch' process with a focus on automating mundane tasks and opening shops sooner.
We have recently completed the desired future state process, which removes 62 defects and pain points from the existing way we manage this important process and are working on the version one build of a new automated workflow platform in partnership with our retail leasing experts.
As consumer preferences change, how can shopping centres adapt to stay relevant?
The shopping centre industry will continue to evolve with its communities and customers, and I believe we are seeing a significant increase in innovative trends leveraged by technology.
Trends such as machine-based learning, AI, zero interface retail and enhanced Click & Collect/delivery solutions are already forming new ways shopping centres deliver strategies for operating at hyper convenience for an evolved customer. We have witnessed global retail giants pivot strategy post COVID to optimise implementation for omnichannel success.
I am really looking forward to continuing to be a part of the ever-evolving shopping centre movement with digital and innovation playing a vital role in delivering engaging experiences and hyper convenience for a hyper evolved customer. Consumers of today have different priorities and expectations with a focus more than ever before on convenience, sustainability, community and the trust economy.
Our evolved society leaves no room to hide with cancel culture jeopardising the loyalty of customers to brands whom lose their trust or faith not only as a brand but an organisation. Shopping centres will need to regularly evaluate and understand the needs and desires of their customers to ensure they are meeting expectations to continue to instil trust, loyalty and convenience.
What do you think will be the next phase of change in the Australian shopping centre industry?
Facing challenges, opportunities and changing shopper expectations is consistent in the Australian retail landscape. It has never been more important for Australian shopping centre landlords and operators to take the time to analyse the change of the retail landscape and learn from consumer behavioural and social changes as a result of a global pandemic. Retail brands who challenge pre-COVID orthodoxies may see deeper impacts on customer and emotional loyalty by providing safe and local convenience and a focus on touchless automation as we enter the next phase of retail.
The ongoing rise of US retail giants such as Amazon and Walmart provide endless examples of tactics taken that drove their success during the climatic shift into life after COVID and providing exceptional service to an evolved customer. The Australian shopping centre industry will need to identify and explore technological enhancements to carry out the high demand for online sales while managing and strategising for the ongoing impact on bricks and mortar through use of omnichannel retail solutions. This can be seen through utilisation of elite e-commerce platforms such as Shopify and Square for online transactional convenience and brands such as Peloton Interactive, Sephora and Nordstrom providing compelling and convenient consumer experiences online and in their physical stores and showrooms.
Since experiencing the pandemic, needs for environmental change are more prevalent than ever, while highlighting the importance of ESG as part of business long-term sustainability practices. Handling of customer data and privacy, waste management, increased demand for online delivery, supply chain diversity and inclusion will help shape the Australian retail industry.
Retail landlords that demonstrate a strategic shift towards more eco-friendly processes, utilising digital to convert environmentally impactful practices to sustainable online practices and demonstrate commitment to renewable energy and targeting net zero emissions may see an improvement in emotional loyalty with their customers and employees.
This article forms part of a special feature published in SCN Magazine – view the full feature here.