Eliza Hodgson, Customer and Digital Ecosystem Manager, Stockland – Nominee for the Frank Lowy Fellowship 2020.
The Frank Lowy Fellowship is an industry initiative of the Shopping Centre Council of Australia that is proudly supported by Scentre Group. Now in its sixth year, the fellowship was established in recognition of the contribution made by Sir Frank Lowy AC to the Australian shopping centre industry.
In this special feature (published in SCN's CBD Guns edition), we showcase the talent of past fellowship winners and nominees who have demonstrated excellence in their field and celebrate them as next-generation leaders, collaborators and innovative thinkers whom will ensure Australia's shopping centre industry continues to be a world leader.
Eliza led the development of a number of industry leading campaigns and projects through the COVID-19 pandemic. This included an online community hub project centred around curated content, on-demand and live-streamed events, and digital experiences designed to keep customers and retailers connected while in lockdown. Since then, Eliza has been leading the Digital Ecosystem team at Stockland.
What do you love most about the shopping centre industry?
Throughout our lifetime, shopping centres have been the centre of our local communities playing a role in everyday needs, entertainment, and services.
A Strategist friend once said that shopping centres are the wardrobe and pantry for our life – the extension of things we need in everyday life, and I could not agree more. From a human perspective, it is a powerful local proposition.
Shopping centres are much more than a collection of stores, concrete and terrazzo. Shopping centres are where many of us received our first freedoms – first purchases with pocket money, first cinema visits without a parent and first jobs. The place we turned to help find the perfect interview outfit, gift for a new love, the ingredients for a special family meal, or where the soccer team met for a food court lunch.
What I love most about shopping centres is the intersection between people, technology, consumer behaviour and digitisation. There is a strong role for both physical and digital, and I am excited about continuing to navigate and evolve our proposition in the post-pandemic world.
How have you adapted to the changing retail landscape?
The retail landscape was changing before the pandemic. Our opportunity and focus has been on the new role of the retail property partner (REIT/landlord) and how we might leverage our scale, size, experience and property diversification to adapt and be more relevant to shopper and retail customers into the future. Consumer shopping habits have evolved, and retailers are investing in their omnichannel response. We are seeing varying levels of retailer maturity in terms of digital experiences – some retailers are advanced and are mature omnichannel operators, and some are starting the journey.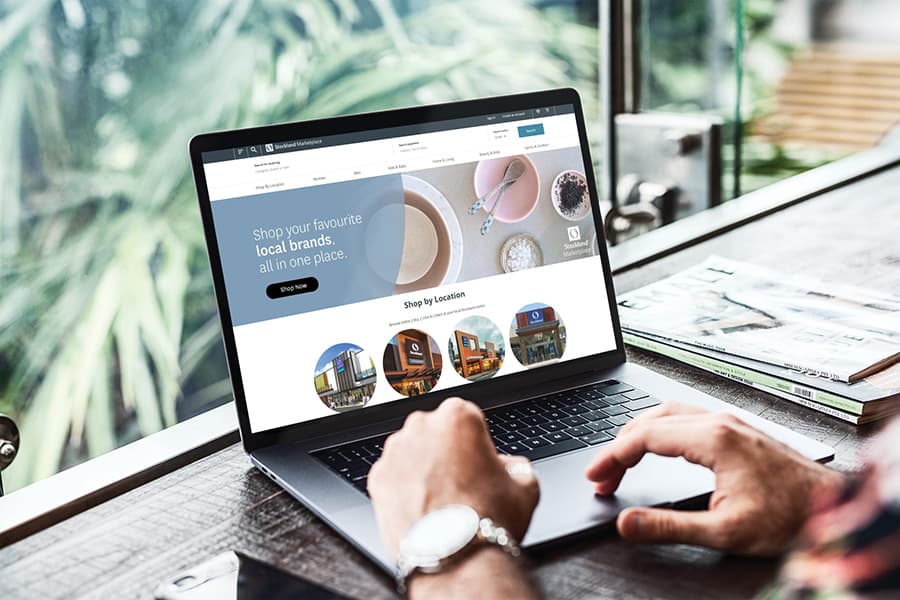 In recent years, we have been on a journey to better understand, develop and deliver opportunities to adapt to the changing nature of retail, to be a better, more sustainable long-term property partner to our retailer customers, to allow us to better serve the needs of shopper customers – both by responding to needs today and anticipating the market of tomorrow.
During the past 12 months, a multi-disciplinary team has considered our response to online retailing to look for opportunities in the shopper/retailer journeys, with the view to adding long-term sustainable value.
We have developed a digital platform to extend the local physical shopping experience online, which will offer customers and retailers choice and flexibility.
Along the way, we've been meeting with retailers to ensure our platform meets their needs. We have tailored the online experience to meet our retailers' and shoppers' needs and provide a true omnichannel experience where online meets offline.
How have you applied technology to deliver better outcomes for your business and customers?
The key to long-term sustainable value for customers lies in the intersection of strategy, data, customer experience, customer behaviour and technology.
We have spent the past few years building a robust data and insights capability backbone, bringing our core systems together and, most importantly, with customer centricity at the centre – and are in a position to respond and evolve into the future.
At a macro level, Stockland's strategy is clear. We are reshaping our portfolio, accelerating our pipeline and scaling partnerships for sustainable growth.
We are executing the strategy with laser-like focus to deliver customer excellence, part of that is through enterprise-wide capabilities in digital innovation. We are a community creator and curator at our heart – and the same extends to omnichannel.
Our team is driving home, consistently, the things that matter to our retailer customers. How we might support and add value to retailers and make shopping more convenient for shoppers is at the forefront.
As consumer preferences change, how can shopping centres adapt to stay relevant?
Several factors and forces will play out that will impact both short and long-term customer preferences: economic outlook, slowbalisation, geopolitical outcomes, technology and sustainability.
From a consumer behaviour perspective, customers look for different value points at different times. Sometimes it's speed and convenience they need; other times, when they have time to plan, it is cost-efficiency, and product quality is sometimes the priority. The same applies online.
I see an adaption of Dr Martin Barnes' 'Iron Triangle of time, cost and scope or quality' as key to customer preferences. In this model, shoppers can experience two of the triangle's three points by sacrificing the third. But they are unlikely to have all three. For example, when the primary goal is fast and cheap, then quality is left behind.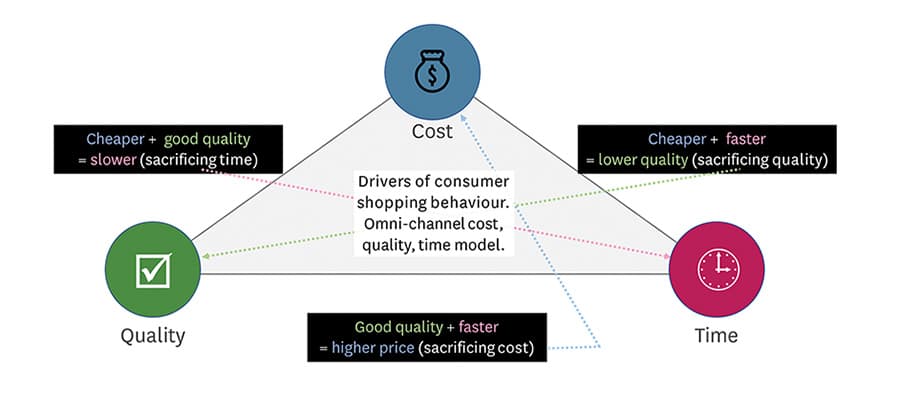 When fast and high quality is required, then cost is impacted. And finally, when cost and quality are essential, speed is sacrificed, and the product delivery is likely slower. This shows us there is a role for different omnichannel experiences. Sometimes customers want things quickly, sometimes cost is an issue – and we can respond to these needs in ways that work locally. As an industry, sometimes we can focus on 'get it fast, get it cheap', but there are several ways omnichannel will continue to play out into the future.
What do you think will be the next phase of change in the Australian shopping centre industry?
The next phase of change is likely to link to megatrends and the evolution of technology as it relates to retail. From what we can see today, this might look like:
• An increased focus on sustainability through the supply chain and retail shopping network.
• Retail convergence between online retailers and the physical world grows and blurs. Hybrid online-to-physical retail will grow to allow for faster or more connected local collection.
• Place-making and retail as an experience continues to increase and evolve socially.
• Logistics and fulfilment. 'Last mile delivery' and product distribution lead to the reimagination of property verticals.
• Retail 'showrooming' evolves, showcasing product, with fulfilment looking differently.
• Shopping centre fulfilment and micro-fulfilment evolve from mass distribution centres (DCs) to a combination of DCs and micro-fulfilment locations in key peppered locations.
• Voice ordering and voice service continue, and IOT elevates.
• An overlay of social issues and opportunities litter trends, including local employment, and how the shopping centres as a place evolve.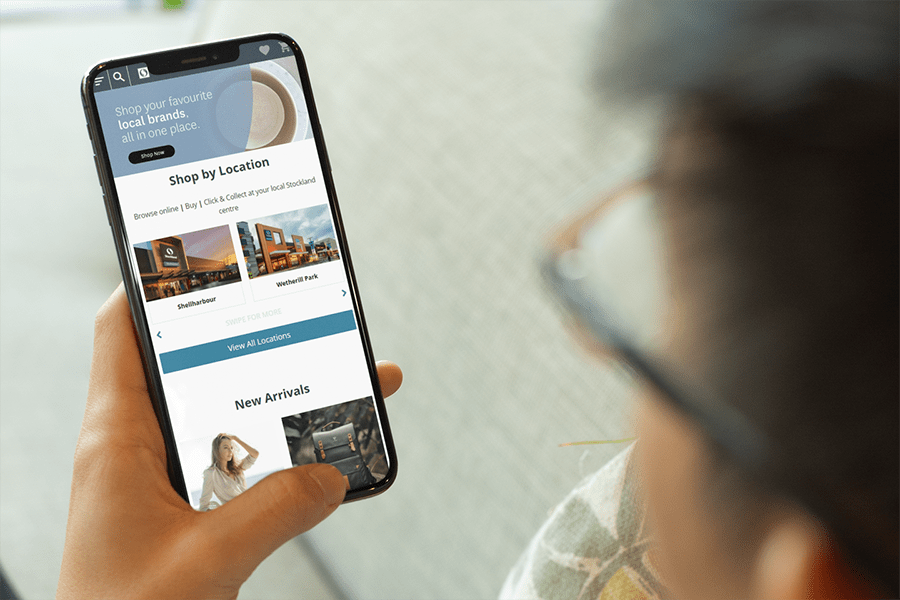 There are some deliberate cultural shifts around high performance and strategy that will help us elevate and respond to change with agility, leveraging the combination of a strategic lens, data and insights.
We have learned a great deal and intend to keep learning and adapting. With a strong diversified property model, and a reputation for community creation and curation, Stockland is well-positioned to deliver shopper and retailer customer sustained value as we change and scale into the future.
This article forms part of a special feature published in SCN Magazine – view the full feature here.