The Shopping Centre industry is driven by people. It's the skills and expertise of the people that manage, develop and evolve shopping centres for their communities that creates this great industry. Shopping Centre News profiles a range of interesting people from the industry each week. This week, we speak Natalie Gutman, Head of Investment at Lewis Land Group.
The group is Australia's oldest private property developer, Lewis Land Group was founded by Bernard Lewis in 1957. Lewis Land Group's core businesses of residential, retail and leisure comprise long term projects, creating communities where people can live, work, shop and relax.
What is your current role and main responsibilities?
Lewis Land Group is Australia's oldest private property developer, with assets across Retail, Residential and Hospitality. As Head of Investment, I oversee the company's Harbour Town Premium Outlet retail portfolio, as well as the retail component to Sovereign Place town centre in Port Macquarie.
Outlet is a subsector of the retail industry, offering well-known brands at discounted prices. My role involves carefully balancing value, experience, and environment to create a point of difference that benefits our customers. Our tenants provide up to 70% discount on their products, in an open-air design, which helps customers relax and feel like they are on holidays. It is my job to safeguard and evolve this concept for the Harbour Town Premium Outlet brand through optimal tenancy mix, redevelopment, and master planning of our assets.
How did you get in to this industry?
I've always been interested in property and retail and was lucky enough to find a way of balancing both of these passions into my professional trajectory.
Tell us a little bit about your career?
I started at Knight Frank by winning a cadetship whilst studying Property Economics at UTS. I then went on to work for GE Real Estate, Lendlease, CBRE and QIC before joining Lewis Land Group in 2014. I have been able to apply the learnings I acquired working across big business into the boutique and specialised environment I find myself operating within today. I also feel humbled to be working for the company responsible for bringing outlet shopping to Australia, who haven't forgotten their 'family business' origins on their journey to success.
What has been your hardest career decision?
Making the shift from the safety of mainstream retail into the niche outlet space was a big decision for me at the time. In 2014, when the opportunity to work for the Lewis Land Group presented itself, I had recently returned from overseas travel where I visited several outlet centres in the US and Europe. I remember feeling that this subsector represented so much opportunity for growth back here in Oz.
All of this took place against a backdrop of online retailing beginning to take its toll on mainstream shopping centres, that had cascading consequences on retail pricing and profitability. I put myself in our customers shoes and felt that if the outlet proposition worked for me, there is a high likelihood it would resonate similarly with the general population.
With the growth we have seen in our Harbour Town Premium Outlets over the years, I'm proud to say that I was proven right.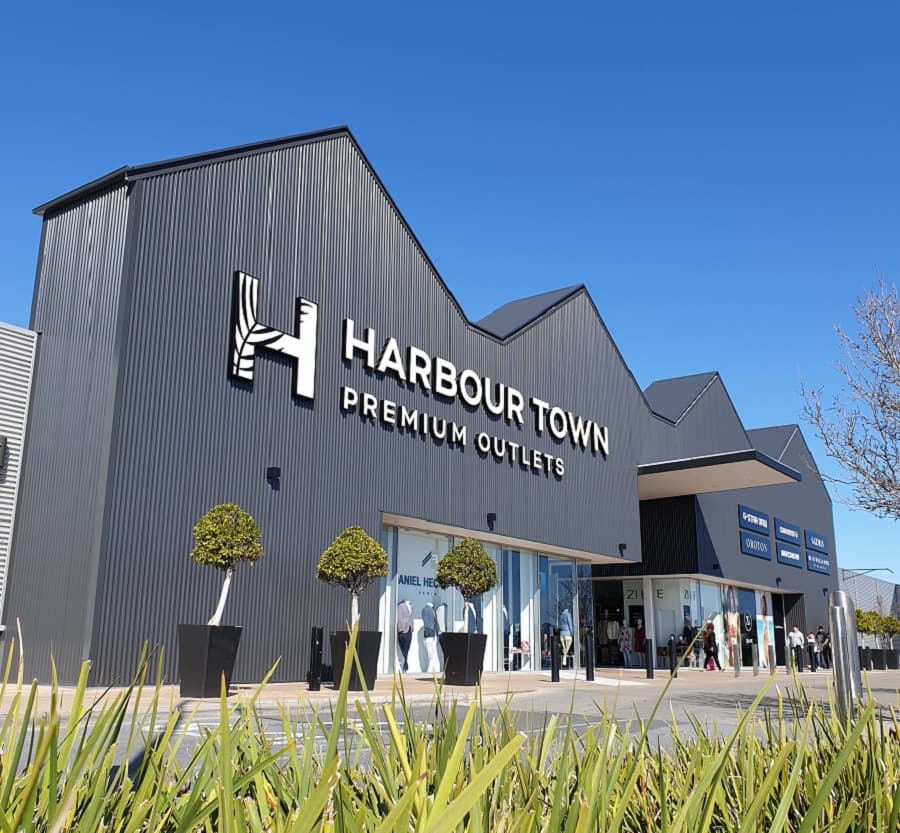 What do you love most about your job?
Retailing is not only about shoppers, but also about each one of our retailers, who each have their own story to tell: they have families, mortgages, and school fees to pay. They work hard and rely on their businesses to support their livelihood. I like working with our retailers and being a piece of the puzzle that helps them achieve that goal.
I also love that outlet is different and that there is no 'cookie cutter' approach to the model. Even though it has been 21 years since the Lewis Land Group first introduced outlet to Australia, we are still crafting that future and on a continual quest to better understand and evolve the ways that our customers shop and retailers can leverage the model.
Also working for a private 'family business' gives us greater ability to be flexible, adapt quickly and experiment new concepts.
For example, we used COVID rent abatement discussions as an opportunity to build stronger relationships with our key retailers. Our 'Retailer Support Framework' was customised to each retailer after taking the time to understand their unique circumstances.
Through fostering open and honest relationships with our key retailers, we were able to provide effective rent relief to support retailers through this difficult time and maintain occupancy for our centres. These relationships are critical for creating a springboard for future success post COVID.
What is your most memorable moment of your career?
It is hard to pinpoint a singular event as being most memorable, so much as an accumulation of them in totality.
In my time at Lewis Land Group, I drove the repositioning and rebranding of Harbour Town Premium Outlets, to elevate our brand and to evolve our concept to facilitate 'best in class' international outlet brands.
Delivering projects such as the $30 million, 24 retailer North West expansion (2016) and $25 million Harbour Town Eats development (2018) in the Gold Coast and the $5M ambience upgrade and rebranding in Adelaide (2018) were certainly career highlights that successfully delivered the messaging of our repositioning.
The amalgamation of all these events, rebrand and redevelopments were instrumental in eliminating the old stigma of 'run offs' and 'seconds' associated with outlet retailing. They provided a solid foundation for where Lewis Land Group are taking this concept into the future.
What do you think makes a successful outlet shopping centre?
For Harbour Town Premium Outlets, it is about differentiating ourselves from mainstream competitors. The outlet model pulls its customers from a much broader geographic trade area (including intrastate, interstate, and international). Our outlet shopping centres provide a brand name offering without the brand name price tags. Many of our retailers also follow the 'made for outlet' model which means they produce stock which is available exclusively to outlet stores. Mainstream retail simply cannot replicate this experience.
One of the most underappreciated elements of a successful outlet shopping centre is the 'vibe' that permeates with the shopper at every moment they are on site. If your shoppers leave having had a thoroughly positive experience, then you can rest assured they will come back.
What are some of the trends you are seeing in the industry?
Traditionally, outlet customers are generally 'hunters and browsers'. However, the pandemic has seen the rise of 'intentional' shopping, meaning that customers are coming to our centres with a pre-conceived idea in mind around what they are looking to purchase. This has been evidenced in our data with 'dwell time' decreasing and average spend increasing during the COVID period.
What advice would you give to someone starting in the industry?
My best piece of advice would be that 'you can't manage what you don't measure', so make sure you calibrate the decisions you make around data-driven, evidence-based KPIs. Remain curious and always be probing to gain a deeper and richer understanding what the data is telling you about your retailers and centres. The data (almost) never lies!
What do you do in your leisure time to de-stress?
I meditate and do yoga daily. I generally find that this time helps me to work through any challenges or difficult decisions I have to make through my day. Aside from that, I also like to jump over the other side of the fence and do some retail therapy myself.
What's your favourite retailer and why?
Generally, I am an outlet shopper because I'm a complete sucker for a bargain. My favourite outlet retailer would have to be Hugo Boss; but if I'm looking for something exceptional I would look no further than Scanlan & Theodore because their range is so distinguished and elegant (I feel like every female should own at least one piece!)
I also like retailers that push the boundaries and move the retail landscape. I have complete respect for what Guy Russo was able to achieve with Kmart at a time when the DDS format was under immense pressure. This was nothing short of revolutionary.
What innovation would you like to see implemented in the shopping centre industry?
Now more than ever shopping centres need to be able to 'do more with less'. Over the COVID period, looking for operating cost reductions whilst our retailers were struggling to pay their rent was essential. Now more than ever, we need to continue looking for clever opportunities to minimise operating costs whilst still growing traffic, sales and market share.
What is the single most important quality you need to possess to be in this industry?
Empathy. There is a real 'people' component to managing physical assets. You have to empower those that work with you to be able to think like your customers and retailers so that together you can create a retail experience which is not replicable and keeps your customers coming back for more.
Want to be profiled? It's the perfect time to share your career and experience which connects all of us. Contact Belinda Daly: belinda@shoppingcentrenews.com.au