This week, we speak with Justin Kingston, National Commercial Director of oOh! Retail and oOh! Locate Networks. Justin has extensive experience in managing large media networks both in Australia and overseas with particular expertise in commercial asset development, sales and marketing and technology sales. Justin has developed deep relationships with oOh!media's commercial property partners to drive asset and revenue growth.
What is your current role and responsibilities?
I am the National Commercial Director responsible for the oOh! Retail and Office media networks. My primary responsibility is to manage and grow our quality national retail portfolio and maintain our leadership position as the largest retail network in Australia. This is achieved through working in partnership with our property partners to develop mutually beneficial strategies around premium media assets.
Tell us about your career prior to joining oOh! in 2016?
My previous roles include General Manager of Secure Parking Australia and Portfolio Asset Manager at Mirvac.
In 2008, I had an amazing opportunity to be part of a start-up media business called Executive Channel Network (ECN), a national network of digital screens in office towers. Being part of something from the ground up, often adapting and growing as we went along, was an amazing (and very tiring) experience. Eight years later (in 2016), ECN was acquired by oOh! and now represents more than 700 office tower locations nationally.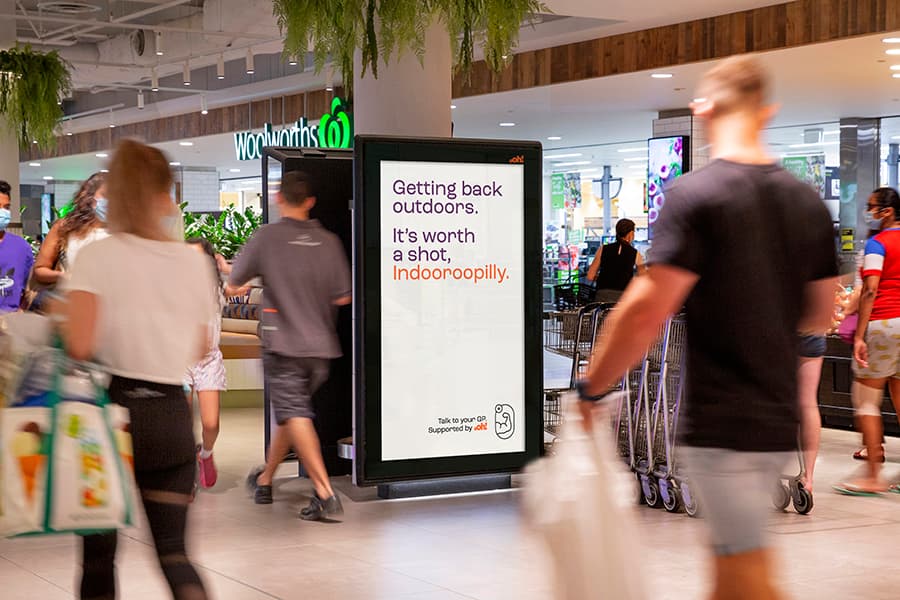 What do you love most about your job?
I love, in equal measure, the amazing team I have around me and our property partners. My team was newly formed six months ago, all existing oOh! employees, and each member skilled in commercial retail and office. Together, we have created enormous momentum in the market resulting in the team and I achieving the goals we set out for 2021. The passion, drive and commitment myself and the team have made coming to work (or zoom calls) is such a positive fun experience.
I also love working with our diverse property partners, from major real estate funds to mum and dad businesses, many have been loyal to oOh!, in some cases for more than 20 years. They and my team are what make it a joy to come to work every day.
What are some of the challenges?
The pandemic was a challenging time. The restrictions as a result of the pandemic hindered what I loved about my job; relationship building, personal interactions with our partners, travelling to new centres and seeing our assets in action. I am hopeful as we move into 2022 that we've seen the last of restrictions and we can get back to travelling nationally and visiting our retail partners again.
What motivates you?
Team comradery and smashing goals is a massive motivator for me, coupled with great products that continue to evolve. When it comes to our property partners, I thrive on helping them achieve their long-term goals and working together to grow and prosper. There is no denying I'm motivated by winning too!
Tell us about your favourite shopping centre, retail precinct or place?
I love a multi-purpose centre, one that has something for everyone and can make a family shopping trip an engaging experience. One of my favourite shopping centres is the iconic Pacific Fair on the Gold Coast. The clever and strategic extensions it has seen over many decades, especially the recent development of indoor/outdoor ambience, is so unique and amazing. More recent developments such as Ed Square in Sydney is another favourite of mine as it showcases emerging design trends.

What are some of the most exciting trends you are seeing in the industry?
Integrated and mixed-use developments isn't a new trend, but I'm excited to see more being developed. They give a compelling reason for shoppers to visit as you really can get everything you need; utilise key services, be entertained, a place of work, socialise, and in some cases enjoy alfresco dining. This trend is essential for the future. The smart use of public spaces is not only sustainable but creates a sense of community for citizens.
How do you manage stakeholders?
I manage stakeholders the old-fashioned way. Do as you say you will do; don't promise things you can't deliver and nurture an honest and open partnership.
My team manages more than 700 unique retail relationships from the larger REITs to independently owned neighbourhood centres, my methodology works well for all our partnerships.
What innovation would you like to see implemented in the shopping centre industry?
I'm really encouraged by the conversations we are having with our commercial partners around data and the opportunities it's creating in shaping better customer experiences, new digital innovation and content propositions. The future of our retail centres is exciting and I'm fortunate to be at oOh! and be leading these informed conversations on innovation.
What do you do in your leisure time to de-stress?
I am very busy with a young family (my wife, three kids, a dog and a cat) and we love the outdoors. You will find us most weekends in the bush or at the beach. I am also a Sailor; I regularly compete on Sydney Harbour and offshore. In 2018, I competed in the Sydney to Hobart Yacht Race on a 40 ft Yacht, it was an amazingly challenging event but immensely rewarding.