Retailers play a vital role in creating great shopping centres and community spaces. At Shopping Centre News we think it's important to showcase and profile retailers to our audiences. For this special feature (first published in SCN Vol. 39 No. 2), we asked Denis McFadden, Managing Director & Founder Just Cuts, to share his insights and comment on the challenges and the future of retail and shopping centres.

Tell us about your career and how you got started in retail?
My hairdressing journey began in 1967 in the UK, when at 21 years of age I arrived at Southampton Docks from Sydney after months at sea styling the hair of first-class passengers on a world cruise. Just two years later, I opened my very first London salon, Dantes, in Seymour Place, running it for ten years before returning home to Australia in 1979 – and bringing all the knowledge and expertise in UK style trends I'd gained home with me to create Just Cuts.
What do you love about retail?
Retail is a dynamic environment, especially in shopping centres. I love the fluidity of the market. To ignite and maintain interest in your brand from landlords, owners and customers, you need to stay on top of changing client preferences while maintaining what's unique about your brand. You need to ensure new technologies and systems enrich your unique offering rather than change it.
This is a difficult tightrope to walk, but if you recruit the right people, you're halfway there. Listening to your clients is the other major component – if you keep listening and acting on feedback, you will stay one step ahead of changes in the market, as you will know what your brand needs to change to ensure customers keep coming back through your doors.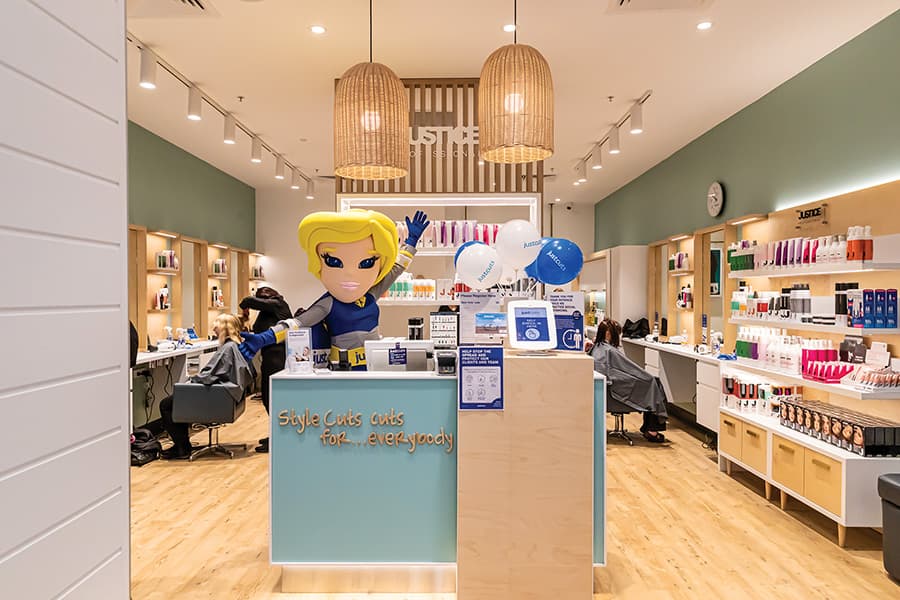 What excites you most about your brand?
Every day I wake up proud of the longevity in this franchise brand I began more than 30 years ago, and the people that have built Just Cuts into the largest hairdresser in the Southern Hemisphere.
More than half of our owners run more than one Just Cuts Salon, and more than one-quarter of our stylists have been working with us for more than a decade. Our very first Just Cuts owner used to work for me, and today she is still the owner of our very first salon: Just Cuts Engadine, NSW. Other franchises may have their owners leave, but nowadays at Just Cuts some owners are simply retiring.
I see Just Cuts owners as my customers; if I look after them, they will in turn look after our clients. The passion of our owners and thousands of stylists in servicing their clients every day – in three different countries and countless communities – inspires me.
What's your best performing store and why?
There are so many aspects where Just Cuts salons excel; there is no one key performance indicator. Some salons may be 'million dollar club' members in sales, others may raise the most for charity.
At Just Cuts, collaboration is key. Our owners are always in touch on our closed Facebook group and fortnightly 'owners on the couch' Zoom meetings. We encourage owners to share tips, learnings and strategies for success, and we promote active engagement within the network so salons who are high performers in either cut rates or retail sales can openly demonstrate how to improve.
We also encourage and openly reward community support initiatives from owners. Just Cuts Campbelltown Owner, Joanne Ashkar, won our Franchisee of the Year award for her 'haircuts for homeless' service and many other programs that her clients and her team support.
What do you look for when choosing a location to open a new site?
On average, we're proud to be opening a new salon every six weeks. With our no appointments, just-walk-in model, foot traffic is the number one ingredient for success. This means locations need to be 1) regularly busy and 2) convenient to access.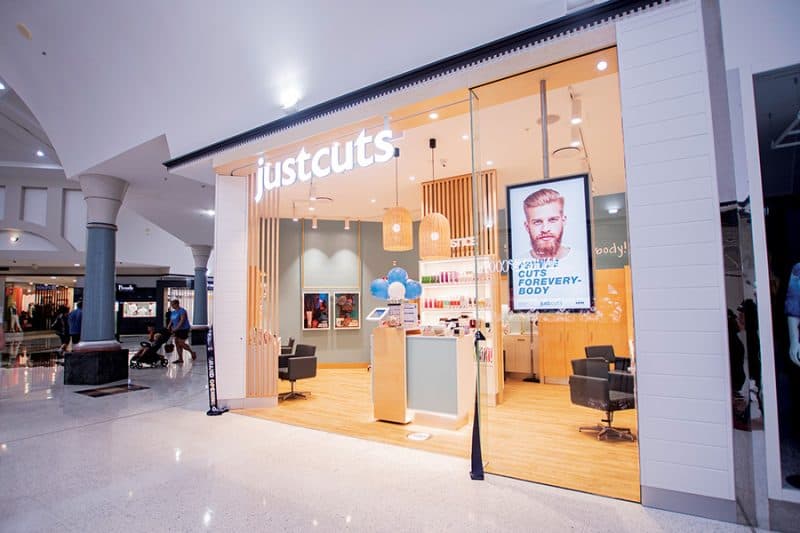 How important is it to continue investing in enhancing in-store experiences and supporting online orders?
With 220 salons across Australia, New Zealand and the UK, we are always investing in doing it better and that includes shop fits, marketing, pricing and promoting our exclusive hair products.
COVID-19 meant we had to invest extra resources in the form of safety videos, sanitiser and PPE masks to ensure clients understood their safety was our priority and felt comfortable visiting us. During COVID, our online store overtook nearly every one of our physical salons in JUSTICE sales. We know this is a rapid growth area for Just Cuts, so we are investing in its success this year.
In 2021, we will enhance our online ordering system by implementing parcel tracking for orders, and we will be retiring some items to make way for new and innovative products we know will sell.
Looking ahead to say the next five years, what does your future store format look like?
In good times and bad, people still need a haircut; as we say, hair never stops growing. We always need a shop front but we will embrace technology to free up our hairdressers to just style hair through innovations like the self-serve check-in tablets, kiosk format salon and the Just Cuts mobile app.
We introduced self-serve check-in terminals to our Just Cuts Salons – a massive productivity breakthrough that allows stylists to keep cutting and our clients a contactless check-in method using in salon iPads. Everything we do at Just Cuts is geared towards making hair easier to manage for everyone.
In your opinion, what makes a shopping centre successful?
People visit shopping centres for the stores, not the centre itself. I believe a successful shopping centre works collaboratively in partnership with tenants and is actively engaged in securing the best outcomes for both parties in discussions during this COVID era.
Moving forward, the most successful tenants and the busiest shopping centres will be the ones who understand the reality that we need to learn to live with this virus, and have adapted accordingly.
Ultimately, successful tenants create a successful shopping centre, and now that the bricks-and-mortar retail landscape has changed forever, shopping centres must start changing their thinking too. They must work hand-in-hand with their tenants and local community towards future success, as it is not guaranteed.
I am excited to hear that some of the big spaces will be taken over by hotels, hospitals and even schools; this can only enhance the appeal of shopping centres as a drawcard through broadening the appeal and growing foot traffic, which is a win for our franchise owners.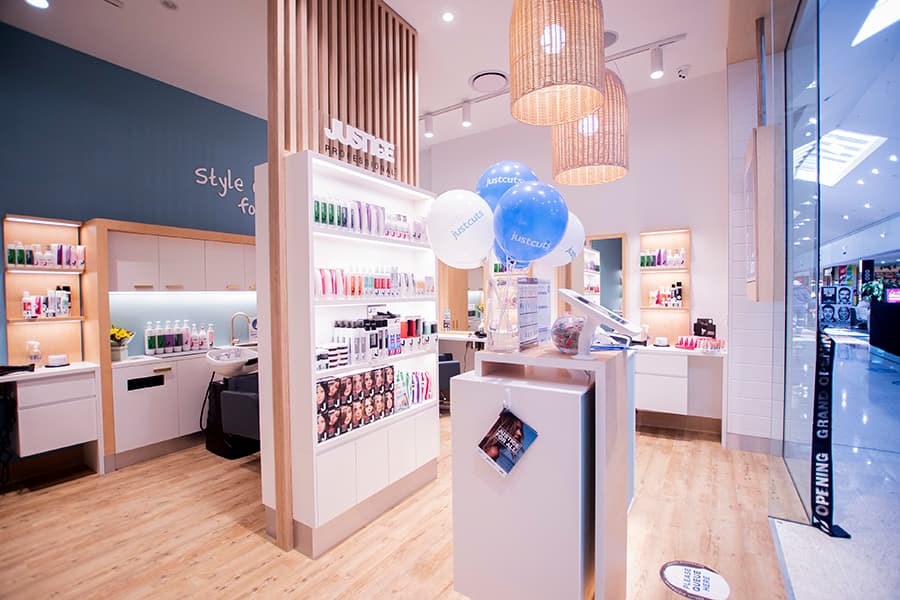 How has COVID-19 changed the relationship between landlords and retailers?
We feel the relationship has changed with landlords and it has evolved into more of a partnership. Just Cuts argued with the government that hairdressers should have been shut down officially at the onset of COVID-19 and, finally, that happened. We felt that if it was official, then landlords would be willing to discuss rent relief from the significant impositions COVID-19 imposed on our owners through reduced foot traffic in shopping centres, especially with our just-walk-in model.
The unique simplicity of our promise, the fit out, our marketing, grand opening strategy and strong brand recognition (now at 57% – Retail Doctor Group, April 2021), means we know we're a valuable retailer that can have a home in every shopping centre in Australia. We bring this understanding to every negotiation we engage in on behalf of our owners.
In what ways can landlords continue to support retailers?
Landlords need to view agreements from a tenant's point of view, especially with rising labour costs and reduced foot traffic, coupled with snap lockdowns and changing consumer behaviour. When I started Just Cuts over three decades ago, our matrix was that rent would be 20% or less, and our wages would be 50% of sales – today that's had to change.
Landlords have to understand that our goal now for Just Cuts owners is that rent will be 15% or less and that wages have gone up, plus we have staff superannuation to consider. Just Cuts will not sign off on a renewal or new lease if the rent is greater than 15%.
We have a proven business model that works and has thrived during COVID, but we have done our part to adapt by investing in heightened safety measures and continue to use social distancing in salons.
Owners are reducing the number of stylists cutting at once to keep clients safe and protect the community; landlords need to support good operators who have adapted to COVID-19.
About Just Cuts
As the largest employer of hairdressers in Australia, Just Cuts offers a successful and proven system for franchisees, with ever-growing demand and new opportunities to grow revenue.

Just Cuts is a hairdressing salon that bridges the gap between a traditional barber and a high-end hair salon. Our pioneering fixed price, no appointment system is a convenient and practical solution for our clients, offering affordable style cuts from only fully qualified stylists.
Under the leadership of CEO Amber Manning, in 2020 Just Cuts expanded its UK salon network, opening two new salons in north east England during COVID-19, bringing our UK total to eight salons.

This article was first published in SCN Vol. 39 No. 2, CBD Guns 2021