Retailers play an important part in creating great shopping centres, so we want to profile retailers to our Shopping Centre News audience on a regular basis. Australians have fallen in love with quality food and Mexican is a fast healthy choice – and it's super tasty. This week we speak to Founder and CEO of Mad Mex, Clovis Young who opened the first Mad Mex restaurant in 2007. This year Mad Mex celebrated its 11th birthday and has plans to expand into south east Asia in 2019.
Can you tell us about your current role and a brief career history?
I am the Founder and CEO (aka Head Honcho) of Mad Mex. I'm from California and prior to Mad Mex, I worked in the financial services and equity capital markets. I immigrated to Australia in 2006 and opened the first Mad Mex restaurant in 2007 with a vision of disrupting the traditional QSR brands, with a fresh and Mexican offer. Our commitment to authentic Mexican flavours and restaurant quality ingredients has earned us a passionate and loyal customer base. Mad Mex was voted Australia's Best Latin American Restaurant in the Lifestyle Food Channel's 2014 awards.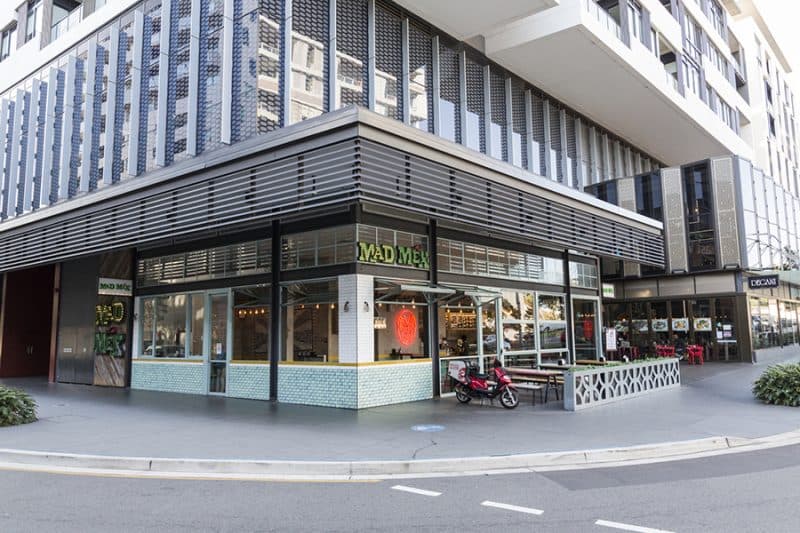 What excites you most about your brand?
Mexican Food in Australia has changed so much over the past 10 years. When I first came to Australia, it was almost impossible to find a decent Mexican restaurant. Today it's very different with a great range of food offers available. Aussies are spoilt for choice! What we are seeing overall is the big trend towards fresher and healthier options. This is exciting and a great opportunity for Mad Mex, given that healthy and fresh is at our core.
This year we celebrated our 11-year anniversary with the announcement of a new partnership with the Singaporean brand, 4Fingers, and we're looking forward to introducing Mad Mex to south east Asia in 2019.  This expansion coupled with our first major brand refresh in 2019 makes it incredibly exciting time for Mad Mex.
What's your biggest challenge?
Finding quality sites at attractive rents is a growing challenge. Shopping centres are adding more F&B to centres, while retail is moving online and the Uber and Deliveroo are decentralising the access to good food.
If shopping centres don't have a clear vision and strategy for how to drive incremental foot traffic to their assets, we as retailers need to be cautious.
The other challenge remains finding quality franchisees that are aligned with our brand values and can deliver the customer experience, consistently. The high publicity failings of some of the larger franchising groups is having an unfortunate spill over to the industry generally.
What do you look for when you choose a location to open a new restaurant?
Visibility and proximity to the "ant trail" of customers is of the utmost importance in both food courts or entertainment precincts. We always look for complementary brands that will create a critical mass of food destinations to drive customers to the area.  Generally, we target sites between 60-150m2.
What's your biggest gripe about shopping centres?
One of the big challenges is the replacement of retailers with food offers, while foot traffic has remained static for the most part. We are seeing more short term thinking from leasing teams as they struggle to meet revenue targets for projects, and we fear this will only exacerbate the structural challenges facing shopping centres generally.
What could help the relationships between retailers and landlords?
Generally, we see positive relationships between leasing teams and retailers when both parties are focused on relationships and a shared set of goals. Where this breaks down is on lease renewals and the way renewals are priced.  Without legislative change, relationships will be always be strained and the reputation of shopping centres as predatory partners will remain.
What do you think are the most dramatic changes in shopping centres in the next 5-10 years?
The Amazon-ification of retail and the Uberization of food and services means that traditional retail is under enormous pressure to evolve and customers are already asking themselves "do I need to go?"
To the shopping centre's credit, they are investing massively in upgrading their assets, building entertainment precincts, and creating some incredible experiential spaces.  Whether this strategy can deliver the customer footfall and retail spend to deliver an ROI to shareholders and operating margins for retailers remains to be seen.
Which in your opinion is Australia's most successful shopping centre?
Chadstone reigns king as Australia's most admired shopping and entertainment centre. Its size, scale and the recent renovations makes it second to none and we certainly see our results correlate with this.