This Q&A with Tim Clarkson from Chas Clarkson forms part of a special Christmas feature published in SCN's Little Guns edition.


What does Christmas mean to you?
Christmas is the culmination of a year's worth of hard work and dedication for the Chas Clarkson Team. The sense of pride that we feel and share with our clients in bringing our combined visions to life is immeasurable. It's incredibly rewarding to know that the experiences we create bring joy and happiness to people of all ages, forming long-lasting memories for visitors and tangible results for our clients.
What is your most memorable Christmas activation?
There are too many wonderful projects to mention, but if I had to choose, two come to mind.
In 2017, Chas Clarkson worked very closely with the Scentre Group Marketing Team to create a best-in-market Christmas experience for customers. We designed and produced an exclusive, holistic decoration program for all Westfield Centres in Australia and New Zealand. The suite continues to be rolled out across the portfolio, delivering positive results at centre level upon deployment; including increased foot traffic, improved customer sentiment and higher retail sales.
In 2015, it was our honour and privilege to help to elevate the QVB's Christmas experience to an entirely new level by delivering the iconic Swarovski Tree and 'Enchanted Garden' Santa Experience. These world-class activations created an institution for families all over Australia to visit and put the QVB on the world map of must-see Christmas destinations. We are thrilled to have been chosen from a competitive international field to once again reinvent the Christmas experience at the QVB in 2021!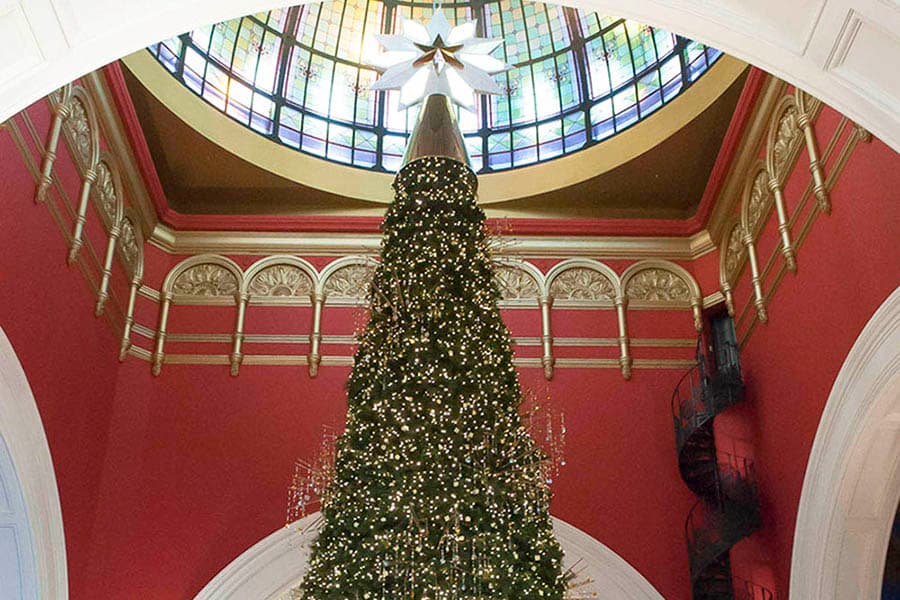 What are some of the challenges this year?
Like most businesses, we have experienced many challenges this year and in 2020. Months of lockdown with no air travel has made it virtually impossible to visit our clients and suppliers, including our overseas production partners. Labour shortages have resulted in additional pressure on local production, while international shipping throws up daily challenges – from delays and diversions to exorbitant price increases. Even with the enormous amount of uncertainty this year, the Australian shopping centre industry should be commended on remaining positive and proactive in planning for a successful Christmas 2021.
How has your business adapted to the pandemic?
Like everybody, we have adapted to the new world of remote working and virtual meetings. We remained connected with our team through clear communication and conscious culture initiatives. With our clients, we developed a deeper understanding of their challenges and goals through collaborative partnerships – not just supplier-client transactions.
Our Design Team has evolved immensely in the past two years. They have taken the opportunity to challenge their creative thinking by exploring new and innovative concepts and tailoring them to the local market. This renewed thinking has resulted in successful design proposals for some exciting projects, including Christmas at the QVB, Emporium Melbourne, Chatswood Chase, Karrinyup Shopping Centre and Marrickville Metro. The broadening of our creative thinking is now being applied to the creation of new experiences outside of Christmas, which we continue to develop. And through the height of the pandemic, we painstakingly rebuilt the Chas website from the ground up!
What makes a truly successful Christmas campaign?
Christmas is about more than just decorations. It's about curating an authentic, engaging and holistic experience for customers that evokes feelings and generates long-lasting memories. The campaign should be seamless across all touchpoints, from the decorations to the in-centre experience, marketing collateral and social content. But it's important to define from the outset what success means to the client. Is it increased foot traffic and longer dwell times? Increased retail sales or social engagement?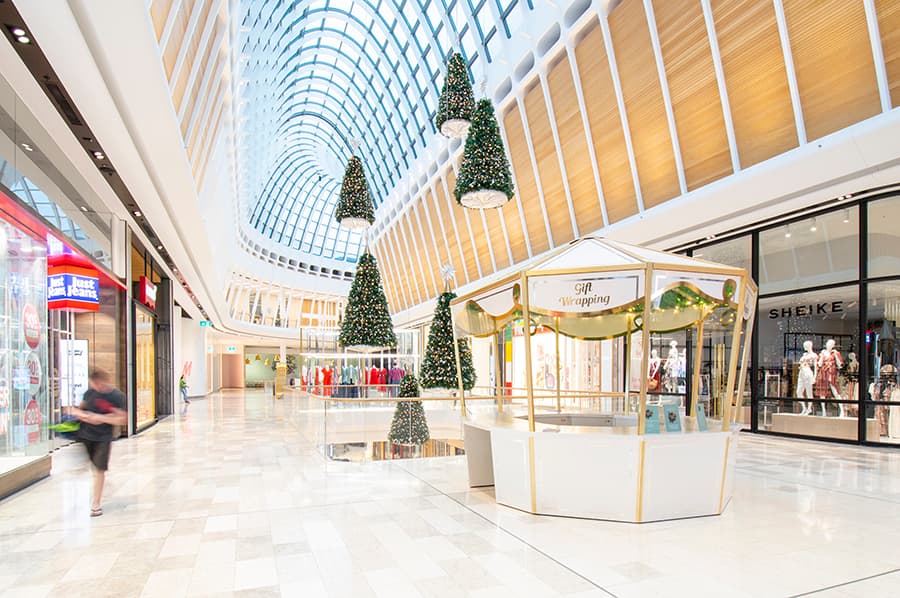 At Chas Clarkson, we challenge our clients to identify their key objectives in the brief, with a clearly defined target market and budget. We work with clients through every stage of the project timeline, from concept development to production and installation/dismantle, to turn the dream into a reality. Ultimately, success is something that can only be truly delivered through measurability via traffic counters, retail sales results and social impressions. If you can define success at the briefing stage of the campaign, then we can plan, design, deliver and measure it.
What do you think Christmas in shopping centres will look like in the future?
After such prolonged lockdown periods in many Australian cities, Christmas in shopping centres has never been more important. There has not been a more disruptive event in recent history than the pandemic's effect on shopping habits. It is incumbent on all of us to create compelling in-centre experiences in the face of online shopping – both for our customers and our retailers – especially during the crucial Christmas period.
It's not enough for Christmas decorations to 'look beautiful' anymore. They need to give customers a reason to visit through engaging and immersive activations that can only be experienced in a physical setting. Shopping centres have become the modern-day town squares where the community congregates and connects through shared experiences that resonate – both at the time of the experience and afterwards through an integrated campaign.
Are in-store Santa experiences still essential?
Visiting Santa is a treasured experience that draws customers to shopping centres, creating the foundation for new Christmas memories. Even through the pandemic with a socially-distanced Santa, the wearing of face masks, and a transition to online bookings, customer demand for genuine Santa experiences is stronger than ever. Technology is playing an increasing role in the enhancement of the physical experience through digital interactivity and augmented reality. And the ability to customise and share images and videos with friends, family (and pets!) is bringing the Santa experience to a new, young audience.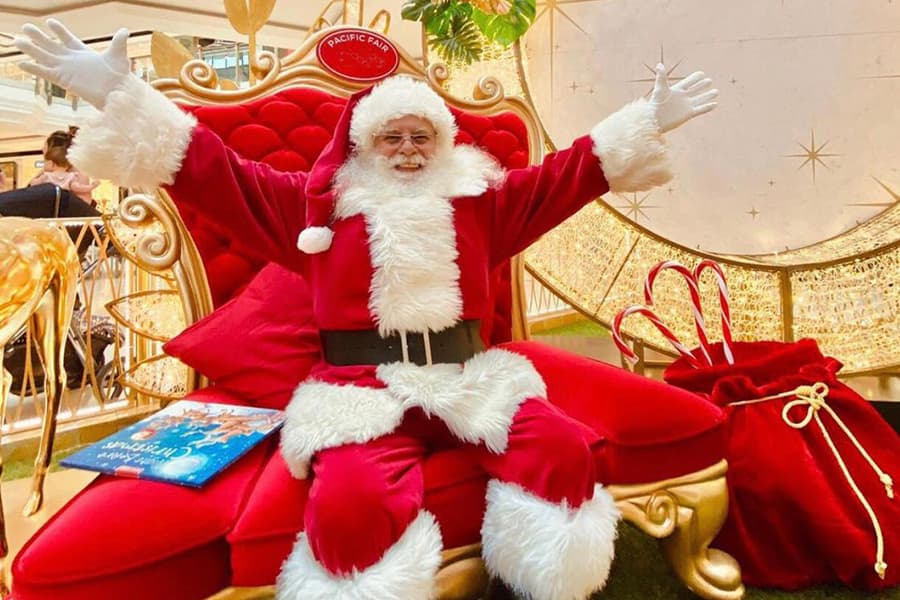 What are some Christmas design trends?
The celebration of Christmas is steeped in history and tradition. For all of us, Christmas evokes vivid memories of childhood and feelings of genuine joy and excitement. And if there's one thing the pandemic has reminded us of, it's the importance of family, community and the basic human need for authentic connection. At Christmas, this authenticity is represented through tradition, which is at the core of any compelling Christmas experience. Modern interpretations may be overlayed to appeal to younger and more diverse audiences, but the essence of tradition usually remains. Another method for ensuring Christmas experiences are authentic is through the integration of local artists and artisans. Their inspiration and unique perspective can bring a rich narrative to a project that resonates with the community. And far from being a 'trend', sustainability has become a key consideration for any great Christmas experience. Sustainability through the reuse, recycling and repurposing of products and materials is at the forefront of our thinking on every new project.
How can centres create a more inclusive Christmas?
Christmas experiences need to resonate with the community, and customers need to feel like the experiences are reflective of their area and its people. To achieve inclusivity, decorations may be overlayed with community content, including local artist contributions. Or activations might serve as launch pads for the inclusion of community groups, like performances. Inclusivity is achieved through collaboration, and at Chas Clarkson, we welcome the opportunity to work with contributors that bring a sense of place to a Christmas campaign. Through inclusivity comes authenticity!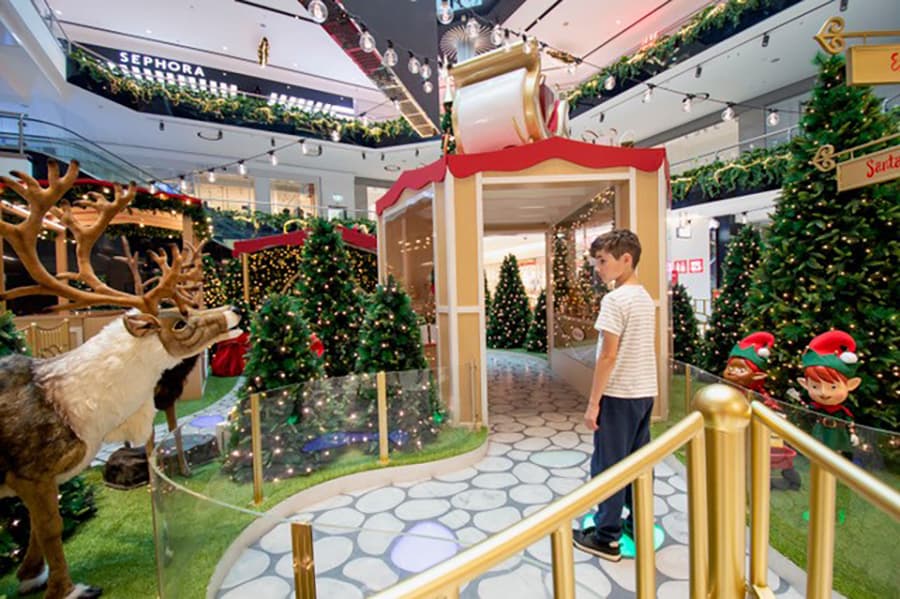 In your opinion, which centres have executed the best Christmas experiences?
The best Christmas experiences have a lingering effect on all who experience them. They make us feel something. They're immersive. They stop us in our tracks and make us forget where we are and what we're doing, even just for a moment, as we remember what it feels like to be a child. There are many Christmas experiences around Australia that have this effect – and not all of them are Chas Clarkson creations. We are proud to work in an industry that brings joy to people's lives!
How can centres enhance the shopper experience over the holidays?
Enhancing the shopping experience means giving customers an experience they weren't expecting. There are endless options for taking the experience to the next level, but if you're going to do it, do it well! It could be an interactive moment at a key entry point, an entertaining performance on the customer journey or a seamless Santa experience check-in process with an element of gamification to keep the kids occupied while they wait. As we like to say at Chas Clarkson – "Think outside the tree!"
Beyond Christmas, what else can a business like yours offer?
Chas Clarkson may be famous for Christmas, but we recognise the need for our clients to deliver experiences all year round to stimulate foot traffic, community engagement and retail spend. Our expertise in the Christmas space, together with a highly-skilled team, has begun to translate to the development of new, year-round experiences. In 2021, Chas delivered engaging activations for Lunar New Year, Easter and Diwali. In 2022, we are focused on further growth as an Australian leader in providing experiences that create joy and drive community engagement. Needless to say, we are excited about the future.