This Q&A with Dave Gardner, Dec the Malls, forms part of a special Christmas feature first published in SCN's Little Guns edition.


What does Christmas mean to you?
Although there are many different perspectives on what celebrating Christmas means, for me, it is a time of sharing, caring and giving. Even looking at it from an industry perspective, the most rewarding element is creating the magic for people and seeing the effect this magical season has on them.
What is your most memorable Christmas activation?
As a Christmas designer, you'd probably expect me to talk about one of our most creative, immersive or unique, large-scale projects, but my favourites have been the sensitive sessions we've recently conducted within our attractions. It's a unique challenge to turn a space that is designed to be impressive and stimulating into a more calm and welcoming place. Giving those children, who might otherwise miss out, the opportunity to participate makes seeing their smiles all the more rewarding.
What are some of the challenges this year?
Obviously, the COVID pandemic has thrown up some challenges for everyone involved in the retail industry, and we're no exception. We've seen noticeable impacts on budgets and unavoidable delays in decision-making, which have created significant pressure on project timelines.
When it comes to seasonal products, there are definite cost benefits to ordering early. With decisions coming later in the year, already reduced budgets have been further strained.
The certainty of supply for some elements of our sets has become a concern due to unreliable shipping times and delays. To keep to our pledge of magical displays in a time that really needs some 'magic', we've implemented further contingency planning and increased in-house manufacturing. Our approach of constant open communication with our clients has proved essential.
Activation spaces are also becoming smaller, limiting the opportunities for large-scale Christmas attractions and immersive walkthroughs. We've been addressing this by designing multiple complementary pods that can be distributed throughout a centre to create a centre-wide activation. This format provides the additional opportunity to conduct a treasure-hunt style experience with which many of our clients have had great success.

What do you think Christmas in shopping centres will look like in the future?
During our 30 years in the business, being progressive and creating unique designs, we've developed the full range of modern, traditional, tech-based and immersive decorations and activations. In recent years, we've noticed a reduction in the levels of decoration and an increase in generic decorative features.
As shopping centres are increasing in size and becoming hubs for entertainment, I think we'll see a positive return to bespoke decorations to match some of the stunning architectural spaces being created.
Over the years, there has been a tug of war between the traditional and the modern. With the products available today, we are creating a harmonious blend of the two. Our future design concepts are looking more exciting than ever, and we can't wait to deliver them to our clients.
Are in-store Santa experiences still essential?
Most parents will know you have to visit Santa at Christmas! Going to see Santa at the local shopping centre is a quintessential Christmas tradition that is an iconic event intrinsic to the industry. Parents still want the annual Santa photo of their children (or fur baby!) It captures a moment in time and forms a beautiful record of their children growing up.
But it's not all about the children; this world of wonder evokes memories for parents from their own childhood that they can pass on to the next generation.
Given what the world's been through over the past two years, we feel that now more than ever, Australians want the joy of a Santa experience. It allows us to step outside of the daily nine to five and keep the magic alive!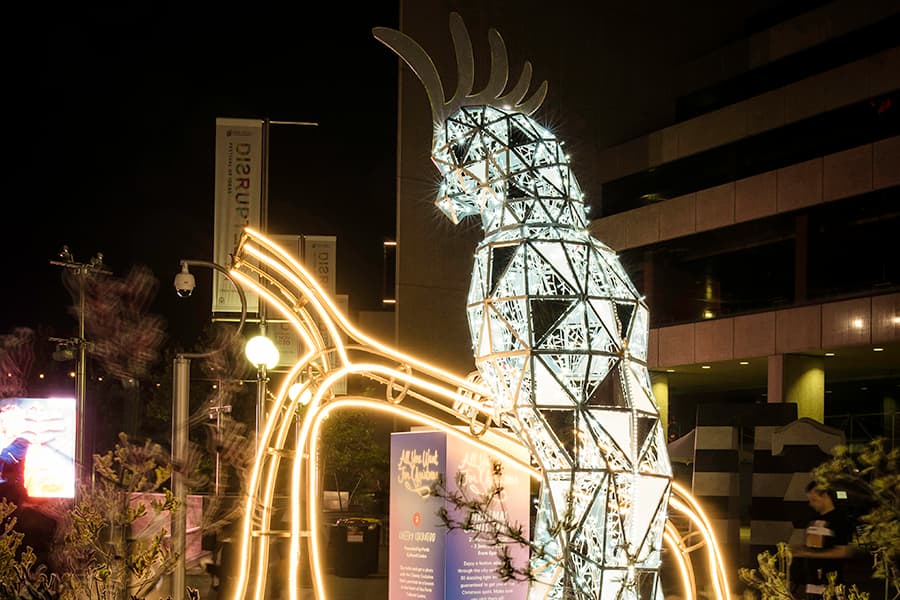 How can centres enhance the shopper experience during the holidays?
The aim is to inspire people with the excitement and spirit of Christmas as they enter the retail space. Retail is really where the Christmas build-up begins and culminates in the joy of Christmas Day. We're dreamers, and our vision is to create full, centre wide experiences for shoppers that keep them smiling throughout their visit.
The Christmas experience should begin as the shopper approaches the centre and stay with them long after they have left. Luxe decorations and interactive Christmas experiences should guide them through the centre, with the Christmas story building as they move towards the star of the show – the Santa set. Along the way, themed activities and community events can add enormously to the festive atmosphere and ultimately drive spending for retailers.
With the face of physical retail being challenged, the customer journey is as important as ever, and what better journey than one through a Christmas wonderland?
Beyond Christmas, what else can a business like yours offer?
We offer award-winning, turn-key school holiday activation packages for all size centres. These range from large-scale attractions featuring fully immersive themed sets, world-class animatronics and costumed staff to smaller activations featuring games, food workshops and craft activities.
We also offer an extensive variety of visual display services and a vast range of hire equipment. Our team are experts in creating bespoke displays to support any retail campaign, shopping centre redevelopment openings and seasonal events. We also have extensive experience in creating tenancy activations for temporarily vacant spaces and pop-up activity areas.