Jane Macpherson is a Development Executive at Scentre Group, managing four of its Queensland living centres: Westfield North Lakes, Westfield Carindale, Westfield Chermside and Westfield Garden City.
Jane drives the strategic management and development of these assets. She is responsible for working with Scentre Group's JV Partners and internal centre experience, leasing, facilities, service and finance teams to deliver the centre net operating income, as well as delivering on the short and long-term development initiatives with the design and construction teams in accordance with each strategic asset plan.
How does Scentre Group support women in the workplace?
I have found that Scentre Group supports all of its employees in many ways by creating a diverse and inclusive culture where everyone feels safe to bring their whole selves to work. For example, flexibility is very important for many Scentre Group teams and people in order for them to be able to balance their work and personal commitments. This may come in many forms including the ability to work flexible hours, working from home and on the road, job sharing and support services when required.
In terms of supporting women in particular, this is a business priority that is championed from the top with our CEO, Peter Allen, being a Property Male Champion of Change and WGEA Ambassador for Pay Equity. We have been publicly acknowledged by the Workplace Gender Equality Agency (WGEA) as an Employer of Choice for Gender Equality again this year, and we have no pay gap for like roles by gender. I also find our Connect forum valuable. It's a female networking program that provides education and networking opportunities for young women to learn from others and develop their professional tool kit. Females represent 41% of all Scentre Group people managers, with 26.5% at senior executive level.
How would your peers describe you?
I think my peers would describe me as transparent, a team player and hardworking.
How do you manage multiple priorities?
I try to be as organised as possible. I have to work at this, as it isn't something I find comes naturally to me. Learning to prioritise and limit distractions when needing to focus on a particular task is important.
In this profession, the ability to be flexible and accept that not every day is going to go as planned in important.
Single biggest lesson you've learnt in your career?
To not conform to other people's management or influence styles. This is when I am able to be my most genuine and engaging, and I find it yields the best results for me professionally.
How can women invest in themselves to support their career?
Find your network of people professionally and personally who support you, but also challenge you by providing honest and constructive feedback when required. We all need to be grounded sometimes. Give yourself time to learn, and continue to want to learn and grow. If you're not feeling challenged, perhaps ask yourself why and what your next growth opportunity is – and don't hesitate to ask for it.
What's your definition of 'success'?
Feeling accomplished in both my professional and personal life. I've recognised how important balance is in my life – it can't be all work and no play.
Professionally, I definitely think seeing the tangible product and the collective hard work of our team embodies success.
Best piece of advice you've ever received?
That not everyone is going to like you. Earlier on in my career, this took me time to realise and be comfortable with. In my view, I think women tend to struggle more with this.
What advice would you give to someone wanting to get into development?
There's not necessarily a set or 'right' way to get into development. In our team alone we have development executives with backgrounds in accounting, engineering, human resources and retail and centre operations.
If you're passionate about development, find and follow some companies you are interested in or inspired by, and meet with people working in the field. Network, network, network. Remember that our industry is relatively small, you will come across people time and time again.
Biggest challenges you have faced in your career?
I would say dealing with people who are different to me, particularly with regard to values, and finding a common ground on which to forge a path forward. This isn't easy, but is incredibly important in order to achieve what is required in my role.
What qualities make a good Development Manager?
Teamwork, tenacity, integrity and a spoonful of stubbornness.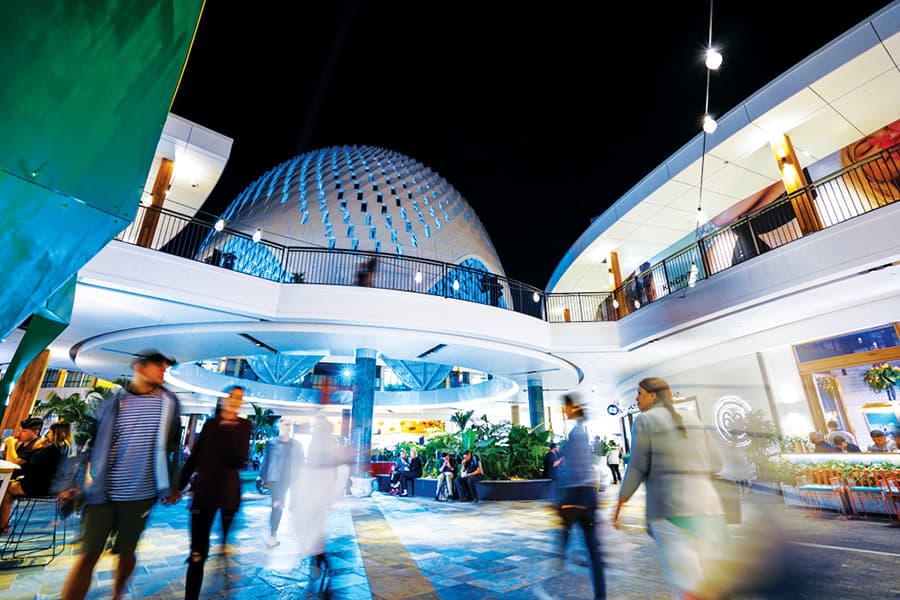 When are you most creative?
When working in a team environment. I find I am inspired by others' energy and I recognise I'm not an expert in all fields. I'm a strong believer that we can all learn from one another.
Which women inspire you and why?
It's topical at the moment but I have found the NZ Prime Minister Jacinda Ardern to possess the attributes that I consider to be those of a leader; integrity, humility and strength – all at a time that must have been extremely stressful and emotional.
Otherwise, I would have to call out my close circle of female family and friends. I am incredibly lucky to be surrounded by strong women both professionally and personally and we are able to have open and honest conversations with one another about our challenges, faults and share our successes. This support has been immeasurable.