People from 77 nationalities united at The Square Mirrabooka on 15 March 2019 to help a Perth local council set a Guinness World Record for the most nationalities in a drum circle. An A-Z of countries was represented at the Harmony Day event organised by The City of Stirling, with drummers from Albania through to Zimbabwe breaking the previous record, set in Canada last year, of 61 nationalities in a drum circle. 
Allana Edwards, Centre Manager of The Square Mirrabooka, said the event highlighted the City of Stirling's amazing cultural diversity. "As part of one of Australia's most culturally diverse regions, The Square Mirrabooka jumped at the opportunity to collaborate with the City of Stirling on its Harmony Day celebrations and help the community break a world record in the process."
"Not only is the shopping centre focused on being a community hub for the area, but we also embrace the unique cultural diversity we have and are proud to have participated in a community event that united so many community groups."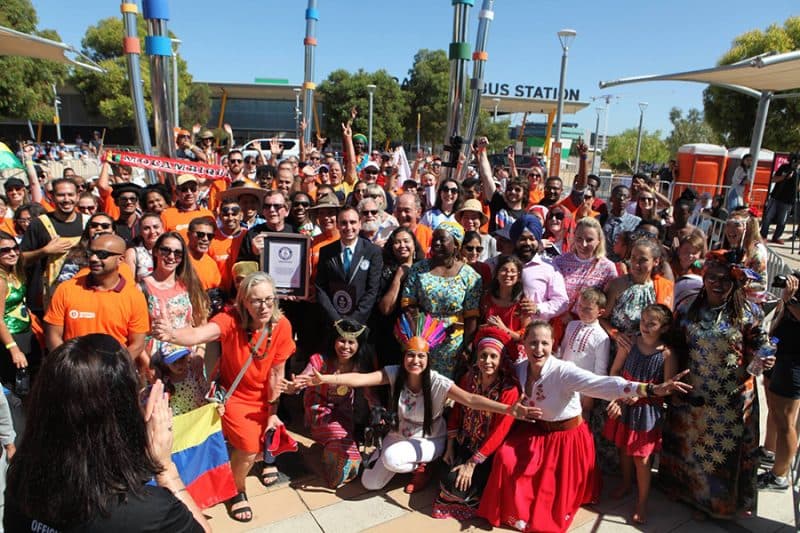 An adjudicator from Guinness World Records was on hand to verify the record-breaking drum circle, which was part of a line-up of events at The Square Mirrabooka to mark Harmony Day.
The shopping centre and the City of Stirling joined forces with local schools, community organisations, and Government and non-Government agencies to organise the multi-cultural events and entertainment, which included Chinese lion dancers, belly dancing and Australia's Got Talent contestants the Subih Brothers.
Edwards said the events drew a big crowd, with centre traffic up 28% between 10am and 2pm. This equated to an additional 2,659 visitors. "We were honoured to have hosted the City of Stirling's Harmony Day eventand thank all the volunteers and community groups who participated and madethe day such a success."
"It is events like this that help promote a greater appreciation of cultural diversity and community pride."
More than 100 retailers joined in the Harmony Day celebrations with special offers and promotions, and shoppers had the opportunity to win a $200 holiday voucher.