Woolworths Group Limited are offering four retail investment assets for sale – Spring Farm and Wadalba in New South Wales, Keysborough South in Victoria and Bakewell, Northern Territory. The neighbourhood Shopping Centres and supermarkets are being sold individually by separate agents and are going on the market in the coming weeks.
Commenting on the sell-down, a Woolworths spokeswoman said: "While the property market remains strong and appetite from financial investors continues, we have the opportunity to sell four strong performing quality neighbourhood shopping centres. These centres will be marketed individually."
"We have entered into sale and leaseback agreements that will retain the tenure of these properties through strong 10 year leases." she added.
Keysborough South Shopping Centre in Melbourne's south east is set to be the first Victorian neighbourhood shopping centre offered for sale in 2020. The newly-built centre is anchored by a Woolworths supermarket and complemented by eight specialty shops. It is currently fully leased and provides an estimated net income of $1,780,000 per annum.
The CBRE Victorian Retail Investments team of Justin Dowers, Mark Wizel and Kevin Tong has been exclusively appointed to sell the asset on behalf of Woolworths.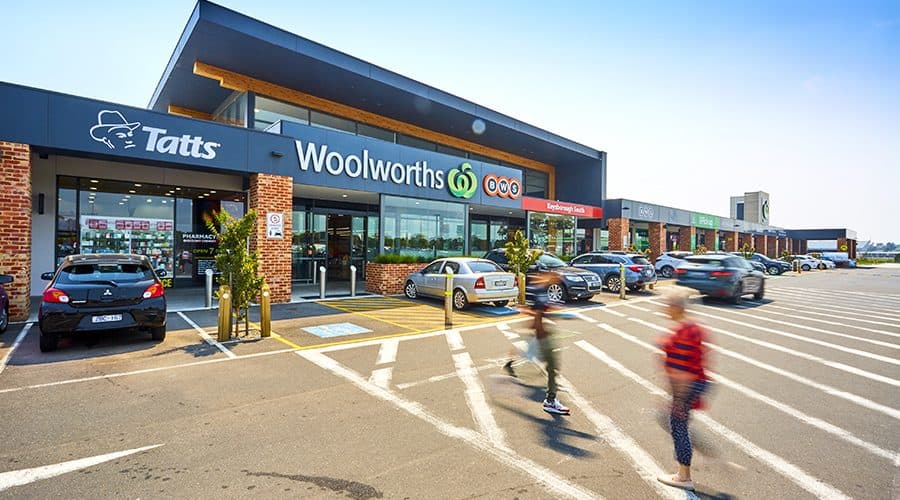 The single level, 5,437m2 centre is situated within the City of Greater Dandenong, where the residential population is expected to surge by 20% within the next 10 years. It is expected to attract significant buyer interest, both nationally and internationally.
"Woolworths selected the site due to its growth prospects and lack of viable full-line supermarket alternatives in the area," Dowers said. "The development has been structured around the daily needs of consumers in the catchment, with the eight specialty shops leased to tenants focused on non-discretionary spending."
Dowers added; "Confidence in the non-discretionary retail market is as strong as ever, with Woolworths recently named Australia's most valuable brand by in a new report by consultancy firm Brand Finance."
Keysborough South Shopping Centre will be offered by Public Expressions of Interest closing March 26, 2020.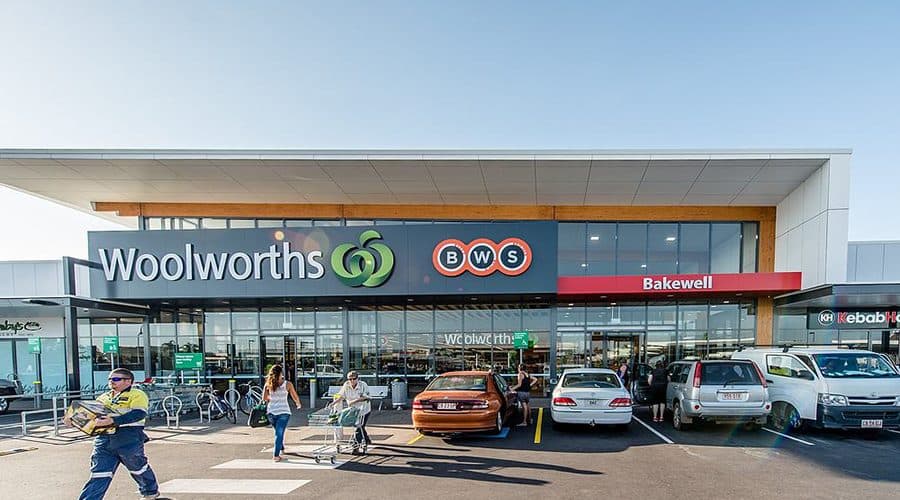 Woolworths Bakewell is ideally located on the corner of Chung Way Terrace and Lambrick Avenue, within the southern growth corridor of Palmerston, about 25 kilometres south-east of Darwin. The neighbourhood centre boasts a 4,799m2 Woolworths and BWS liquor store, 12 specialty retailers and a 287-space car park.
JLL's Nick Willis, Director of Retail Investments and Jacob Swan, Joint Head of National Retail Investments are handling the sale.
"Constrained retail investment activity in the first half of 2019 spurred significant investment in the fourth quarter of the year which has continued into 2020. Notably in the past six months we have seen a real shift in investor demand towards neighbourhood centres from both local and offshore privates and larger institutions looking to get scale, given their defensive non-discretionary nature and annuity style returns." they said.
"Woolworths Bakewell is an established and strong performing neighbourhood shopping centre that has been open and trading for approximately five years. Its strategic corner location in the south growth corridor of Darwin is anchored by an exceptionally strong performing 4,799m2 Woolworths Supermarket that trades approximately 51% above the national Urbis benchmark."
In NSW, Woolworths is selling the Spring Farm Shopping Centre near Campbelltown, about 60 kilometres south-west of Sydney, and the Woolworths Wadalba on the NSW Central Coast.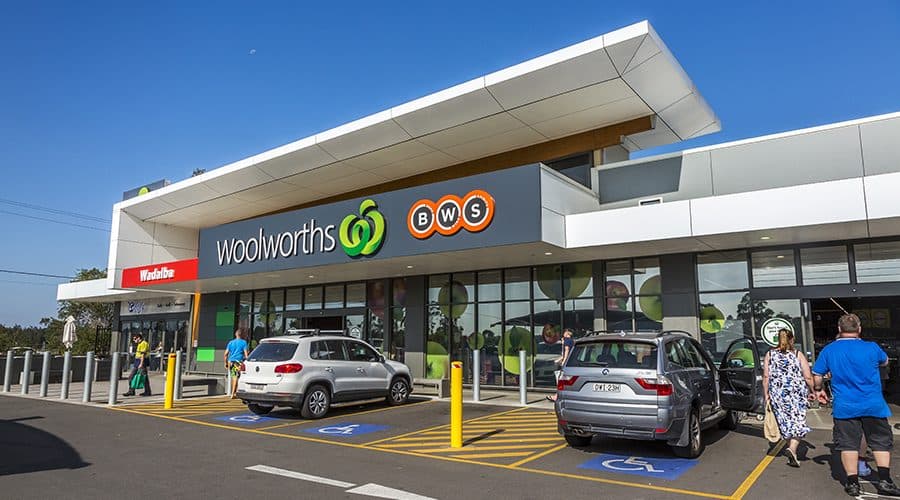 Woolworths Wadalba comprises a full line Woolworths supermarket investment, supported by a single café operator, strategically located between the key employment hubs of Newcastle and Gosford, 99km north of Sydney CBD. The supermarket occupies a significant 1.55 hectare site that enjoys prime exposure and multi-directional access to the Pacific Highway.
Colliers International's James Wilson, National Director of Retail Investment Services and Alex James-Elliott, NSW Executive of Retail Investment Services are handling the sale.
 "Pent up investor demand, specifically from the private investor market, coupled with the record low cost of debt will drive interest and pricing for this campaign. With approximately 98% of the centre's GLA secured by a brand new 10 year lease to Woolworths, an ASX top 10 company, the non-discretionary nature of the this offering will prove attractive to a number of investment groups" said Wilson.
"Woolworths Wadalba is located within the Central Coast region, New South Wales' third most populous urban area. Population and retail spending with Woolworths Wadalba's main trade area is forecast to be driven by the strong residential greenfield development pipeline in Wadalba, and neighbouring suburbs of Warnervale and Hamlyn Terrace" said Wilson.
Spring Farm Shopping Centre is a 4,933m2 Woolworths anchored Neighbourhood Shopping Centre. The 3,786m2 Woolworths supermarket, which secures over 75% of the centres GLA, is supported by nine specialty retailers and one kiosk with national and chain retailers including BWS, Choice Pharmacy, CTC and Domino's Pizza.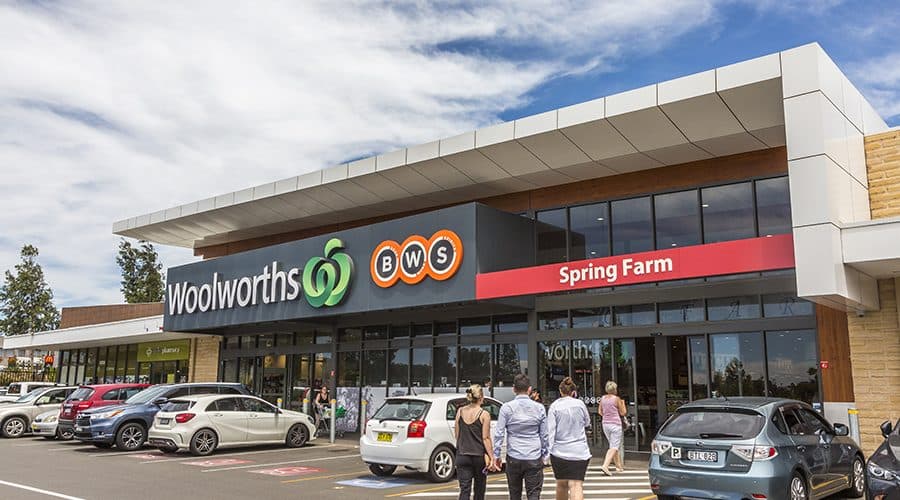 "Woolworths Spring Farm is a high performing neighbourhood shopping centre located in the thriving South West Metropolitan Sydney growth corridor. The convenient Woolworths anchored neighbourhood centre benefits from its 2.1 hectares sites high exposure within its relatively affluent and growing catchment. The centre's retail performance will benefit from the significant economic impact of Western Sydney International Airport and  surrounding Aerotropolis which is forecast to drive employment for the main trade area" said Wilson.
"Colliers International believes Woolworths Spring Farm will meet private investor and growing syndicator appetite for non-discretionary retail investments that provide investors security of income via the Woolworths lease in addition to the potential to drive income growth given the centres specialty lease profile combined with the evolving economic metrics of the region" said Wilson.