Set to become a staple of the Brisbane foodie scene, UPSTAIRS at Toombul is a first-of-its kind, urban dining and entertainment experience. The 5,100m2 precinct, headlined by Archie Brothers Cirque Electriq — an exciting circus-slash-arcade bar, will boast art-inspired décor and Insta-worthy experiences everywhere you look. Launching at the end of 2019, UPSTAIRS will feature up to ten new restaurants, an entertainment and lifestyle offering, and an upgraded cinema with Mirvac investing $35 million in the new precinct.
Mirvac purchased Toombul in June 2016, with the goal to reclaim the centre's place as a premium retail destination of North Brisbane. UPSTAIRS will do just that bringing new experiences to the local community.
Mirvac has announced two new exciting additions to the mix: NIKU RAMEN and Little Red Dumpling.
UPSTAIRS will provide the perfect location for Little Red Dumpling's seventh bar and restaurant in Brisbane. Combining locally sourced ingredients to make their freshly prepared dumplings daily, there's nothing little about this bar with its incredibly amazing dishes like the rainbow dumplings and pig-shaped steamed buns. From their tender braised beef and rice to their array of soups and selection of frosty beverages, there's something for everyone.
Often dubbed as Brisbane's best dumplings by reviewers, Little Red Dumpling is all that and Dim Sum. Toombul's Centre Manager Melanie Hodge says the restaurant is a perfect fit for the new precinct.
"We want to give people a truly unique dining experience that awakens all of the senses. From their rainbow coloured dumplings to their hedgehog buns, Little Red Dumpling does exactly that," Hodge says.
Along with Little Red Dumpling, Toombul has recently announced authentic Japanese restaurant Niku Ramen. The team behind Parramatta's authentic Japanese restaurant, Umaya are bringing their brand-new concept to Brisbane's northside.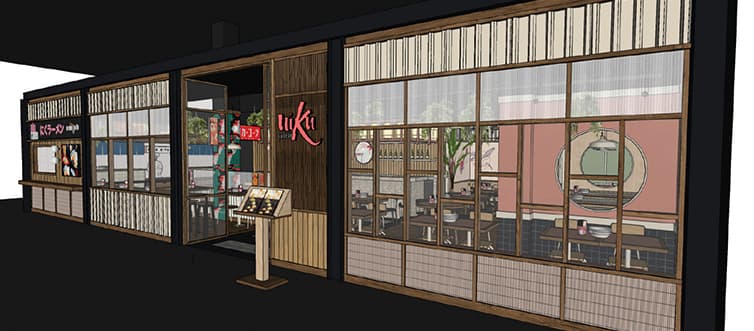 They'll be serving up steaming hot bowls of fresh ramen, amazing rice dishes, and stir-fried Udon using only the finest produce and ingredients to create authentic and traditional Japanese eats that'll truly awaken the senses. Pair all of that with an array of tasty starters or sides like the pan-fried gyoza, edamame, Karaage chicken, or deep-fried tofu.
Launching in November, UPSTAIRS will feature a lively music scene, an active art program, up to ten new eateries, an entertainment and lifestyle offering, and a refurbished cinema.
Toombul Shopping Centre has a rich, 50-year history in Brisbane and boasts a convenient location just seven kilometres north of the Brisbane CBD. Toombul is anchored by Coles, Kmart, Target and Aldi, with nine Mini Majors, over 130 specialty stores and an eight-screen BCC Cinema Complex. With its acquisition of Toombul in June 2016, the goal of Mirvac Retail is to reclaim the centre's place as a premium retail destination of North Brisbane.