The Victorian government has confirmed its chosen container deposit scheme design, which is modelled on the successful NSW scheme.
The Victorian Minister for Energy, Environment and Climate Change, Lily D'Ambrosio, announced the final design of the scheme, which was supported by 85% of participants during public consultations. Victorians will be able to return and obtain a refund for their beverage containers at a range of locations, including shopping centres, when the scheme commences in 2023.
The 'split responsibility' model adopted in NSW and the ACT was preferred over other models, primarily because it produces significantly higher recycling and return rates and at a lower price increase per container (see Victorian CDS factsheet for more information). The NSW container deposit scheme, Return and Earn has been a resounding success, with 88% of people supporting the scheme and 75% participating, according to Exchange for Change the Scheme Coordinator.
The Victorian scheme will also have the same opt-in approach for shopping centres as NSW. According to the Consultation Report published by the Victorian government, retailers generally expressed an appetite for involvement in the scheme.
Most of the public survey respondents across the state also supported the idea of collection points co-located with retail, with 79% in favour of locating reverse vending machines on-site.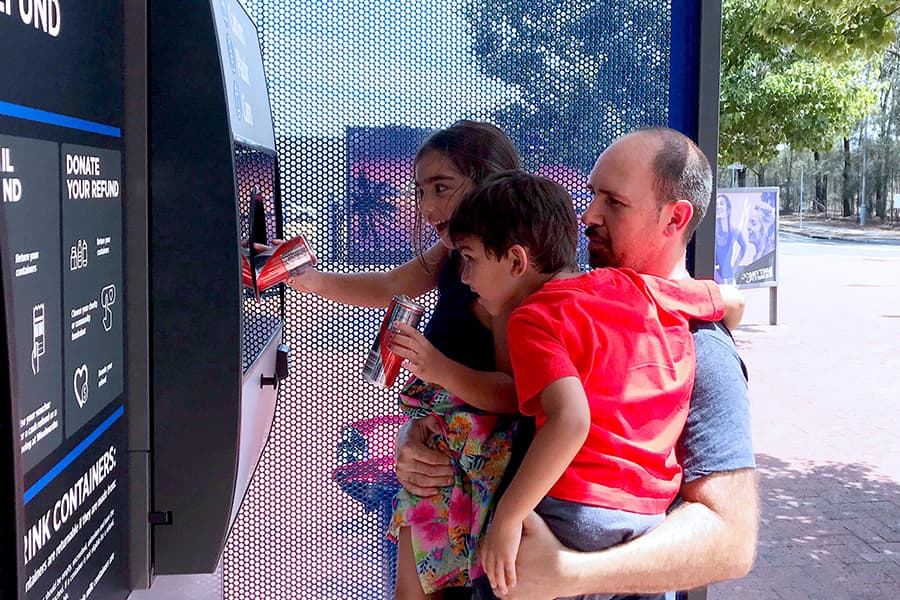 A scheme coordinator and one or more network operators will be chosen for the Victorian scheme by a tender process expected later this year. In the NSW scheme, the network operator is a joint venture between circular economy business, TOMRA and waste management and resource recovery organisation, Cleanaway.
"Victoria has the opportunity to implement the best possible scheme for its community based on the learnings from other states," said Harris Madden, TOMRA's VP of Business Development. "TOMRA certainly hopes to be involved and, along with some other formats and innovations, the company's proposal for the Victorian container deposit scheme will include reverse vending machine collection points in shopping centre car parks, similar to NSW."
TOMRA currently partners with Woolworths, Coles and some IGA stores that redeem vouchers issued by TOMRA reverse vending machines. The company also has arrangements with most of the major shopping centre owners in NSW for collection points, with Charter Hall, SCA, Scentre Group, ISPT and Stockland among the highest adopters.
"The main value proposition for shopping centres is a mix of commercial, foot traffic and sustainability benefits," said Madden. "Centre owners attach different weightings to those, depending on their priorities, but all recognise that collection points are part of the shopping centre of the future.
"We'll be working with all our partners to prepare a compelling proposal for the people of Victoria."