JLL's latest Retail Centre Managers' Insights report shows an uplift in centre manager sentiment and highlights the continued outperformance of neighbourhood shopping centres. The report, undertaken in early 2021, provides an overview of Australia's shopping centre sector through a survey of JLL's managed shopping centre portfolio. 
Although retail sales declined on average by 5% across all centres and declined by 20% for specialty stores across the Australian shopping centre industry in 2020, neighbourhood centre sales' Moving Annual Turnover (MAT) growth was relatively well supported.
The relative outperformance in supermarket sales growth recorded during COVID-19 has supported the performance of neighbourhood centres. With supermarkets accounting for a high proportion of average neighbourhood centre turnover, along with the relatively lower exposure to discretionary tenants in these centres, rent collection rates were supported during the pandemic. With neighbourhood centres proving to be resilient, investor demand and liquidity in this sub-sector has continued to be strong.
Neighbourhood MAT growth was relatively well supported. Total centre MAT rose 8%, reflecting the strength of supermarkets as anchor tenants that have supported this positive growth over 2020, despite the pandemic.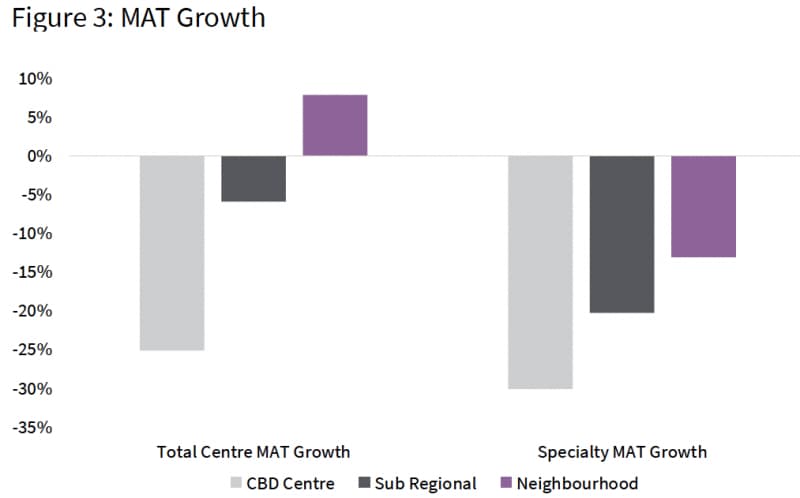 The outlook for centre turnover has improved since the June 2020 survey, suggesting JLL Centre Managers believe that the retail sector has overcome the worst of the COVID-19 pandemic. Sixty-five per cent of JLL's Centre Managers believe that their centre MAT will increase during the next 12 months.
While Victoria was the only state that introduced a prolonged period of mandatory store closures for non-essential retailers (eg. fashion, homewares) during their second lockdown, many retailers voluntarily closed their stores temporarily in the first lockdown over March to June. Nationally, store closures peaked in April with 75% of stores temporarily closed. Since then, most retailers have re-opened their doors with just 8% of tenants remaining temporarily closed.
CBD retail markets were challenged by the lack of inbound international tourism and work-from-home mandates that weighed on daily visitor numbers in 2020. However, most markets have seen significant rebounds in trade and visitor traffic upon the easing of lockdown measures. The Melbourne CBD remains the most challenged with the lowest rate of office worker occupancy across the country. In the long term, the CBD retail market is likely to be supported by significant investment into other property sectors including residential, office, hotels and infrastructure in major CBDs drawing foot traffic. Consequently, this is likely to bolster demand from retailers.
The performance of sub-regional assets varied over 2020. Many suburban assets were beneficiaries of localised spending, bolstering anchor tenant trade. Additionally, a strong rebound in discount department store (DDS) sales boosted the overall performance of many sub-regionals, with downsizing pressures among DDS tenants somewhat easing. While convenience or food focused centres performed relatively well, assets with high discretionary specialty exposure were the most challenged.
"During the pandemic period, consumer shopping habits generally became more localised, benefitting many suburban neighbourhood and sub-regional centres and highlighting the convenience of shopping local," said JLL's Head of Retail, Property & Asset Management – Australia, Tony Doherty said.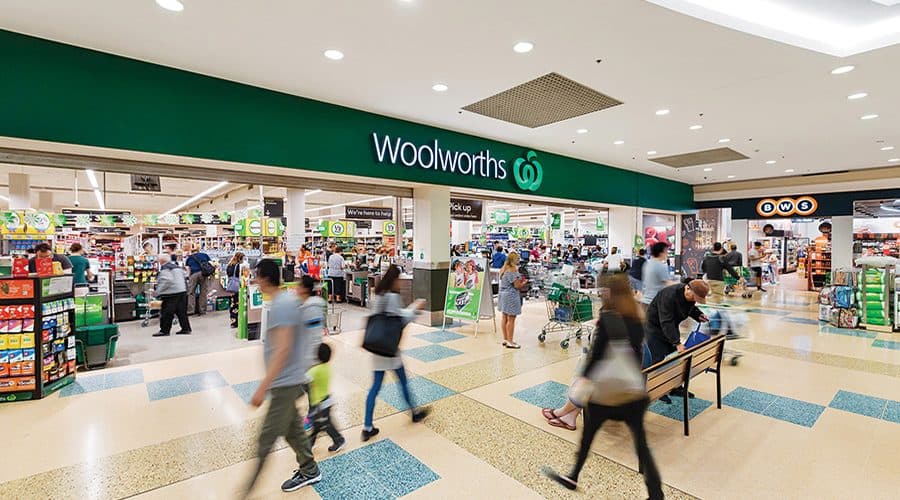 "Severe restrictions on retail trading in Victoria during the extended Stage Four lockdown meant retailers had to quickly revise their strategy beyond just home delivery in order to provide convenient retailing for customers. Call or Click & Collect, drive-through pick up and video calls with shop staff were some of the ways retailers continued to utilise retail property in order to enable customers to obtain their goods as quickly as possible.
"The incredibly challenging retail landscape of 2020 resulted in significant divergence across the JLL managed portfolio. Neighbourhood assets were the clear winners, as supermarkets and food specialties thrived with more Australians dining at home," said Doherty.
"The Federal Government's commercial code of conduct proved crucial to supporting our tenants in heavily challenged markets. The slow return to the office, particularly in Melbourne, has been a setback to CBD assets. While the return of tourism remains uncertain, we are confident foot traffic will improve as employers and both local and state governments continue to incentivise the return to CBDs", he said.
"Although hurdles remain as government stimulus is wound back, Australian consumers are well equipped to spend. This is a result of high household savings accumulated throughout the pandemic and near record high consumer confidence alongside the roll-out of Australia's vaccine program," Doherty concluded.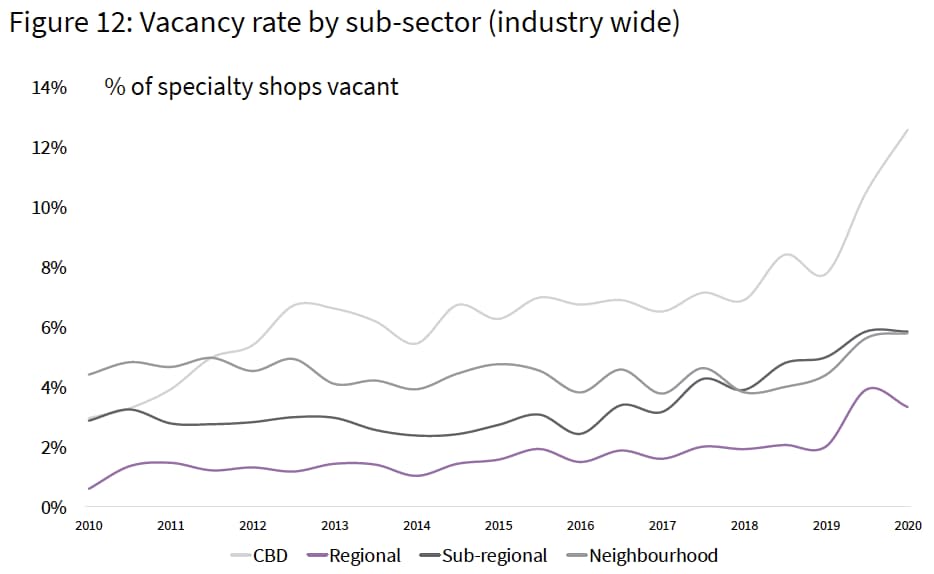 As of December 2020, JLL Centre Managers reported that approximately 22% of tenants were still receiving rent relief. Victorian tenants accounted for 45% of the tenants still receiving rent relief in December.
JLL's Senior Analyst, Retail Research, Louise Burke said, "JLL Research is currently forecasting market rents to continue to decline in 2021 as a result of structural changes in the retail industry. However, there is divergence amongst the retail subsectors.
"Neighbourhood market rents are forecast to decline only moderately compared to larger discretionary-weighted assets. Considering JLL's management portfolio is comprised of predominantly neighbourhood or convenience-focused on sub-regional assets, this is consistent with the improvement in-centre manager views on rents since the June survey. Thirty-nine per cent of JLL Centre Managers actually believe that rents will stay the same over the next six months", Burke said.
"In the short term, high levels of consumer spending and the recent strong financial results reported by major Australian retailers suggests that need to reduce store networks has somewhat eased. This should give landlords some time to consider new strategies to mitigate the risk of shrinking tenant types, for example fashion," Burke concluded.