Australia's oldest private property developer Lewis Land Group (LLG) is excited to deliver a refreshing shopping experience with its signature open-air retail environment, which LLG has become synonymous with, being replicated in the expanding regional town of Port Macquarie on the popular New South Wales coastline.
The Buchan Group-designed Sovereign Place Town Centre is the centrepiece of the developer's $500 million, 2,400 lot master planned community – Sovereign Hills. Stage 1 of Sovereign Place is a $20 million, 5,200m2 convenience-based offering, featuring a full-line IGA supermarket with liquor and hardware offering, chemist, cafés and specialty stores.
The official opening will be held on Friday 22 November ahead of a grand opening the following day.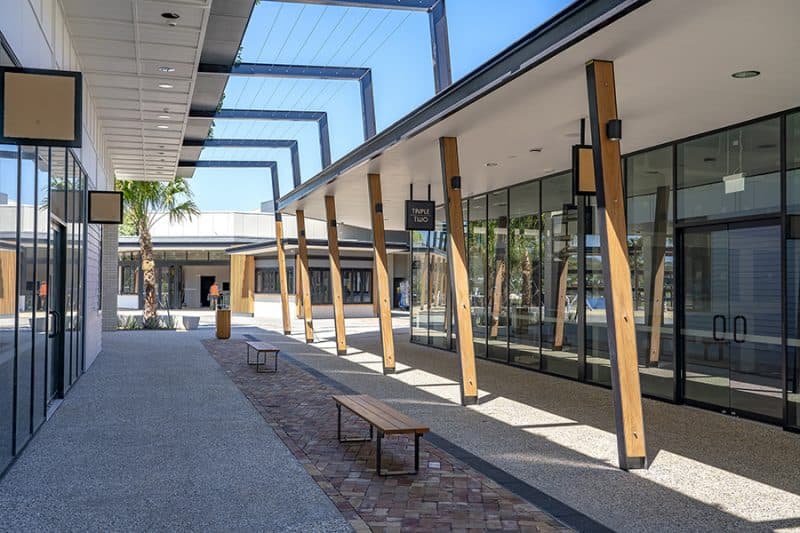 "We are providing a sensory shopping experience which is fundamental to the way LLG develops its retail and hospitality projects. The modern design capitalises on the centre's setting midway between Port Macquarie's coastline and hinterland to the west, inviting the outdoors in", LLG Head of Development Michael Long explained.
"The Sovereign Place Town Centre has been designed to make the most of Port Macquarie's idyllic climate and coast-meets-country vibe, delivering an environment which is quintessentially Australian. We believe we have created one of the best shopping experiences for a regional shopping centre in country New South Wales", said Long.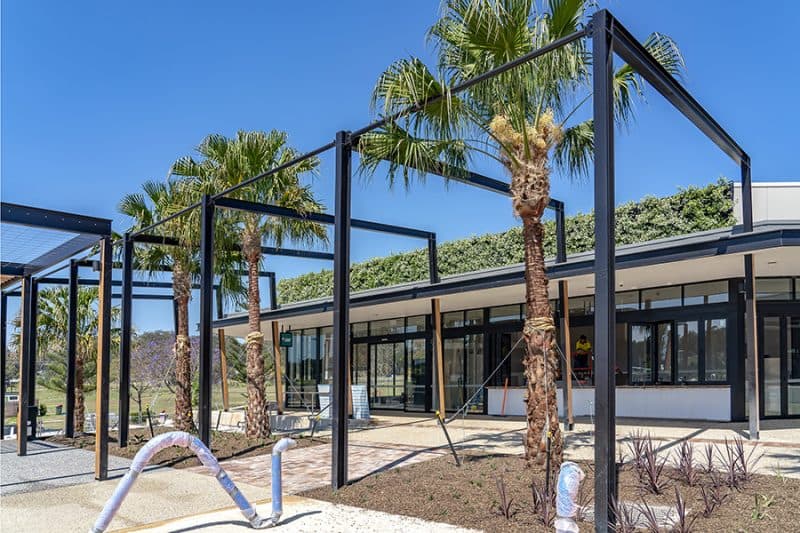 The impressive building features locally-sourced timber arbours, natural sandstone, lush landscaping and recycled brick paving. Sustainability has been a key consideration with roof-mounted solar panels, reclaimed water usage and electric car charging stations all aimed at reducing the centre's energy footprint and operating costs.
"We have been extremely mindful of supporting local business during the construction phase," Long added.
"Sovereign Place was constructed by Port Macquarie-based Commercial Project Group and this innovative building will allow local businesses to shine. Up to 150 permanent and casual positions have already been created and we are heavily invested in ensuring the town centre precinct thrives", he said.
The company behind the IGA supermarket, Hastings Co-op, engaged Melbourne-based architecture practice Peter Harvey and Company to design a unique shopping experience.
"There are all the elements that people love about IGA supermarkets, such as excellent service and hundreds of local products and produce. But we've also got a free crèche, full fresh market, artisan bakery range, gourmet deli, dried meat room, old-style in-house butchers, a peanut making machine, a technology hub and in-store Home Hardware and IGA Liquor," revealed Hastings Co-op Chief Executive Officer Allan Gordon.
"Just outside the store, we also have a juice bar that will utilise fresh produce from the IGA. The location between Port Macquarie and Wauchope was ideal for Hastings Co-op. The area is rapidly growing with so much potential so we jumped on the opportunity to be involved at ground level. The end result is even better than we imagined", Gordon said.

In April 2020, regional radio broadcaster Southern Cross Austereo will relocate their Mid North Coast media centre and broadcasting studios to the town centre.
Once complete, Sovereign Place will grow to a $100 million, 25,000m2 precinct and include a community centre, commercial offices and additional retail space.
The surrounding Sovereign Hills master planned community is already home to 1,500 residents and includes a regional Catholic college, childcare centres, parklands and adventure playgrounds.