The next wave of new food, drink and lifestyle retailers have opened their doors across Darling Square, a new neighbourhood connecting Darling Harbour with Chinatown, Haymarket and Ultimo in Sydney. Lendlease's Darling Square is part of the New South Wales government's 20-hectare renewal of Darling Harbour which includes the ICC Sydney and Sofitel Sydney Darling Harbour hotel.
The latest 29 retailers add to the existing collective in the precinct's first retail laneway, Steam Mill Lane. With the majority of the precinct now open, there is a wide mix of familiar favourites and brand-new experiences ready to be discovered from early morning until late, seven days a week.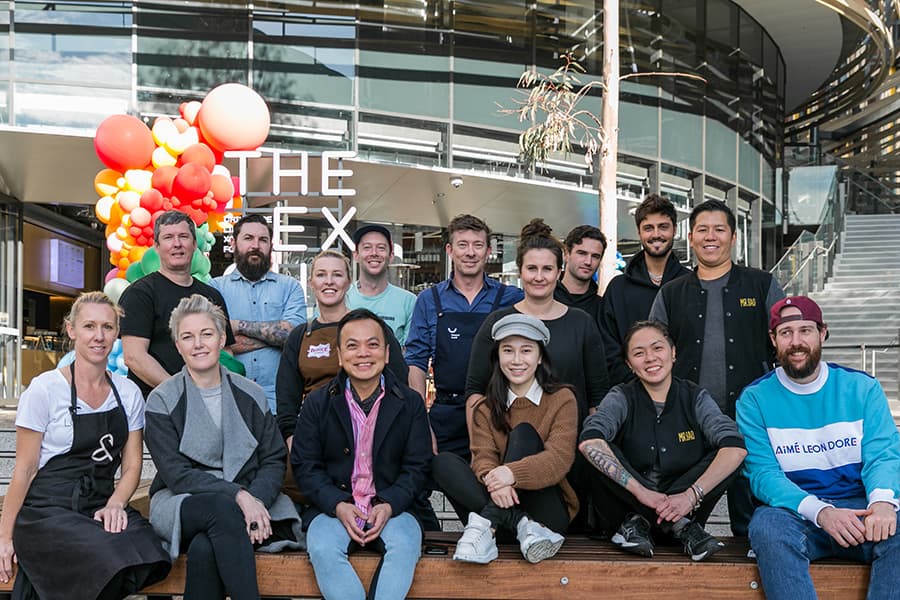 By the end of the year, Darling Square will be home to around 70 retailers across precincts Steam Mill Lane, Maker's Dozen and The Exchange, Little Hay Street, around the square and other surrounding streets.
Neil Arckless, Lendlease's Head of Development in NSW, said the opening of the retailers will introduce new people to the precinct, due to be completed by the end of the year.
"Darling Square didn't happen by accident – we worked hard to find restaurants and shops that our residents want, and visitors would be willing to travel for. Over the last few years, a lot of thinking has gone into how people would interact with and experience Darling Square and we're thrilled to share the final outcome with the public", Arckless said.
On the ground floor of The Exchange building, designed by Japanese architecture firm Kengo Kuma & Associates, is a collective of dessert and pastry creators, craft beer and fusion food specialists in a precinct called Maker's Dozen. The industrial style providore marketplace offers casual dining and drink options with communal seating for around 350 or the option for takeaway.
A suspended artwork by Sydney artist Nike Savvas hangs over the space, and visitors can make song requests via the Secret DJ app.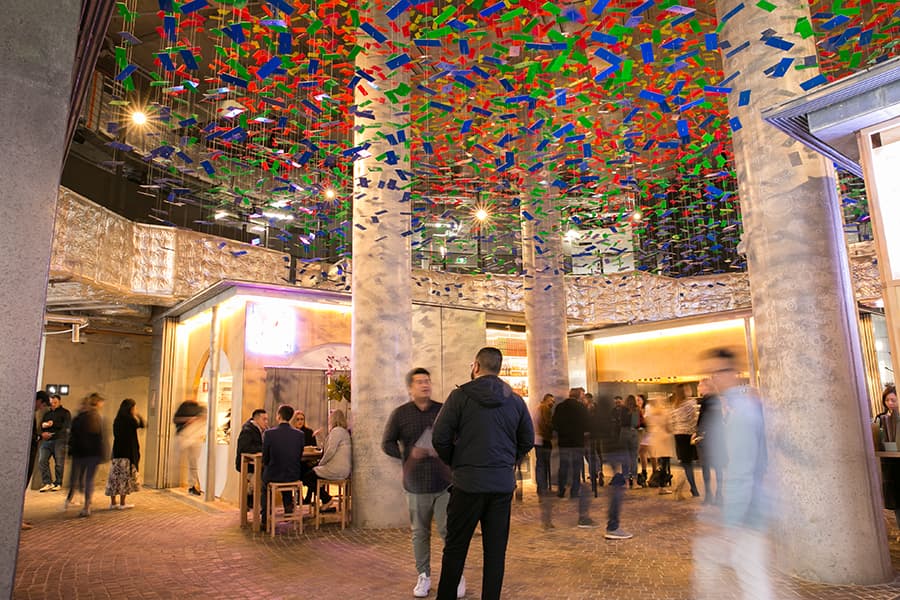 The space has been designed by Anthony Gill Architects, the firm behind some of Sydney's most inspiring hospitality spaces including the new Poly in Surry Hills, Ester in Chippendale and 121BC in Surry Hills. Whilst the retailers bring the heat and energy, the design oozes a Japanese influence with cool colourings, clean lines and natural materials.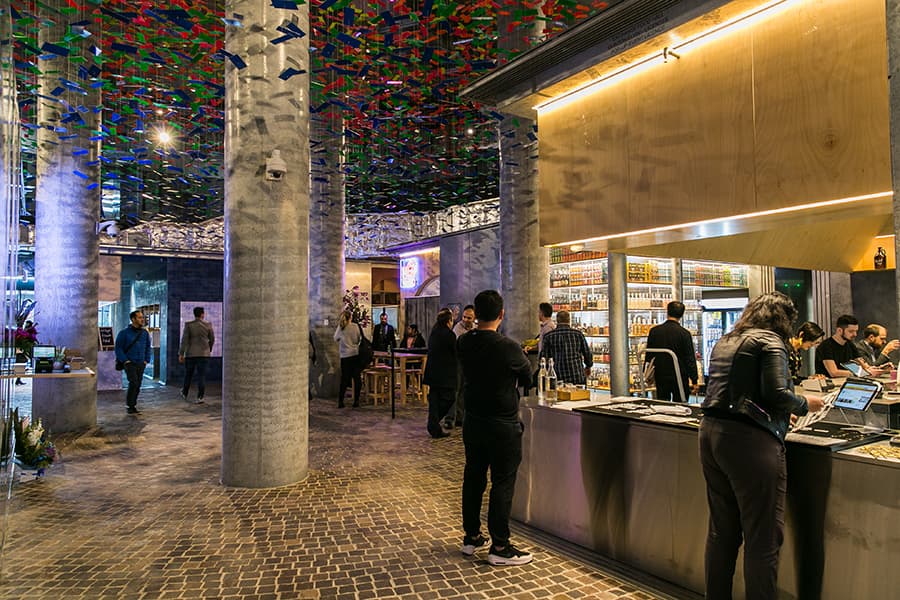 The line-up includes Hopper Kadé serving hawker-style food from the streets of Colombo and cocktails with Sri Lankan signature spirits. Find miso bolognaise with shiso and nori paired with Japanese sake at newcomer Pasta Wafu, the group behind Barangaroo's vermouth bar Banksii and Kerby Craig of Ume Burger.
Slip onto a bar stool at Boque by Tapavino, inspired by the La Boqueria market in Barcelona, and devour Spanish omelettes and ham baguettes for breakfast then tapas and freshly sliced charcuterie until late. Saga Lyte by Andy Bowdy is the 'little sister' to the original café and patisserie in Enmore. Find new pastry flavours, old favourites, and Andy's delicious takes on both a classic sausage roll and meat pie.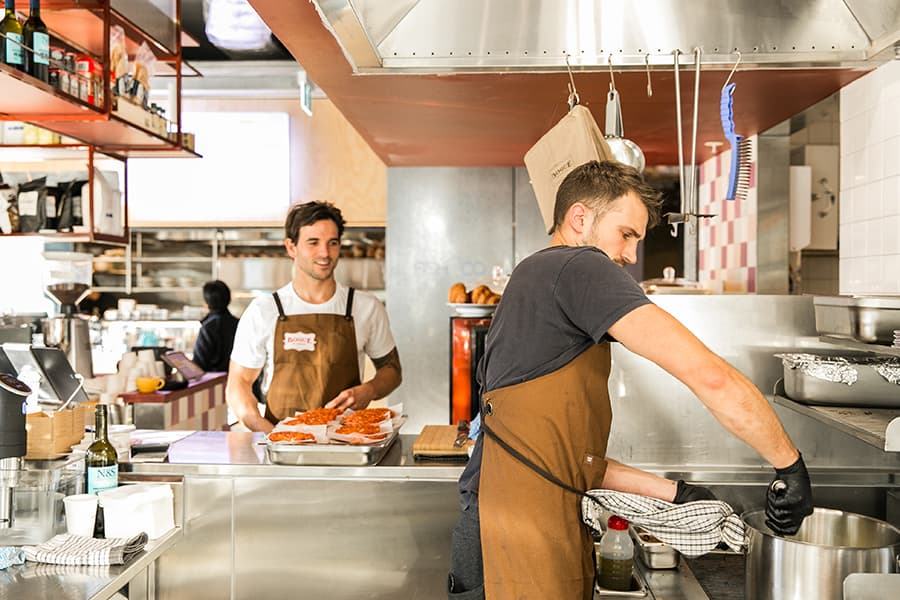 Bubble Nini's 25 insta-worthy natural bubble teas are sourced from Taiwan and the pearls handmade every morning using fresh ingredients. The seafood game is strong with Fish & Co's wild salmon or prawn and scallop dogs, lobster and grilled cheese toasties. FISHBOWL introduces their first fully licensed venue with natural wines and craft beers.
Vietnamese cuisine is represented by Mr. Bao (karaage chicken steamed bun washed down with drinks like fresh sugar cane juice mixed with yuzu) and Bau Truong with Vietnamese tacos and deep-fried banh mi with vegemite.The Bucket Boys' bar is a great spot to begin exploring Maker's Dozen, with 20 taps pouring beer, cocktails, natural wines and even their own limited release brews. Next door pick up a brew at the Bucket Boys bottle shop and enjoy at one of the BYO eateries or at home.
Step into 'Sydney's Electric Treat Street', featuring a neon artwork by Brendan Van Hek, to discover 12 new retailers at the precinct named Little Hay Street which includes Devon's new concept, DOPA Donburi and Milk Bar. Inspired by the streets of Tokyo, DOPA's desserts reimagine the old-school miruku bar (milk bar) with Japanese loaded milkshakes; kakigori shaved ice desserts; parfaits; puddings; and giant matcha cookies.
Rey Jr serves up 'sweet and boozy' Filipino food, cocktail and dessert combos with a tropical beach vibe. Bengong Black brings traditional Chinese tea and pillow-soft breads filled with fruit-infused cream topped with fresh fruits. Shortstop and Gelato Messina also line Little Hay Street alongside Thirteen Feet Tattoo and several beauty and lifestyle stores.
For those looking for a little retail therapy, there are some treat-yourself moments on offer from specialty Korean and Japanese beauty store La Cosmetique to Hair Corner and FIVE Beauty. For the fashionistas, 15 Sheets offers the latest clothing trends. There is also The Spec bringing a range of exclusive glasses brands including Ray Ban and Oakley, and Flight Centre on hand to arrange all aspects of your holiday. 
There are a number of new retailers open around the square and laneways in Darling Square. Discover an array of coffees, and even create your own brew, at Haven Specialty Coffee on Harbour Street. New school Vietnamese restaurant Hello Auntie brings its second venue to The Square, with a specially crafted drinks menu.
Darling Square is already home to approximately 3,000 workers at the Commonwealth Bank of Australia and around 1,300 university students living in Urbanest's student accommodation. The precinct includes 1,500 apartments.