AMP Capital is seeking Expressions of Interest (EOIs) from West Australian artists or design teams for a series of integrated artworks in the new entertainment and dining precinct at the $800 million redevelopment of Karrinyup Shopping Centre. The artwork will be a multi-scaled, 2D and 3D discovery trail that integrates with the architecture and landscaping within the precinct.
A vibrant meeting place for the community, the entertainment and dining precinct will incorporate exceptional indoor and outdoor dining experiences, open space for relaxing and a number of entertainment options, including a state-of-the-art 10 screen HOYTS cinema. The artworks will be a series of 'moments' that provide a narrative and weave through the precinct, inviting interaction and discovery.
"Artists or design teams are encouraged to create a focal point from which a series of smaller works will flow on. This may be tightly knit or spread throughout the wider precinct to create connectivity between different areas. The works will encourage visitors to explore, seeking and finding new artworks within the series each time they visit Karrinyup," said Abigail Pugh, AMP Capital's National Creative Design Manager.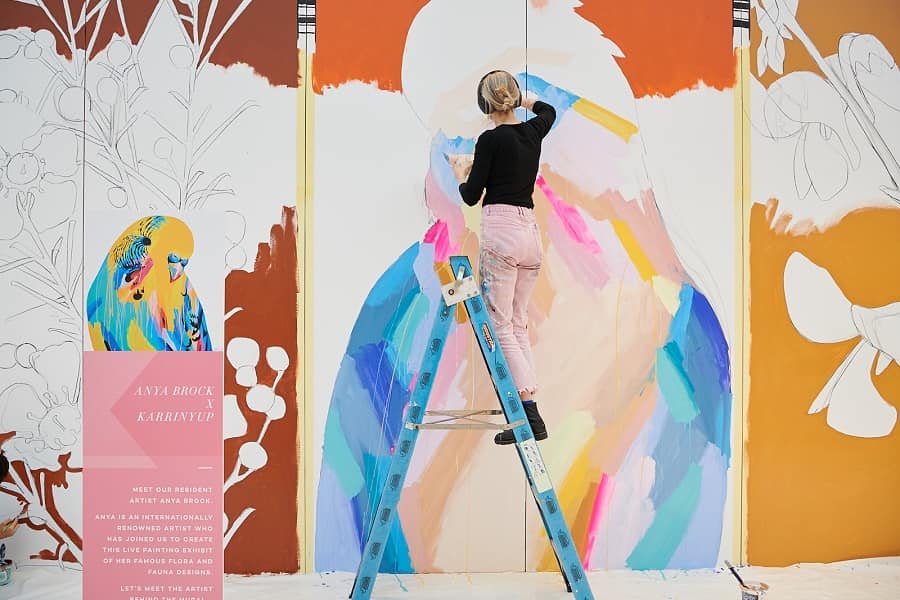 AMP Capital's Divisional Development Manager – WA, Scott Nugent said the wider art strategy for Karrinyup Shopping Centre will see a selection of medium to large-scale public artworks integrated throughout the new centre.
"Incorporating meaningful public artworks is a highly important component of the major development of Karrinyup Shopping Centre. We want to engage our customers with interesting and distinctive experiences when visiting the centre. While our retail experience will be unrivalled in WA, we also want Karrinyup to be a place where people can come and simply enjoy the atmosphere – whether it's having a meal with friends or relaxing and exploring the unique artwork," said Nugent.
Artworks incorporated in the new centre will respond to the architecture, as well as the wider location near the beach and the surrounding parklands. This is further explored in the curatorial themes 'Contours' and 'Awakening' that shortlisted artists will be invited to respond to in their proposals as part of the next stage of the process.
A number of artists have been commissioned for other artwork opportunities within the new centre, including a major sculptural piece that will be suspended across two levels of a central atrium space.
The $800 million development of Karrinyup Shopping Centre commenced in November 2018, with the centre set to be complete by the end of 2021.
The development is expected to boost the Western Australian economy and retail sector, with the creation of approx. 2,500 jobs during construction and 2,500 new retail, support and management jobs.
Expressions of Interest for the entertainment and dining precinct artwork opportunity will close on the 28 September 2020. For more information, email abigail.pugh@ampcapital.com.