Lockdowns in multiple states in July have impacted retail sales. The latest release (July 2021) of the monthly ABS Retail Trade data indicates that the overall month-on-month (m-o-m) estimate* decreased by 2.7%, down from -1.8% in June 2021.
Retail Turnover decreased by 3.1% year-on-year (y-o-y), down from 2.9% in the prior corresponding period (pcp), with the impact of current recent lockdowns affecting short-term turnover growth and record spending throughout 2020 affecting longer-term comparisons.
Greater Sydney and surrounding areas were subject to stay-at-home orders in July, with Victoria, South Australia, parts of Western Australia and the Northern Territory also going in and out of lockdown over the course of the month.
Simon Hemphill, Head of Research, Shopping Centre Council of Australia said: "A combination of lockdowns and Government imposed restrictions on non-essential retail across various jurisdictions, combined with record retail spending in 2020, has resulted in a drop in retail spending for July 2021. However, current spending remains significantly above pre-pandemic levels across all jurisdictions."
The following table summarises the key data in seasonally adjusted terms across the six ABS retail categories. The strongest growth was recorded for 'Food' retailing on a m-o-m basis (2.3%). 'Other' retailing recorded the strongest growth on a y-o-y basis (2.4%). In seasonally adjusted terms, Retail Turnover decreased by 2.7% in the month of July. On a y-o-y basis, Retail Turnover increased by 3.1%.
Pre-pandemic analysis
Comparison of retail spending will be affected throughout 2021 given two main factors.
Firstly, ongoing lockdowns and Government restrictions for 'non-essential' retail in certain jurisdictions (including during post-lockdown periods) will negatively impact short-term comparisons, especially for month-on-month or quarter-on-quarter periods.
Secondly, record spending during 2020, due to the bounce back of consumer activity, has an impact on longer-term analysis (year-on-year).
Given these factors, it is worth making a comparison of Retail Trade to the pre-pandemic period of 2019. Interestingly, all jurisdictions (including those currently in lockdown) show positive growth versus the corresponding pre-pandemic period.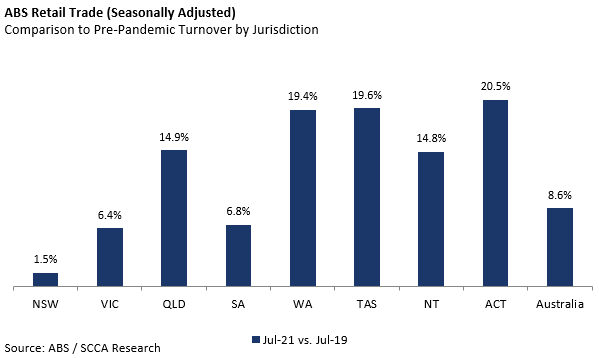 *The ABS has temporarily suspended the publication trend data due to volatility.