QICGRE's Eastland and Glad Group have partnered in an initiative to deliver toilet paper to Maroondah residents in need. Eastland is proud to announce it has teamed up with their partners to distribute 2,000 toilet rolls to residents utilising either the Age and Disabilities services or the community relief program in Maroondah.
"This is a unique situation we are currently facing, and I don't think anyone could have predicted the demand for everyday items" said Greg Balmforth, General Manager at Eastland.
"We are pleased that the partnerships we have at Eastland were able to come together so quickly for the support of our community" said Balmforth.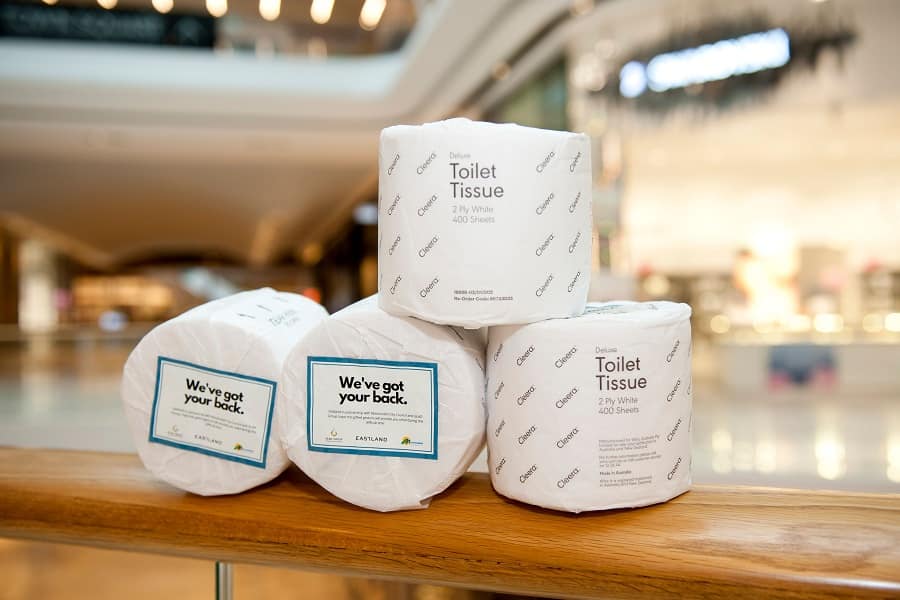 Eastland's community and marketing team, headed up by Jodie Murphy and Jacinta Bonsak, joined forces with Glad Group Property Services who are currently Eastland's integrated services partner whom provide resources for the security, cleaning, guest services and maintenance departments.
"We were thrilled that we were able to secure an entire pallet of toilet rolls, especially with the influx of orders our suppliers would have been receiving" said Michael Joyner, Integrated Services Manager at Eastland.
With the assistance of Maroondah City Council, Eastland will be able to distribute all 2,000 toilet rolls to these residents commencing next week and bring to life this wonderful idea.
"We hope that this initiative will provide some help for those residents in need", Balmforth said.
On the weekend, Woolworths had full page advertisements in most major newspapers, with an open letter from CEO Brad Banducci titled 'A little better every day'.
"Amazing as it might seem, we are still seeing almost double our normal demand for toilet paper," Banducci explained, noting this equates to 20.5 million rolls.
He conceded the brand isn't where it needs to be with its toilet paper stocks, so pleaded with consumers to only buy what they need.
Meanwhile, online retailer "Who's Gives a Crap" have not been taking new orders for more than three weeks due to the inability to meet demands of current subscribers citing "the demand for our rolls is about 20 times higher than what we're used to. It's going to take us some time to catch up."