Retailers play a vital role in creating great shopping centres, and at Shopping Centre News we think it's important to showcase and profile retailers to our audiences – especially during this time. This week, we speak to Adrian Lee, Store Manager at Priceline located at the busy Macquarie Centre in Sydney's north. 
What is your position and how big is your team?
I'm one of the Priceline Pharmacy managers, and we have a wonderful tribe of 23 members, including seven pharmacists.
What was your first job?
When I was a kid, my first job application was at McDonalds and I got knocked back! Really did a number on my confidence as well. So my first real job didn't happen until I landed one in a pharmacy a few years later, as a pharmacy assistant.
Can you tell us a bit about the pharmacy?
This Pharmacy has been a part of Macquarie Shopping Centre pretty much since the centre opened in 1981. Some of our clients have been coming to this pharmacy since then as well! We love seeing all our regulars; and being in a large shopping centre we also get to see a diverse range of clients from near or far.
How has your business adapted throughout COVID-19? 
We have been able to start offering click-and-collect, including pickup from the carpark so clients don't need to get out of their car. We also offer a home delivery medication service for those who need to isolate at home. We've also introduced a number of changes to our prescription process to assist those who cannot physically see their doctor and have to rely on telehealth consultations.
How are you supporting your customers to ensure social distancing and hygiene measures are adhere to instore?
As the world begins to explore this 'new-normal' way of living, our Priceline Pharmacy store will continue to remain open and look after the medicinal, health and beauty needs of customers in our local communities.
With the health and wellbeing of our customers and team members at the forefront of everything we do, we have been working hard to implement new ways of operating to ensure a safe, hygienic environment for everyone.
Our store has strict hygiene practices that are adhered to everyday, however, we have put in place additional steps to keep team members and customers safe like social distancing, hand sanitiser, display only testers, regular cleaning and protective screens.
How have you supported the community throughout this period? 
We have remained opened throughout the pandemic, as we recognise pharmacies are an essential service to the community, and people still have health needs regardless of the current pandemic. We have changed to accommodate social hygiene standards and minimise the risk of community transmission when clients access our products and services. We've also ensured we continue to offer a no charge home delivery service to the most vulnerable in our community – mainly the elderly and non-ambulatory – who usually also have an ongoing need to access pharmacy services.
What makes Macquarie Centre a part of the community?
Macquarie Centre, especially with the expansion a few years ago, is massive – it has a wide offering that appeals to everyone. It's also conveniently located. Macquarie Centre means something different to everyone, it is a place people are drawn to for more than shopping.
What is the best part about your job?
It is great that pharmacists are being recognised as essential services during this pandemic, but more than the recognition, I would say the best part is coming to work and being able to make a positive difference in somebody's health outcome that makes it worthwhile.
What is the most unusual/funny request you have had from a customer?
There are plenty of funny and unusual stories but one that takes the cake is one time we had a client ask us if we sold wine, and was disappointed when we told her no, to which she said, "Well, you used to!" Someone nearby overheard it and then said, "Ummm, am I in the right store?"
What kind of service do you provide?
We provide many services to our clients, from beauty makeovers to ear piercing, to vaccinations and medication check-ups.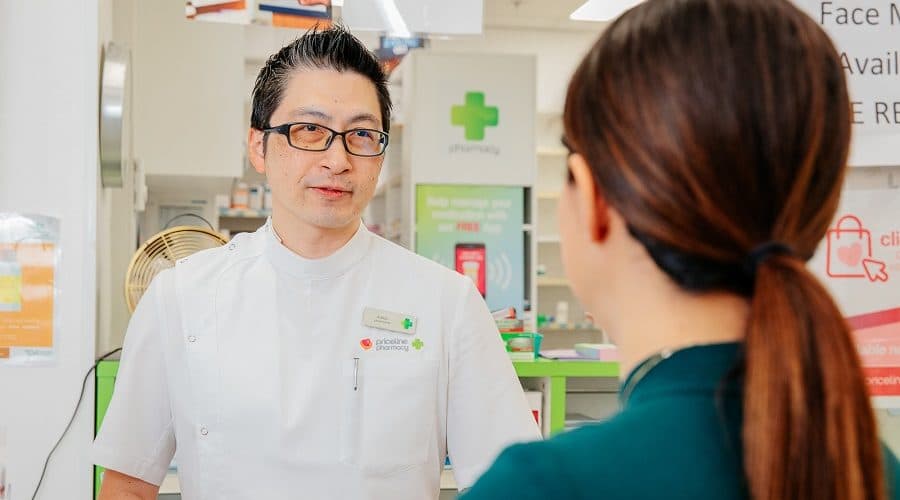 How does your store support the community?
Our Priceline Pharmacy support the local community by regularly participating in school and charity fundraisers, awareness events like National Bandanna Day and Red Nose Day. We also participate in fundraising and raising awareness for Priceline's very own foundation; The Priceline Sisterhood Foundation, which currently supports five charity partners who help women and families in need. They are: Dementia Australia, the Children First Foundation, The Raise Foundation, Look Good Feel Better and PANDA. Please see our website priceline.com.au/sisterhood for more information.
What is the most popular item in your store right now?
At the moment in our dispensary I would have to say it's been the flu vaccine. We actually used our entire year's allocation about 1 month! However we have more in stock now. We can provide the vaccination at the pharmacy without a prescription, please see one of our pharmacists and find out if its suitable for you.
What is on trend right now instore?
Priceline is constantly coming out with new and innovative products, but if I had to pick something, I would say it's The Ordinary range of skin care products. One of the most popular products in that range is the Hyaluronic Acid 2% + B5 30ml facial serum.
What makes your store unique/different?
We are unique as we offer a number of health as well as beauty products and services. As such we cater to many different clients for a number of needs. Please feel welcome to come in and speak to one of our tribe to find out how we can help you to look good and feel better.
What do you like to do in your spare time?
When I'm not being a pharmacist, its spending time with my kids. My son wants to be a pharmacist when he grows up too!
Tell us which retailer you want to have featured next… Contact Belinda Daly: belinda@shoppingcentrenews.com.au