Food Halls are changing as fast as mobile phones do! They used to be just a simple area with various fresh food outlets; now they are a mix of fresh and fast food; they have restaurants, even bars and cafés. In fact, they can replace a Department Store!
Had a Department Store exit your centre? Here's a solution!
The most basic of retail planning principles is to 'anchor' any retail centre with a large format drawcard. A tenant that has  broad appeal and the ability to generate masses of foot traffic. Old School retail planning classed this anchor as a Department Store (DS), Discount Department Store (DDS) or Supermarket (SM). With the Internet of Things bringing about the demise of the Department store, many Big Guns Centres are now facing the loss of some of their anchors creating a surplus of more than ~10,000m2 of lettable area. "What single tenant could I release this vacancy to?" I hear you ask.
Well lurking in every Big Gun centre is a collection of fresh food speciality, food catering, common area seating plus mini major entertainment outlets that collectively represent close to the same square meterage.
When co-located and given an overarching brand name of a Food Hall, you will find new school retail planning principles of hubbing all food together rather than distributing it across the centre in food courts, entertainment and leisure precincts, town squares and the fresh food market. Vertical rather than lineal thinking. If you were to co-locate the majority of food currently spread throughout a centre into a Food Hall combination it could look something like this;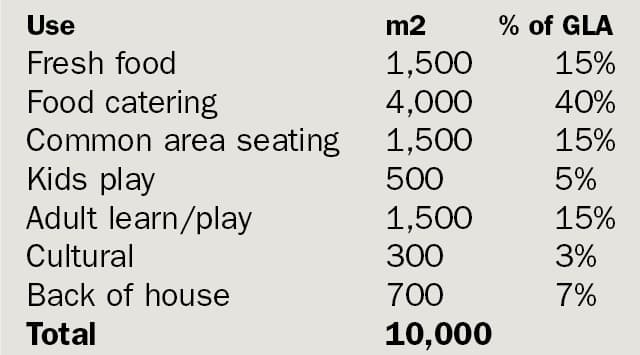 Food Halls are a growing trend
A great example is the Riverside Markets in Christchurch, a two-level complex comprising ~11 fresh food outlets, a food collective space allowing 20+ local produces to do pop ups, 30 fast casual and takeaway choices, a couple of bars, a cooking school and three large format restaurants. 
On a recent study tour through the US, new food halls that impressed included Ponce City Market, Krog Street Market, DeKalb, The Market Line and, of course, Time Out New York and Boston Markets.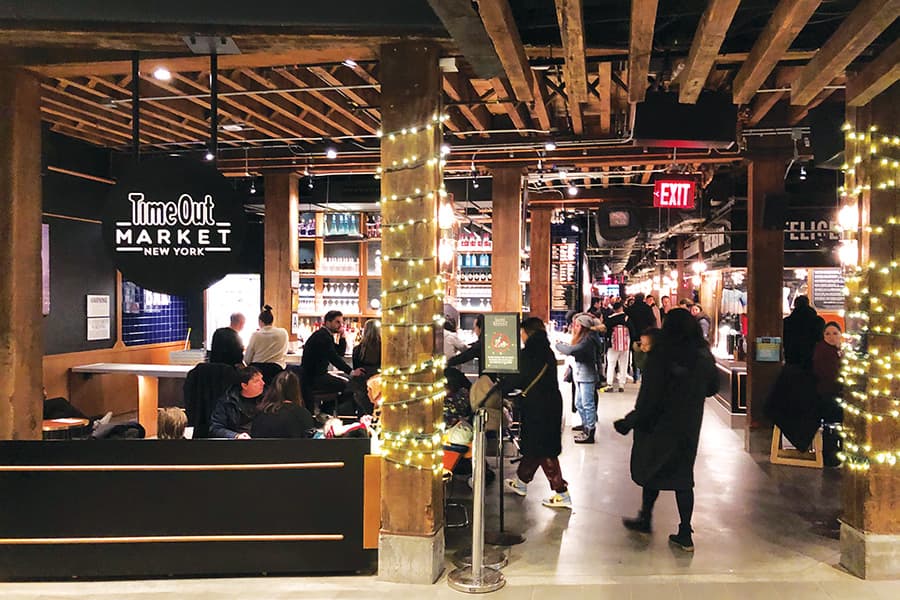 Five critical success factors
While these food halls certainly look great, not all tenants are trading profitably and there is a common theme of errors in the planning. To avoid the mistakes being made by other developers, here are our top five tips to getting a Food Hall right:
1. Develop a brand
We see big potential for either a property developer or an operator to develop a brand of food hall like Eataly, Time Out or Food Republic that actively develops, curates and manages the Food Hall and its tenants. 
2. Tenancy mixing needs science & research
Within the tenancy mix/lease planning there are three sub-sets that need to be executed to ensure long-term successful trading for all operators;
a) Tenancy numbers – there's a science to working out how many tenancies will be able to trade and keep paying their rent. Number of customers to be served within a time period, competitors in the area, dining DNA of the customers all need to be carefully calculated if you want to keep collecting the rent. It's never a case of carving up a site with as much GLA as possible.
b) Cuisine selections – Fusion ItalioAsian, Quick Serve Duck, EuroBurgers and HighBrow Seafood by famous chefs might sound great as they're pitched to you but is it really what the trade area wants to eat? (No – they all failed). Sometimes they've failed because the commercial terms don't align to the volume of sales a less popular protein (like duck) can achieve, sometimes it's because chef's design good menus served in bad stores with slow service, poor merchandising, too high price-points or too expensive ingredients and production systems. Sometimes they fail because it was just a really, really bad idea! Using research and F&B experts to check the concept, business plan and design can mitigate many of these failures.
c) Fresh vs Food Catering – in pretty much every food hall we have reviewed, fresh food is over-weighted for demand. To use fresh food effectively in a food hall there needs to be plenty of convenience ranging and a strong component of food catering within the fresh food operators' offering. Think pre-cut veggies and dip or fresh juices at the grocer and hot chips at the fishmonger's.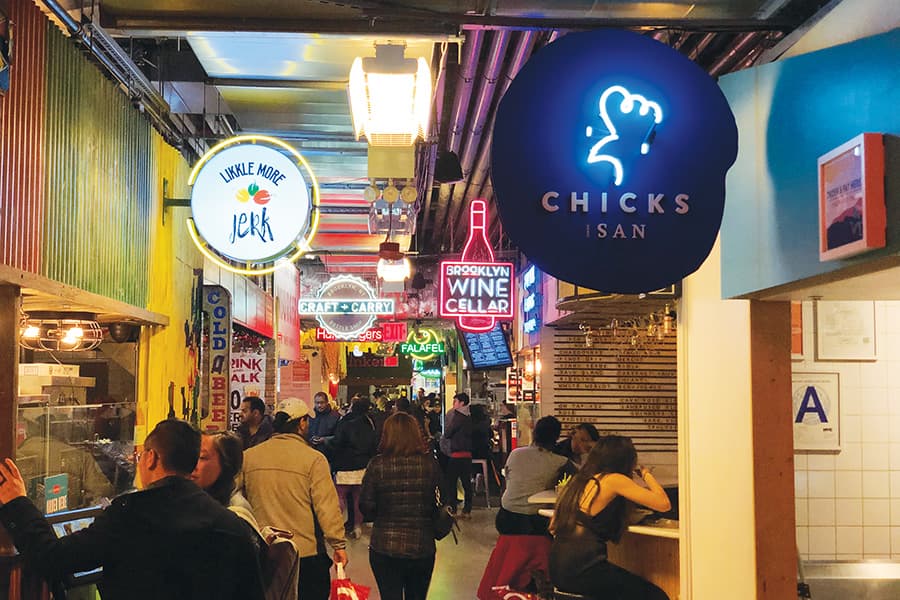 3. Don't rely on discovery
The lower the price point the more obvious the retail outlet needs to be. All fresh food and quick serve food catering is low priced so there must be an obvious travel path. What we see too often is nooks and crannies, narrow laneways, dead ends and back-to-back tenancies blocking sight lines. Food tenants with low price points who don't get a travel path past them go broke – simple as that.
4. Customer friendly
In line with the overuse of 'discovery' design is a lack of understanding of how much store frontage and circulation needs to be provided to ensure customers can see the offer, order quickly to avoid queues forming and also find a seat. There are planning equations for all these elements. Under-provisioning these customer centric amenities in the most current food halls leads to queues which stop foot traffic from converting to being a spending customer. Likewise insufficient or unproductive seating configurations mean insufficient customers can be served in peak times to achieve the sales needed to pay the rent.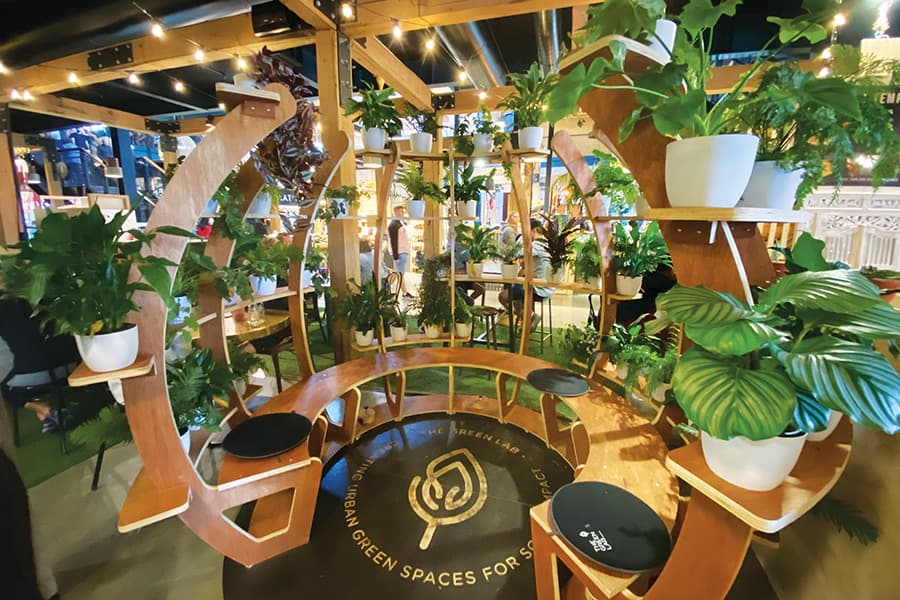 5. Beware the mezzanine
Thinking vertically generally comes with the challenge of the dreaded mezzanine. Stores on the ground level trade well, rooftops are cool but the space in between generally struggles. Two ways to beat the mezzanine blues that we often recommend on projects is to either create double height tenancies so that more operators get a ground floor presence. This works very well in tourism or seasonal precincts where the ground can look packed even on lower trade days and on peak days the 'overflow' can be sent upstairs. The other solution is to make the mezzanine the destination level – large format, day/night trading, liquor serving restaurants and bars along with cultural/adult learning places. 
Food halls – a BIG idea on food and an active anchor with the potential to attract 10,000 – 15,000 people a day – provided they're planned right!