It's a changing world and the consumer is leading the way. The change in our industry is not just confined to the larger centres; smaller centres must adapt to respond to the new demands. Food and Hospitality are in demand; the smaller centres need to rise to the new challenges.
"The future of food in shopping centres is bright as it is built upon food and design in new urban spaces and places."
Big Guns, Little Guns, Mini Guns – each must seize their food and hospitality opportunity and plan for success. No mall, retail centre or mixed-use development can afford not to offer great food and service. The simplest café or food truck can offer great food, coffee and snacks thereby generating rental income for the landlord and a profit for the operator. It is all about positioning, professionalism, people and profitability – regardless of the size and location.
Size doesn't matter when it comes to food and beverage, yet there is still a perception that the size of a mall determines the quantity and quality of the food and hospitality offer. Nothing could be further from the truth. Quality is everything and critical mass can be fostered and achieved in Community Centres, as well as Little or Mini Guns that might have less than six food options. As we all know, it only takes a few good operators, maybe coupled with great pop-ups, to give any destination status locally.
The Big Guns, however, always get a lot of notice. Even SCN puts them first, with Big Guns headlining the first issue of the year. The Little Guns, however, have a lot to offer.
Last year, the 100 Little Guns had an MAT in excess of $19 billion. With this level of success, what should food and hospitality look like in a Little Guns centre?
For a start, whenever possible, it should be bigger: F&B should average 6-8% of total floor space. This commitment to food and hospitality is the catalyst for the evolution of the Little Guns into lifestyle centres, a transition that is already well underway in the Big Guns.
In the current retail climate, challenges abound for the Little Guns. Last year's list saw Stockland make up 10% of the Little Guns properties, so it would be instructive to see how its FY18 panned out. Stockland's good management of its assets achieved an overall MAT growth of 3.4%. This is a great result as the property giant faced significant headwinds.
On a like for like basis, specialty MAT growth for the year was up 1.1%, supermarkets' MAT was up 0.9% over FY17, while department stores had growth of 0.6%. The best performing specialties were Mobile Phones, Retail Services and General – relatively small parts of the typical shopping centre. Apparel specialties – the largest component of a shopping centre saw MAT fall by -3.4%.
This result points to the fact that consumers' preferences are changing, and disposable income is going into experiences rather than products. As a consequence, food and hospitality has become an integral part of people's lives. The numbers bear this out: Since 2010, ABS Retail Trade figures show growth in turnover for Apparel retailers has averaged 3.1% per annum. For F&B retailers, the figure is 5.0%.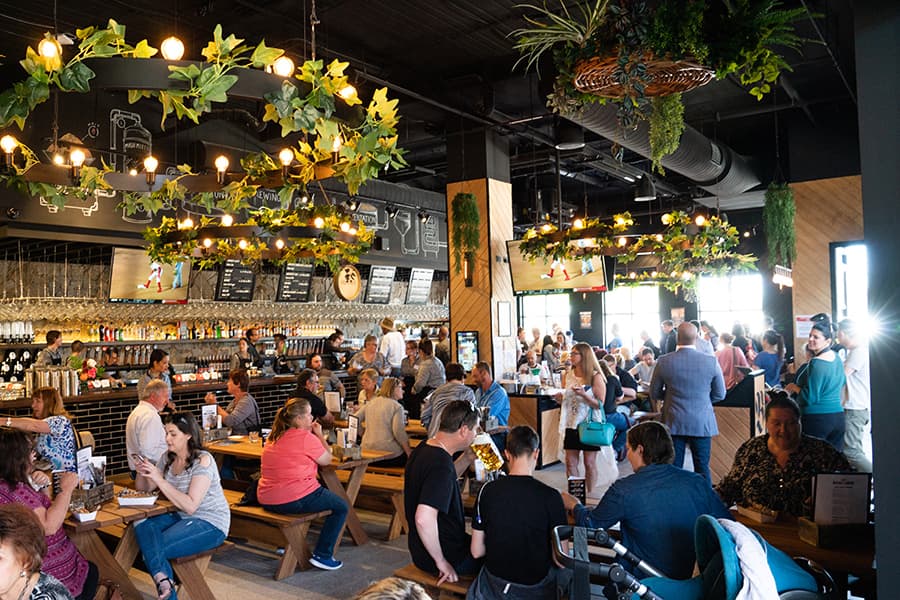 This divergence is due in part to the experience-seeking nature of millennials and new millennials. Successful food establishments provide a unique eating experience and satisfy their craving for a sense of excitement and new-dish-discovery. This leads to the conclusion that today's requirements for living, shopping and eating have changed. The broad construct of Lifestyle has been integrated into retail and this needs to be reflected in the food, hospitality and entertainment offer. I think by now we have all moved on from the bricks versus clicks dilemma and realised that retail centres are alive and well and have a bright future, provided they can change and evolve with their customers. Regardless of size, shopping malls, retail centres and neighbourhood strip-centres are all about people. We're planning food and entertainment for people in what could be, and often has been, impersonal spaces so as to deliver positive experiences whereby people want to dwell longer, spend more and return more often.
In this vein, we are starting to see how these ideas are making their way into the built environment. The term 'Collaborative Urbanism' has come into usage. This is a concept, now being put into practice around the world; involving the community in the design of their urban spaces. It is the process of allowing, encouraging and seeking out the input of those who will use the space and getting them to make meaningful contributions that shape the final product. It is this sense of inclusion, and not just a market-driven solution powered by tried-and-tested blueprints, that has created innovative and exciting spaces that attract people to spend time there and to share their experiences.
Cultural infrastructure is an off-shoot of this idea. Cultural spaces that the public have adopted as being belonging to them – think the Sydney Opera House, the Melbourne Cricket Ground and the Australian War Memorial in Canberra – are more than just buildings. They are part of who we are as a people and affect even those who never or rarely visit.
Shopping centres, while not in the same league as the Opera House, are nevertheless microcosms of ourselves – what we buy, what we wear, what we eat. Malls are public spaces just as much as a park or a library. Landlords need to evolve their spaces to make sure that they are not just angular lines on a page but are also meaningful to the catchment and are places that they want to 'own'. A design-driven, people-pleasing environment must be connected to community and fulfil personal need-states of changing lifestyle requirements: these are the fundamentals of the business of food.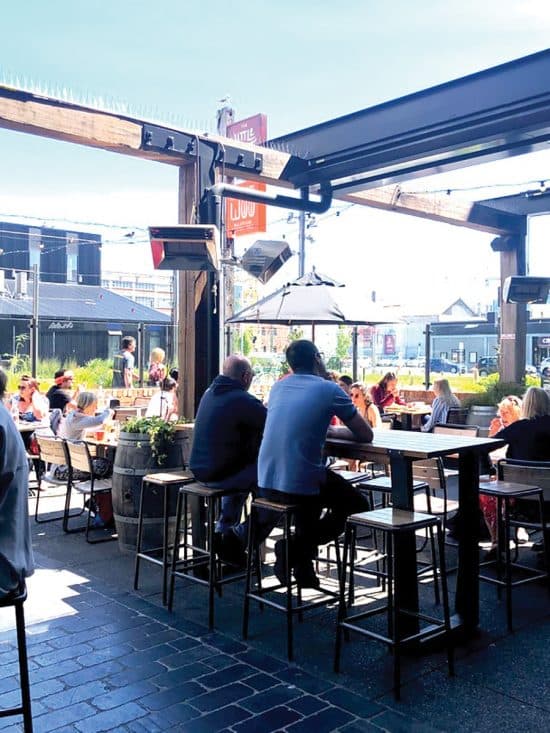 The economics of food as a growth category is rising globally with the US and Europe experiencing phenomenal growth in food halls, the new city and suburban answer to the neighbourhood market. These are built 100% on the first-principles of a traditional food market – focusing on local community, social space, casual dining, accessible to all with a mix of food that is both on-trend and familiar.
Little High in central Christchurch and Press Hall in central Wellington represent the growth in new food markets that are offering seamless casual dining experiences both as standalone food markets or in mixed-use complexes such as the new and outstanding Hoyts ENT-X in Christchurch.
This brand new, benchmark entertainment development boasts best-in-class cinemas, confectionery and bar-lounge facilities, as well as a range of 20 state-of-the-art smart casual dining and bar destinations.
The future success of all malls and retail centres relies on their ability to recognise and fully exploit the economic importance of food, hospitality and, when possible, entertainment. Food precincts have evolved into beautiful spaces, welcoming people day and night, ready to take their money and, in return, offer them great food, excellent service and family-friendly, safe environments.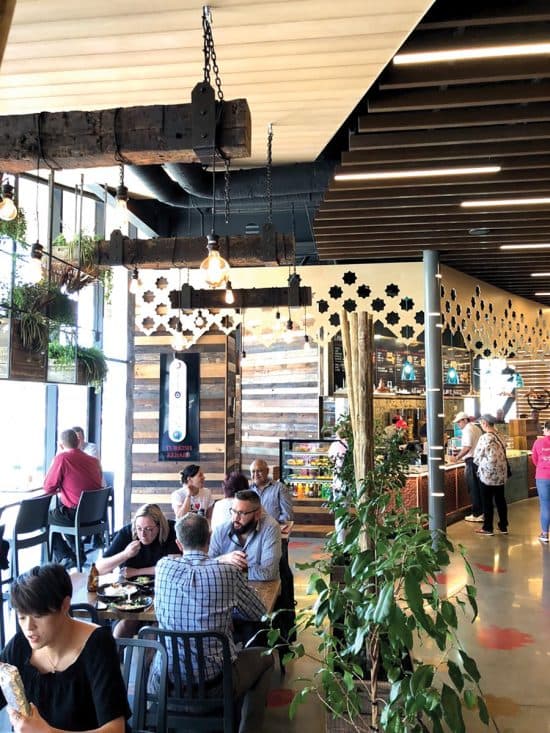 In North America, the UK and Europe, we are seeing unprecedented growth in food halls. These people-places draw from the success of traditional food courts, food markets, community markets, food truck parks, food fairs and event food outlets and bars. They are built on the premise of people sharing food, exploring cuisines and having a good time with art, music and entertainment of many kinds thrown in to both indoor and alfresco dining environments in both the city and suburbs.
While Westfield Coomera is not quite a Little Gun, it is, like many other shopping centres and retail destinations across Australia, New Zealand and the world, realising that people want and are willing to pay for uplifting, welcoming, smart and casual dining. It is all about people being happy and spending time and money on food and hospitality.
"At the heart of this evolution from shopping centre to living centre is curating an exceptional retail, services and product mix that our customers will love and that reflects the local community. Westfield Coomera brings this to life with 40% of the centre dedicated to dining, entertainment and services. It is a new world of experience and is a destination you visit not because you have to, but because you want to," says Scentre Group CEO, Peter Allen.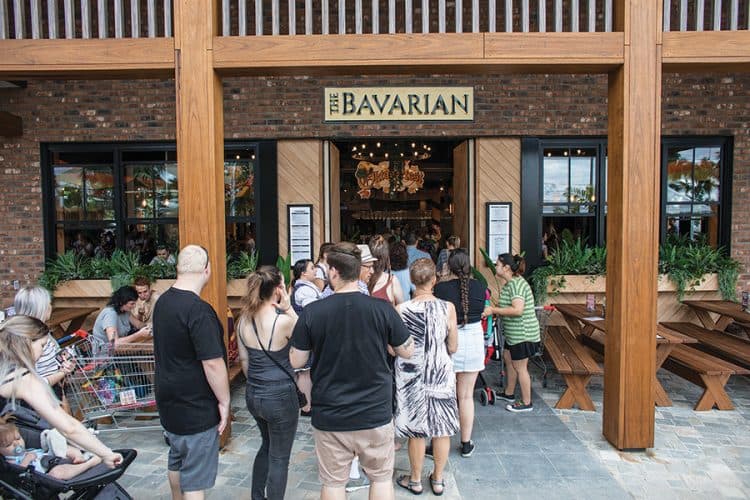 In summary, malls, retail centres and mixed-use developments of all sizes are growing sales and asset values with a comprehensive food strategy. Future Food's projects and research globally, confirms the change in smaller retail centres – repositioning their food so as to connect locally and to engage with their community. From Dublin to Dubai, Boston to Box Hill, each project has the capability to develop a people-centric food mix within a professionally prepared Food Strategy that is aligned with the local community, day and night.
We've all moved on from the bricks versus clicks argument; it is all about bricks in the future. Physical stores are the key to retail success for both retailers and e-retailers alike. Opening stores generates traffic, traffic equates to hungry people, which equates to demand for sustainable and quality food.
Great food and beverage is not something that only larger malls can enjoy. Small malls can learn from the critical success factors that drive sales and repeat patronage, including an on-trend food offer and remixing on a regular basis through pop-ups, day and night food-markets, events, festivals etc. These purpose-built food and hospitality products give the customer a place to engage, socialise and connect with their community.
It takes more than food to attract people, but good food and hospitality can retain them and secure repeat visitation. In order to create such an environment, consultancy AT Kearney says, "the [shopping centre] industry needs to think like the customers it serves" and that "the future of retail real estate is as robust as the industry's imagination and its ability to connect buyers to their individual and collective values and aspirations."
Napoleon observed that an army marches on its stomach. So too, it seems, do Australian shopping centres.