As we witness the gradual relaxing of restrictions placed on food operators state by state and an uncertain return to trading, one thing is certain – the food and hospitality will inevitably recover. In this article, Francis Loughran shares his updates on the reopening of food operations in both shopping centres and high streets.
People are social creatures by nature, with hospitality ingrained in our way of life – albeit it to differing degrees from person to person granted. How customers want to connect with friends in a shopping centre environment will dictate how food operators and landlords will need to connect with customers.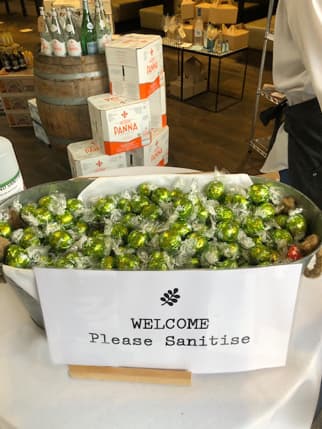 The Botanical Hotel in South Yarra, Melbourne (pictured above) shows that the best way forward to facilitate this is to adhere to the philosophy of "Go Safe, Go Slow, Go Smart".  This is especially true for malls as they have a significant challenge in front of them. This is illustrated in the tables below.
The first one is from Roy Morgan who have partnered with UberMedia to track mobile devices and estimate the change in footfall at various shopping centres and destinations in Sydney and Melbourne. The data compares the footfall for the week of May 27 to the average for January/February 2020.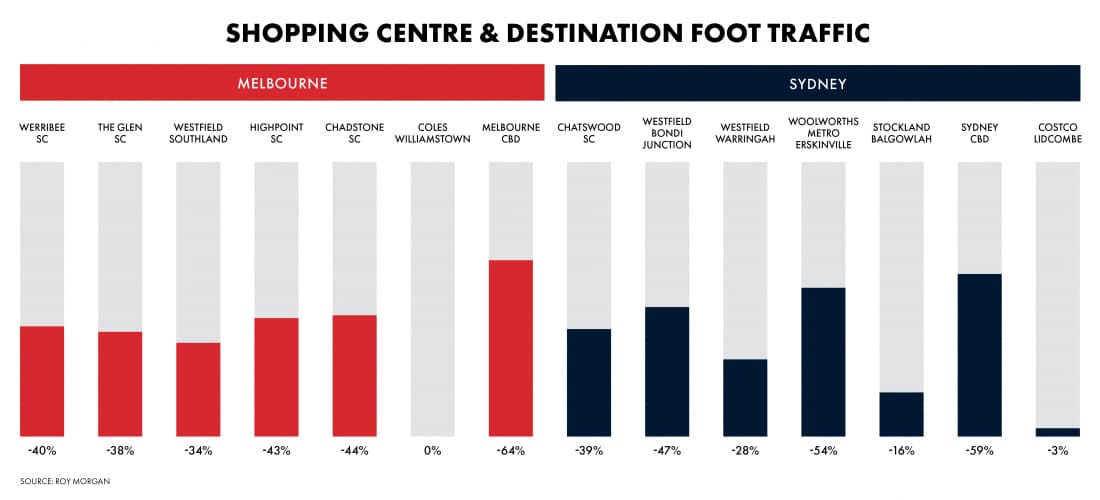 In Melbourne, the key shopping centres have seen about a -40% decline in footfall while the CBD has witnessed a fall of almost two-thirds of the normal number of people.
In Sydney, the results for shopping centres are a bit more mixed with the North Shore centres of Westfield Warringah and Stockland Balgowlah seeing foot traffic falling by much smaller amounts than other prominent Sydney malls.
Standalone supermarkets such as Costco Lidcombe and Coles Williamstown have seen little or no declines in footfall.
The second table highlights the latest data for the month of April from the ABS on the trading of takeaway outlets and café/restaurants. Overall these businesses have seen significant falls in revenue from March. Future Food has then estimated how the shopping centre tenants in each category have fared.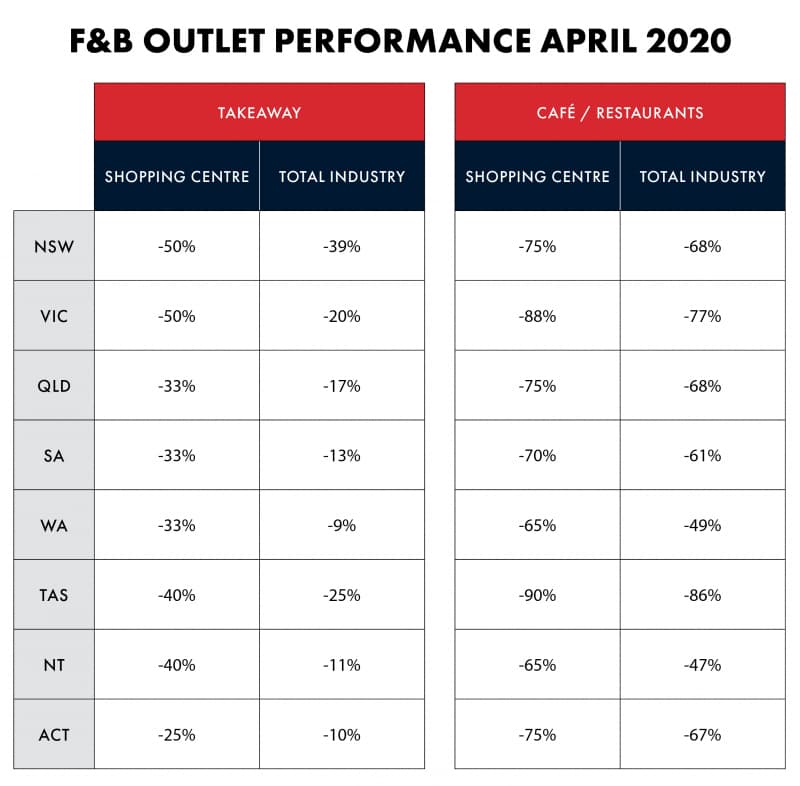 Due to the closure of the food courts and the difficulty for many food operators to work with pick-ups and delivery, shopping centre outlets overall have not held up as well as their high street counterparts.
What to do now in this next normal
Hospitality is both a science and an art that has customer service and experience at its core. Adaptation to and agility of hospitality business within a 'next normal' the post COVID-19 era, will be a customer focused imperative for both the food operator and the landlord.  
Research has shown that the degree of negative impact to revenue has been dependent upon a variety of factors. A food operator's mix of the following prior to the onset of COVID-19 restrictions has contributed viability and potentially the business's ability to recover:
Mix of Off-Premise v On-Premise sales

 

Reliance on Day Part/occasional business
Proximity to densely populated regions
Level of digital sophistication
Role of value in product mix
Chris Lucas, the proprietor of such outstanding venues such as Chin Chin, Hawker Hall and Kisume, is an entrepreneur who is at the forefront of making the next normal a reality.  In a recent article in the Australian Financial Review he said, "We've been pushed to the edge of the cliff, we've seen our business life flash before us and I think that experience is going to reset the bar."
"The era of the self-obsessed, insular, Instagram- and influencer-focused business is dead. It's all over. It won't be about the chef's ego or the sommelier's ego anymore; we won't hear so much about the chef's 'philosophy' or the 'narrative'. We're getting rid of all that bullshit. Our venues are going to be totally focused on hospitality."
Another leading F&B voice is chef Adam Liaw. He has recently written that, "[Restaurants] spent so many years cultivating relationships with producers, making delicious stocks and sauces, building brands and expertise only to have their ability to monetise it bottlenecked at the number of seats they can fit in a dining room. That seems like such an old-fashioned business model now." He foresees that outlets will evolve into a multi-channel format so that customers can engage with restaurants for meals and produce online, through delivery and through takeaway.
Showing the way
The Botanical Hotel in South Yarra, Melbourne has worked tirelessly and effectively to keep and strengthen its relationship with their customers.
Joe Vargetto, the chef and owner of Melbourne's Mister Bianco and Massi, has worked hard during the shutdown to survive, so that he could then thrive.  This is now paying off. During the lockdown he was selling produce from the back of a truck and delivering lasagnes from a Mini. Gemima Cody, the reviewer for The Age, reports that "as soon as reopening was announced the phones were unmanageable, and they had to shut off online reservations to cope." Vargetto says "we could have served people a thousand times over."
Fine dining outlets have also been hard at work laying the ground work for their return. Ben Shewry has turned Attica into a take-home emporium with dining kits and merchandise sales. The three-hat restaurant Brae, also started up produce and baking operations that kept its connections with suppliers and consumers going so that it can reopen on June 25. Rene Redzepi has turned his ground breaking Copenhagen restaurant Noma into an outdoor burger joint, with a return to more normal service to follow at a suitable time.
The way forward for shopping centres
For shopping centres, the time for an 'us and them' approach is over. These partnerships will need to collaborate and take the recommended discipline approach below to;
Maximise the likelihood of operational survival
To prepare for the uncertain challenges that the economic reality of recession will present
And ultimately protect their asset value.
Go safe, go slow, go smart
Make sure you welcome your customer back! Give them the best experience you can. Invest in updated and agile marketing and communication campaigns, promoting customer confidence in the food and hospitality safety and capability of your venue or precinct. Wherever possible make the customer transaction easy and risk reduced. Go safe and ensure you show safe.
Loyalty to locals leads to longevity
Double-down on delivery and pick up in store capability. While we can expect attrition from the current peak of click and collect, the growth of this channel to customer should remain part of a customer focussed service offer. Concentrate on the locals as international and some domestic travel will be restricted for the foreseeable future.
Capture common spaces for capacity
Capability of operators and precincts needs to be maximised. Work together to utilise common use spaces for additional seating – consider making seating pockets in food courts – or open up new zones (eg. rooftop), to improve dining capacity.
Analyse all areas
Strategy analysis is essential to ensure your business is aligned to a changed set of customer wants and demands. Identify critical risk and customer service friction points. 
Prior preparation prevents poor performance
Do not underestimate the task of getting a venue up and running again. Justin Hemmes of the Merivale Group has said that it is not a re-opening, but rather an opening. Everything must be learned from grass roots: Staff, training and systems will not be able to just pick up where they left off over two months ago.  Hemmes emphasises that venues need to plan their opening and their next phases now.
Less is more, more or less
Invest in improved operational efficiencies like streamlining your menu or food service plan, placing the focus on protecting profit while satisfying customers. New design of your venue or precinct needs to be considered. Maximise operational efficiencies and safety for staff and customers through design and layout rethinking that isn't necessarily expensive.