There's a whole new strategy for developing the food and beverage offer in Mini Gun centres. Francis Loughran takes us inside the Mini Gun food and beverage world.
Typically, the Mini Guns shopping centre has a GLA between 6,000m2 to 20,000m2. The centre is earmarked by local tenancy mix and is designed to cater to the needs of local residents.
As our suburban population continues to grow at an unprecedented rate, the places in which people eat, live, work, play and shop are overlapping and getting closer. This is leading to a fundamental growth in the sphere of food.
There is scope for great evolution within the Mini Gun Shopping Centres in the food and beverage area.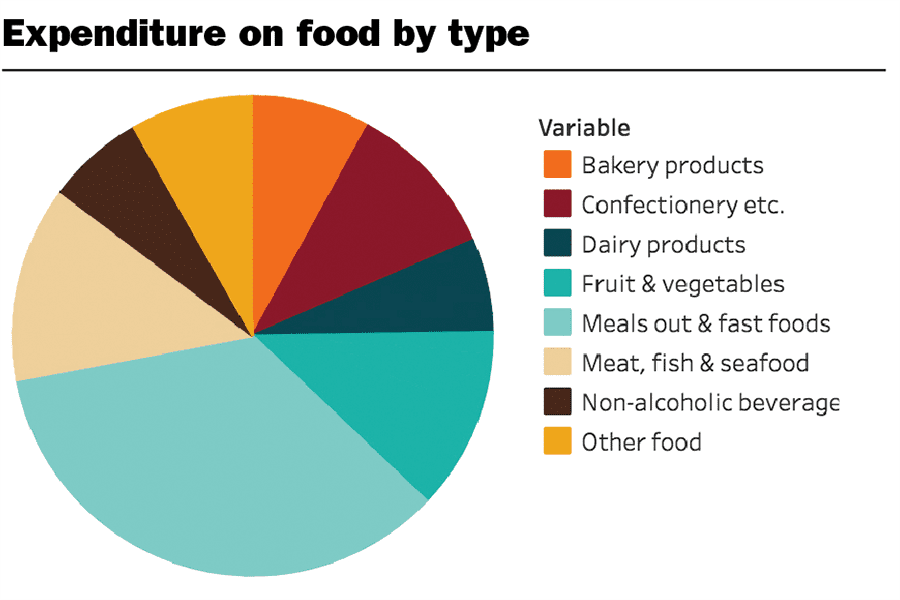 The most recent report based on ABS household expenditure survey data states that the changing household food expenditure patterns indicate an increasing trend away from home cooking; whereas meals out and fast food has continued to grow in recent years. The share of meals out and fast foods in total food expenditure increased from 25% in 1988-89 to 31% in 2009-10 and 34% in 2015-16 (latest year available). That is, on average, consumers have switched further from food products towards higher priced food services. The real consumer prices increased overall by 5% for food and 17% for meals out and take away food. Reliable food quality is likely to increase the willingness of people to pay a premium price.
The Mini Guns shopping centres must shift their focus from being transaction driven to creating destinations that fulfil the community needs to connect, socialise and dwell. The food and beverage hub can be the social glue that will bring the consumers together to try new tastes and entertainment experiences each time they visit. The food and beverage hub must be a multi-sensory and multi-functional culinary concept that will become a compelling destination for all demographics.
It is in the Mini Guns sector that more changes occur in the ownership, development and management than in the other sectors (Little and Big Guns). The Mini Guns shopping centres need to create an environment that people want to be in. Sustainable food retail designs will need to be adopted, rapidly altering the feel and environment of the shopping centre.

Each change can signify a part of the lifecycle that the Mini Guns shopping centre is undertaking. The journey of the Mini Guns shopping centres can be well planned, leading to profitable growth for the centre.
The shopping centre, in its lifecycle will grow through the life stages of:
1. Nascent
2. Emerging
3. Connected
4. Multi moment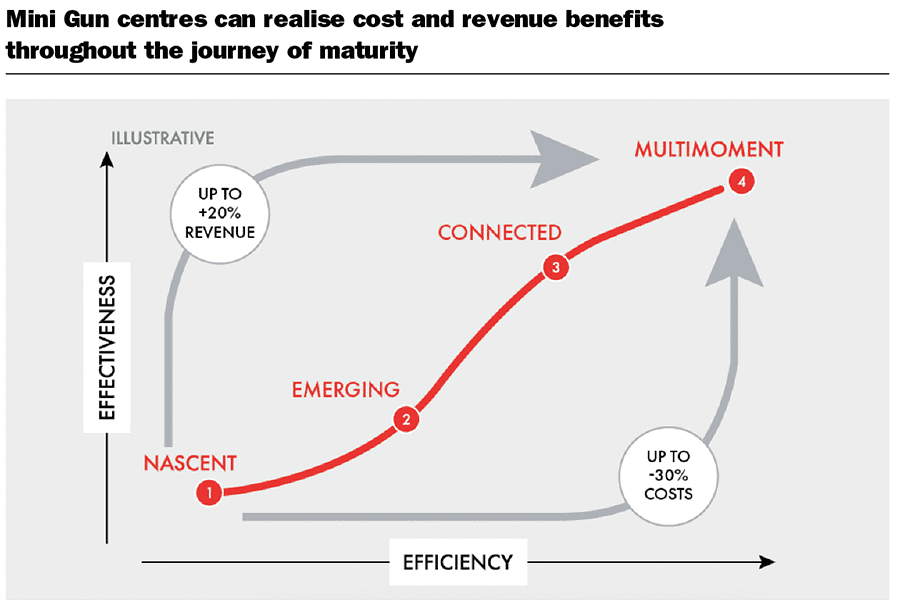 The food and beverage strategy will evolve at every stage of the lifecycle and can be positioned to be in sync with the lifecycle. This will provide the opportunity to the shopping centre to maximise its MAT through dedicated food GLA. The adopted food and beverage strategy can assist in increasing the revenue as the shopping centre travels from 'Nascent' to 'Multi Moment' as this, in turn, gives better efficiency to the overall asset value. The improved food and beverage strategy can be key in maintaining high occupancy levels to combat retail vacancy in centres. Along with higher occupancy levels the centre will be able to 'Unlock the Value' and reach its true market potential. To reach the market potential MAT in some centres, they may be required to add extra GLA. Also there may be a need for additional GLA to create a casual lane way or outdoor dining area.
The different stages of the Mini Guns shopping centres will create a need to have an evolving food and beverage strategy. This will require introducing relevant operators, on-trend food concepts, as well as new-to-market foods/operators. The leasing team will play a greater role in securing the brands that will fit into the evolved food and beverage strategy.
There will be fierce competition to secure the best brands for the shopping centre to maximise the MAT generated through food and beverage. It will be essential to support the leasing teams and have a clear vision on the indicated food and beverage mix recommended by master planning consultants.
To create sustainable food and beverage volumes and 'future proof' the shopping centres, it will be essential that the food and beverage offering is customised for the demographics.
Customers' trust can be earned by delivering on-trend food. The well-presented food and beverage strategy will not only capture the hearts of the local markets but will also inform the future trends.
This will directly result in the increased dwell times and increased dollar spend by the customers; a welcome outcome for both retailers and shopping centres.
There is a constant need to evolve or perish as the retail scene continues to change, driven by the 'internet and online' presence. This is driving the retailers to innovate and create digital relationships that will take them closer to their target customers. But at the same time, the food retailer must continue to evolve and exist in the 'real world'. Successful food retailers will need to combine their physical presence with digital and centre marketing support and food delivery options.
The best food operators will need to provide a price-competitive experience that fulfils high customer expectations. The customers' food and beverage experiences will be best defined by the shopping centre marketing teams responding to the changing cultural mix of the local communities. It will be evident in their diverse marketing approach to embrace cultural events like Chinese New Year, Australia Day and major sporting events etc. This will assist the shopping centre to naturally evolve in capturing the diversifying local customer mix and engage the customers to embrace new food trends.
It is more important than ever that the Mini Guns shopping centres are able to adapt and leverage their ability to build a food and beverage hub that commands customer loyalty and retention, based on emotional connectivity.
A current case study is reflective of how the Mini Guns shopping centres can achieve their market potential by adopting a differential food and beverage strategy and improve the asset value.
CASE STUDY: Sunshine Marketplace (Vicinity Centres)
While the food and beverage offer at Sunshine Marketplace has catered for its base of existing customers for many years, the centre (about 13km west of Melbourne) is in a mature stage of growth and needs to reinvigorate the existing offer and diversify into new styles, building a new and more engaged customer base. On undertaking a detailed assessment of the existing F&B offer at the centre, it was concluded that Sunshine Marketplace has a special opportunity in a trade area and competitive landscape where F&B has not been saturated nor fully developed. The opportunity is to 'own' F&B in Sunshine and create the destination for F&B in a safe, familiar, friendly environment, with a range of compelling dining choices – right in the heart of Sunshine.
While the mix has under or no representation in a number of cuisine styles and positioning levels, there is a corresponding over representation and crossover in cuisine styles such as, sandwich/wraps, cafe, bakery/patisserie as well as significant over-representation of the QSR positioning level. These two elements provide an unbalanced mix.
In evaluating the mix within the centre currently, and considering the neighbourhood demographics, the obvious gap in the mix is in the provision of a Vietnamese offer in a neighbourhood that has a significant Vietnamese population (approximately 12.9%)*. And while there is a range of Vietnamese offers within the competitive landscape, it is reasonable to suggest that many of them are not of a high standard or appealing as on-trend dining offers.

The recommended F&B strategy is able to project an increased GLA of 12% resulting in 113% MAT growth* (assumptions below):
• The retail centre is assumed to have great accessibility and visibility.
• Trade area population and spending patterns are as per Urbis 2017 Report for 2017 and 2022.
• We have assumed the retail area F&B will be redeveloped in 2021 and will start operating in 2022.
• Current customer behaviour and spending patterns by Sunshine Marketplace customers are assumed to improve as a result of new positioning.
• This forecast assumes that the Australian market conditions and the political environment remain the same.
• Proposed F&B Mix is assumed to be fully tenanted, and finished to a high standard in terms of fit out, brand concepts and overall ambience.
• All forecast turnovers are for 2022, inclusive of GST, unless stated otherwise.
There has never been a better time than now for Mini Guns to unlock their market potential… and an evolved F&B strategy can be the trigger.
*Source: quickstats.censusdata.abs.gov.au