In this two-part article Francis Loughran shares what he's learnt about the importance of thinking 'big' when it comes to the business of food. Hospitality, he says, is more than just a word… it's all about the business of food in a world of High-Tech – High-Touch.
Modern hospitality in retail centres, malls, commercial and mixed-use developments is an amalgam of somewhat contradictory yet complementary dynamics: High-Tech – High-Touch. Like yin and yang or night and day, these seemingly opposing forces combine to create a whole that is stronger and more sustainable than the parts themselves.
Big or small shopping malls must embrace a new set of skills so as to ensure the bricks-and-mortar promise delivers a positive experience every time in a world where the customer is king. Because when it comes to food and hospitality, "We're here for the experience".
Letting the light in
During the past ten years, shopping centres have, 'let the light in'. Strategic planning by malls, lifestyle-retail developers and their specialist consultants, has successfully resulted in building envelopes that open-up into places that are complementary to hospitality.
Externalised al fresco dining clusters, pavilion-style dining gardens, roof top dining terraces, signature al fresco cafés, bars and restaurants are presented with a 'deconstructed footprint'.
In Big Gun centres (and not so big shopping centres) hospitality precincts away from the main-frame of the enclosed, multi-level shopping centre, is the norm rather than the exception.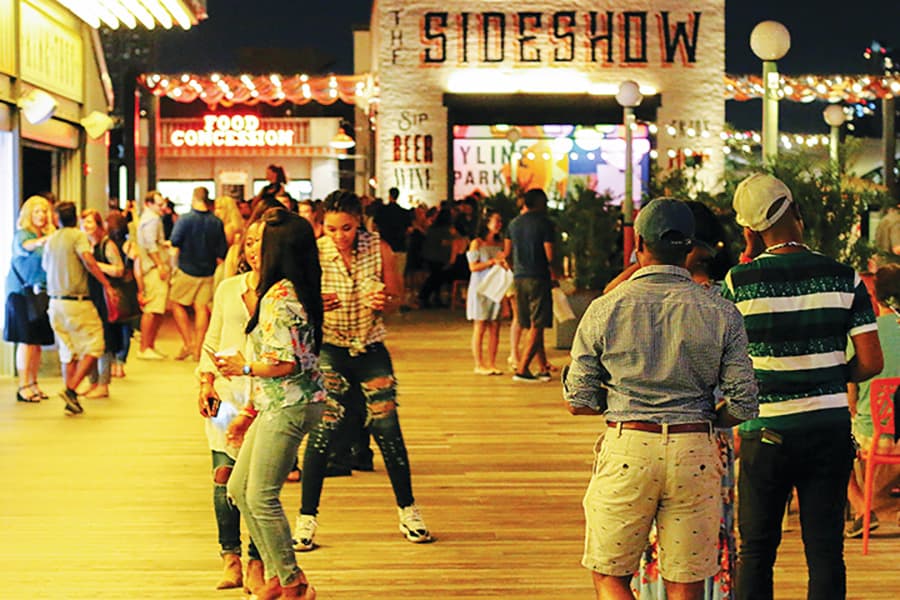 Letting the light in has meant that these new family friendly and aspirational lifestyle dining destinations are perceived as being independent to the shopping malls. They have highly styled green-spaces made of equal parts plant-scaping and place-making. Their creative welcoming statement ensures that they trade longer with more convenient hours. They are aligned to modern cinemas, family entertainment and children's play areas. They are people-places that shout, "come experience, come enjoy, come and have fun, come and spend your money".
Traditional shopping centre marketing is no longer adequate when it comes to marketing the hospitality experiences modern centres have on offer. High-tech digital marketing platforms with specific target demographics have become the only way to sustainable market share. Selling experiences requires centres to understand and promote their success factors and positive customer touch-points. Hospitality is not a shopping mall product, it is lifestyle centre service, built on service excellence in an increasingly service orientated economy. Spend is 'maximised' when people are having fun and happy to pay for it.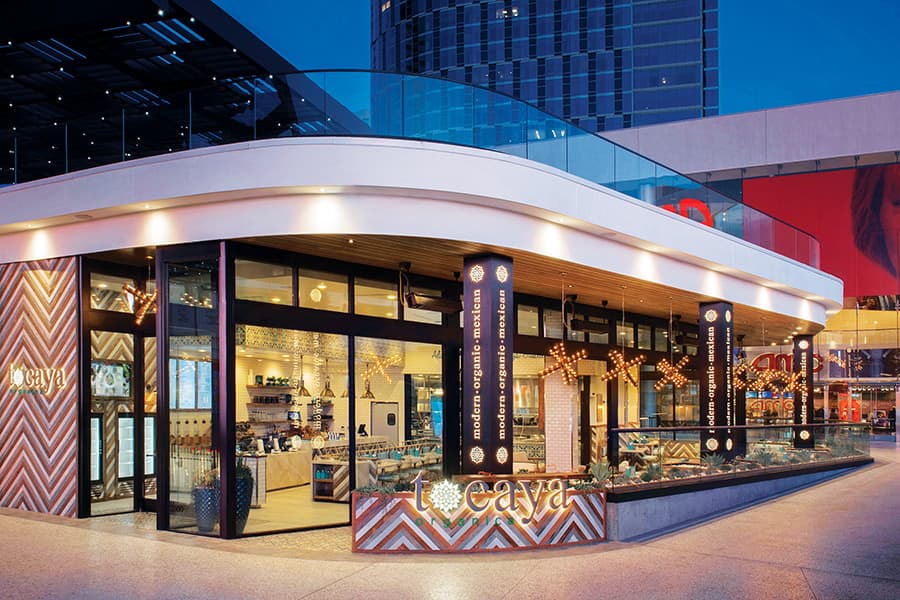 Like shopping centres, modern pubs in a range of communities, have also 'let in the light', resulting in direct competition for the not only high street restaurants and cafes, but for shopping centres. Modern pub groups have developed the contemporary skillset of diversification. Total refurbishment of old-fashioned pubs and hotels repositions them to remove 'undesirables' and offer a new and diverse range of hospitality products. Modern pubs are in the business of selling fun and hospitality, entertainment, gaming, events, quizzes, bands and much more.
Shopping centres can learn a lot from the modern pub groups' strategy of targeting the high-value spenders. This target market is under 35, looking for safe, on-trend venues offering great food, cocktails, entertainment, al fresco roof tops, beer gardens, beach front locations, gaming, safe parking and a pro-active calendar of events, using both a Monday to Thursday, and a Friday to Sunday entertainment strategy.
The 'Business of Food' continues to grow, globally. Larger malls, markets and waterfront destinations lead the way in repositioning their future strategy towards carefully programmed food precincts.
For the calendar year ending in December 2018, growth in F&B spending in the non-mining Australian states was 5% up on the previous year.
This is faster than that of Clothing/Footwear retailers (4.3%), Food retailers (4.0%), Household Goods retailers (2.9%) and Retail Trade as a whole (3.8%)*. Furthermore, the momentum of F&B growth is positive, with the pace of growth increasing throughout the year.
A new approach
Food and hospitality leasing is no longer about securing long term 'restrictive' leases. Modern leasing requires lease terms to work on a win-win approach for all parties, starting with a more flexible approach to the duration of the lease and the need to plan for concept lifecycles being shorter. There is a contemporary social and business expectation that concepts and clusters will evolve or become extinct. Inability to reinvent the hospitality offers as new concepts gain popularity and market share reduces their relevance and revenue potential.
Lease terms must be flexible so as to accommodate pop-up concepts, short-term food concepts, pop up bars and short-term specialty food halls. Pre-fitted kitchen-shops, present a low-cost start-up opportunity for local operators or incubator food and beverage concepts (ie. an Aperol bar for summer, or 'Movida at the beach' pop up at the Lorne Hotel) and allow for an evolving appeal and consistent new to market offers that contribute to a centre's point of difference.
Food is fashion. It must evolve to accommodate the growing demand for table service, vegan, vegetarian, semi-vegetarian offers, slow food concepts, localisation of produce and social responsibility regarding minimising waste, energy-resources and their environmental footprint.
Ottolenghi has shown the world that salads and vegetables are meals in their own right. 'Bowls' including (the Poke bowl) have seen salads move away from a jumbled mix of fridge cold, browning leaves to highly considered 'deconstructed' plates of colour and texture that, customers are only too happy to pay for.
With 'foraging', 'fermenting' and 'native ingredients' becoming firmly embedded in the high-end dining scene, chefs are also looking at lower intervention types of cooking such as cooking over open fire and in coals. These methods have long been used at Ekstedt Restaurant in Stockholm, Burnt Ends in Singapore and more recently at Longsong in Melbourne.
Food courts are now elevated to food halls, a trend started in North America some five years ago; they are spreading globally. Food hall concepts do not include international fast-food majors or high street fast-food franchises. Their popular appeal comes from their 'local' approach to food, a combination of incubator concepts, best-practice local foodies and start up concepts that have progressed to multiple locations. However, they remain locally focused when it comes to produce sourcing, local tastes and food-heroes, for example, Eggslut, a simple LA-based breakfast concept with a limited menu and huge market appeal and significant Instagram success. One thing is certain, today's consumers demonstrate a clear preference for curated, connected, local experiences, (as seen at Little On High, Christchurch and The Press Hall in Wellington, New Zealand.)
The continuing evolution of food and hospitality in shopping centres (and the Big Guns in particular) has always been driven by the need to feed a lot of people efficiently – both in terms of time and operations.
For many years, shopping mall F&B strategies were similar to other speciality retail categories. High volume, low margin products were designed to produce healthy revenue per square metre. This emphasis on F&B has been a success but is a fashion that is ultimately running its course. Unlike clothing, where the Big Guns were seen as the first, often the only, place to go, the Big Guns were increasingly seen as a place that simply offered fuel for their customers.
Lately, the dynamic has changed to reflect a 'Hospitality First' strategy. This transformation has been driven by a recognition that shopping centres had to recognise and compete with the High Streets where the dining improvements and innovations were being made.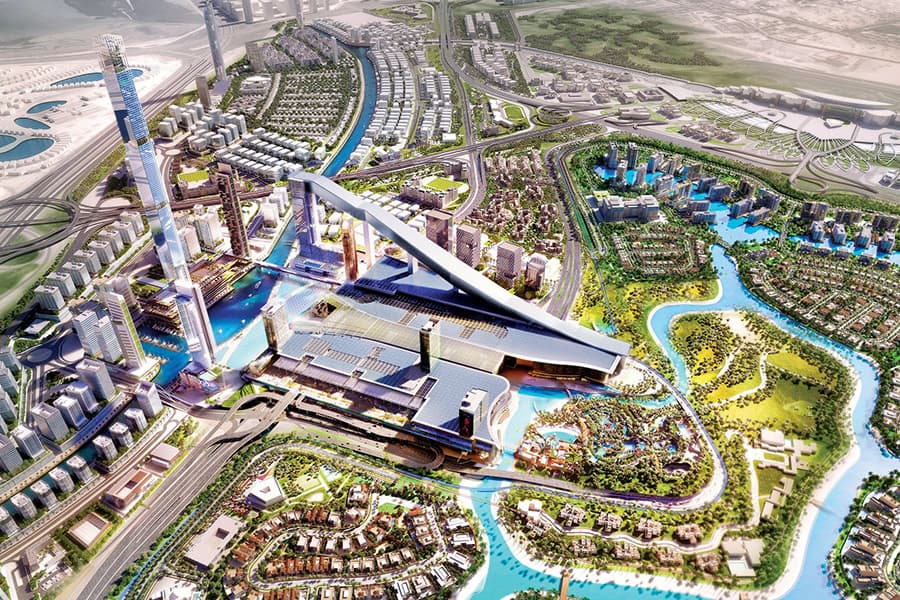 While the pendulum is by no means swinging back towards efficiency and volume first, there is a recognition that the High-Touch of real food prepared by skilled professionals has to be paired with the High-Tech of customer service and operational efficiencies. Make no mistake, the battle between these two camps is over: High-Touch won. However, in order to survive, F&B outlets have to be able to deliver their product in a way that provides hospitality in a financially sustainable manner.
The biggest issue with High-Touch is that it can be costly to provide. But that is only true in the context of the traditional model of F&B economics: Increasing service levels and the depth of sophistication in procuring and producing great food without any compensating operational efficiencies is a recipe for disaster.
The key for successful F&B businesses is to know when to spend money on people and produce and where to spend on technology.
High-Tech is not about replacing people, it is about making them more efficient, more able to spend time on the personalisation of customer experience and less time with the menial yet frequently essential tasks that are involved in operating food and beverage businesses.
It is a recognition that award and above award wages need to be paid for work that customers really want. It's all about great produce and great preparation balanced with innovation and efficiency in non-customer-centric business components. High-Tech should be investable but ultra-efficient, High-Touch should be highly visual and equally efficient.
High-Touch is not just limited to food or hospitality – it is important in all forms of entertainment, and the synergy of food and fun is one of the foundations of modern society.
In the second part of this article, we consider how a strategic approach to hospitality will deliver volume sales and maximise asset value by delivering positive experiences for customers at each touchpoint.
*Source Australian Bureau of Statistics – Retail Trade 8501.0