In part one of this series, Francis Loughran of Future Food discussed how flexibility must be the foundation from which to develop future-focused food and beverage (F&B) strategies. In part two, he shares insights from projects around the world and how great places and exceptional experiences will boost 'non-online' purchases.
Insights from our projects around the world confirm time and time again, flexibility is the key to future planning. While the pandemic has driven substantial growth in online purchases; future spending on food and hospitality will always be about the built environment and its uniqueness as a lifestyle destination. 
Regardless of their recent mini-outbreak, New Zealand's immediate post-pandemic return to eating out and drinking in bars re-confirms customers still demand a unique physical restaurant or bar especially at shopping centres that show intrinsic value as beautiful, hygienic socialising places. 
Despite a strict inbound travel embargo, the country has seen a domestic return to dining out, going out, coffee out and spending has rebounded relatively quickly. The "Back your Backyard" campaign run by the New Zealand Government has seen domestic tourism fill the gap left by the hole in the international travel market. Many Kiwis who would normally travel to Australia or other 'local' Pacific destinations are using it to explore New Zealand with a conscious effort to supporting local food and hospitality businesses. The depth of the rebound is demonstrated by many businesses not remaining eligible for the NZ business subsidy now that the lockdown has lifted.
New Zealand provides the hospitality industry here in Australia with a beacon of hope, that not only can recovery be anticipated, but that it can also return relatively quickly; Some businesses are even reporting year-on-year growth due to this domestic demand. "Data from Paymark showed that the underlying value of payments transacted through core retail merchants in July was up 11.4% on year-ago levels. Paymark said growth occurred across most sectors, including year-on-year nationwide growth amongst café, bar and restaurant merchants for the first month since February." 
New Zealand is not the only country to experience positive recovery signs. 
Only this week, Hotelier Middle East headlines read, "Dubai hospitality sees 'rapid rebound' according to Department of Tourism and Commerce Marketing," and went on to report that, "Dubai's hotel sector is healthy and this prudent approach prepares the industry for an even stronger resurgence post-COVID-19." 
In Australia, retail sales data from the ABS for the month of June shows the extent to which F&B has made a comeback.
While not back to their pre-COVID levels, F&B turnover for the month of June was generally ahead of where we were in March when the lockdowns first started (it was on 22 March when the Prime Minister announced Stage 2 measures) as all sectors of F&B across almost all of the states/territories have clawed back from the depths of April and May.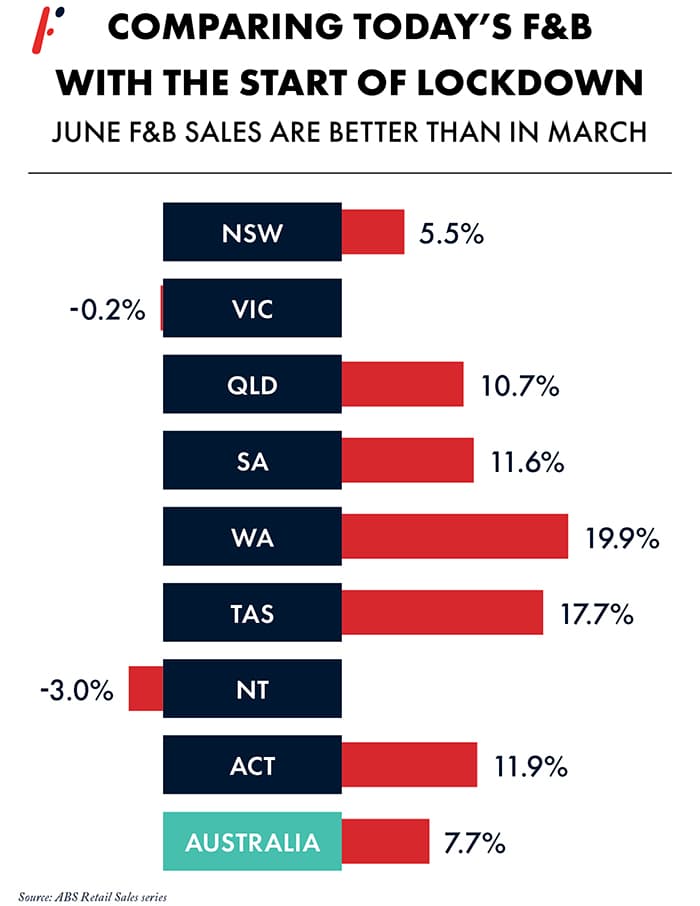 While we are not back to where we were in 2019, the results in June show that demand for F&B has not been dented by the pandemic. Takeaway businesses have fared the best because cafés and restaurants are still capacity constrained and many, if not most, are not able to take advantage of outdoor spaces into which they could expand.
Over in the UK, the Eat Out to Help Out scheme seems to be enticing patrons to come back to F&B outlets after a long period away.
An insight from KAM Media suggests that 35.6 million people will use the scheme during its run in August. Co-founder of Hawksmoor group of steakhouses, Will Becket, says "Although we've seen lower sales due to the lower spend per head, but we're still incredibly happy – everyone loves having busy restaurants and lots of people are coming in and trying Hawksmoor for the first time, or finding a way to come back that they can afford at the moment. Anything that encourages people to leave the home and start enjoying restaurants again is great." (emphasis added) 
Food and hospitality will always be in-demand, people live to eat, drink and socialise, it's a fact. As humans we yearn for social-intercourse and human connection, we're happy to pay for food cooked by someone else and served by a stranger in a welcoming environment. 
With this in mind, the outlook is positive for lifestyle-focused malls, shopping centres and their dining precincts.
Future Strategy Success Factors
Identifying success factors critical to future F&B Strategy is the key to ensuring that current and future projects remain relevant. 
Tomorrow's customers have already developed strong viewpoints on what they want from modern lifestyle eating, drinking and socialising food and hospitality destinations. Future F&B Strategy must endeavour to deliver the basics of hospitality focused precincts: Safe, secure and accommodating the requirements of social distancing, green-hospitality environments, increased outdoor alfresco dining, pick-up and delivery points and flexible environments etc. 
In addition, shopping centres and mixed-use projects will need to focus on fostering next-generation fundamentals when it comes to the inclusion of dark kitchens, dining courtyards, piazzas, open-air cinemas and theatres, food focused health and well-being retreats, design-driven pick up lounges, elevated drive-thru booths, double and triple storied seating terraces and internal mezzanines, all aimed at maximizing seats and sales at the same time as maximising personal safety.
Developers and owners are leading the way in establishing food and hospitality precincts that will visually present as beautiful lifestyle destinations that tick all the boxes when it comes to customers' expectations thereby ensuring maximum patronage and optimising sales for the asset category. 
As challenging as it may seem from current perspectives, the hospitality and F&B industries must prepare for a positive comeback. With the catalytic shift to online shopping and consumerism, the very nature of the industry has changed overnight (actually, in about six months!); food and hospitality, and its value in the Experience Economy has been re-enforced and property developments of the future may look to substantially different engagement models from what we have typically been used to. 
For those brands, cafés, restaurants, bars and other food businesses that are able to reinvent their focus to incorporate a new set of consumer priorities, need states and aspirations, the future seems positive. 
Part of the success must start with each operator, each centre's dining cluster, development or mixed-use development food precinct, through the evolution of a strategic narrative to re-energise the customer engagement. For each business it will be different, there is certainly no magic formula, but emphasis must be placed on re-evaluating the unique selling points and then determining if they are still relevant.
In Summary
As the future of Food and Hospitality across many platforms resets and consolidates, it's time to start planning for the future of Food and Hospitality in our shopping centres, malls and mixed-use developments. 
Diversification strategies must be engaged that allow developers and owners robust business models for the future.
Spatial planning solutions that incorporate new approaches to flexibility and hygiene in order to ensure that the lifestyle developments of the future are resilient and adequately flexible to maximise the business outcomes whatever the geo-political situation surrounding them.
Australia is not at the end of the COVID-19 crisis, and for many countries, they may not even be mid-way through. However, it is not too soon to build a F&B Strategy that will foster broad growth in food and hospitality projects across asset categories.