The link between food and beverage and leisure and entertainment has never been stronger. And it looks like it's a continuing trend. In his latest article (published in SCN's CBD Guns edition), Francis Loughran of Future Food, looks at past successes, present examples and projects planned for the future. Optimism is a key feature.


I feel compelled to praise the food and hospitality industry that has served our communities tirelessly during the pandemic, and most have survived. Well done and thank you.
In Australia, as globally, the food and hospitality sectors demonstrated an endless desire to survive the downturn from COVID; reinventing themselves into modern, tech-savvy and digitalised businesses with the use of technology as the new 'operations' to make them more resilient, agile and profitable, while at the same time meeting increased customer expectations.
F&B diversification – a secure anchor for mixed-use, lifestyle and tourism destinations
Massive investment by developers across many sectors has created new diversity-driven platforms that have become people hubs. Where there are people, there is a need for food and hospitality.
Today's new generation of data-driven vibrant food and hospitality owners are better informed and skilled to adapt to the evolving customer needs and wants.
At the same time, they are controlling rising costs and complying with new regulations, all of which add to the cost of doing business in a post-pandemic world. Food for profit is big business, and small and medium sized businesses, together with larger hospitality groups such as the Merivale Group, are driving and adapting the industry as demand for experienced-led drinking and dining continues to grow.
Justin Hemmes, CEO of Merivale Group, said: "Post-COVID, everyone has become more aligned to create a successful hospitality industry. We have police wanting safe, vibrant neighbourhoods. We have local government activating unused and outdoor areas. There's a real positive energy in the air. People are also coming back to work in the CBD and they're coming back strong."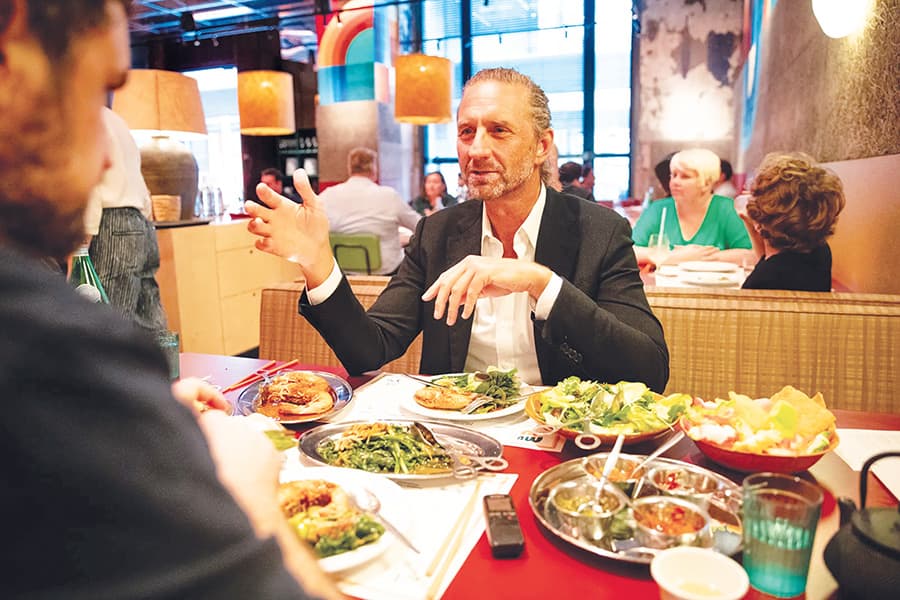 It's not just about survival for food businesses anymore; the future of food and hospitality has never been brighter. With a range of industry sectors diversifying their asset mix and bringing a greater number of people to one location for multiple purposes – work, shop, socialise, live and play – mixed-use destinations are now an established platform for growth for hotels, business parks, medical centres, hospitals, leisure, entertainment, wellbeing, tourism, car-showrooms, and government services. The greater the density of hungry people at any one location, the busier food venues are, all day, every day – self-perpetuating continued success.
Nick Seoud, Director of Melbourne's Darling Group said its sales have recovered and have never been better, "Our best trade ever was over the Easter and Anzac weekends".
The post-pandemic pent-up desire to get out and enjoy food, hospitality and entertainment is reflected in the return to pre-pandemic sales in less than expected time. In many cases, sales have exceeded the pandemic.
Eating and drinking are one of life's pleasures, and no pandemic will change this. If anything, it has driven the desire to eat, drink and enjoy life at every opportunity.
Our national and international food and hospitality projects confirm there's a world of new and exciting food and hospitality projects – across a range of sectors.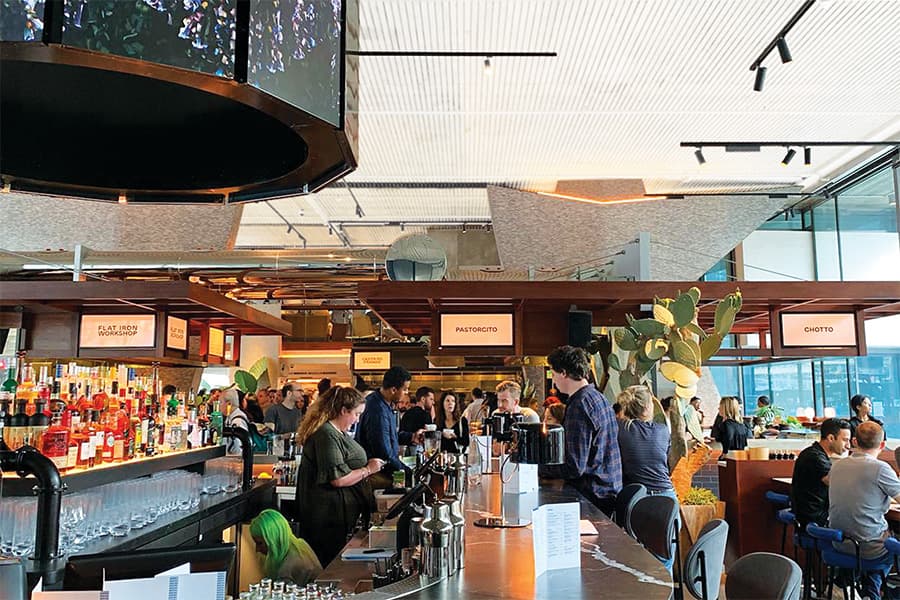 Today's customer is very clear on what they want when it comes to food and hospitality. Food and entertainment are now the 'secure' anchors when it comes to remixing modern shopping centres, airports, waterfront precincts or lifestyle mixed-use destinations.
Development teams across a range of industry sectors have been working with food consultants and leasing directors to rethink the future when it comes to what food and entertainment should look like in 2024 and beyond.
Mixed-use destinations are built on diversity. They provide new products and services that target the community's needs now and into the future, which is a long way from the traditional shopping mall.
Food and hospitality is a secure asset category. The food dollar is being targeted by many new players in Australia and New Zealand, including hotels, dark kitchens, catering and hospitality groups and a range of restaurant chains that see their food services as multi-revenue streams. The fast-track digitalisation of the food and hospitality industry during the past two years has resulted in a new focus across the board on maximising food spend through charging for convenience, prioritising or switching to fixed-priced menus, product limits (scarcity of offer), playful cocktail and drink list minimum spend and time limits that maximise yield, flowing on to maximising F&B revenue and therefore rental return.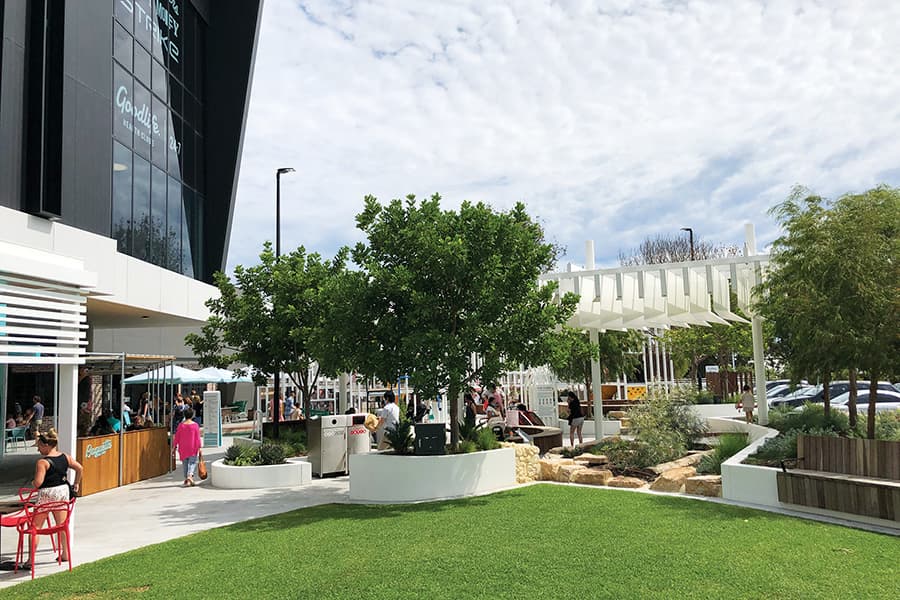 Who are our customers and what do they want? This timeless first principle is central to the mixed-use development process because it prioritises the targeted market (customer) needs and desires as it drives diversification of offers in the decision-making process.
Major shopping centre players, including Scentre Group, Vicinity Centres, AMP Capital, Mirvac, Charter Hall and Dexus, have identified their continued diversified food and hospitality mix as one of their future asset categories strengths. Why? Because it's never been more customer-centric, diverse and aligned with the customer's lifestyle needs and wants – it's no longer an add-on amenity to retail.
The marriage of food and entertainment is an evolving co-anchor that delivers so much more than just retail. Diversification of traditional retail assets in our cities and suburbs allows for a range of experience-led products and services aligned with modern lifestyles. Diversification provides a single location for live-work-play with a range of food, leisure and entertainment to complement this growing lifestyle.
Destinations such as: Quay Quarter Lanes, Karrinyup Shopping Centre, Pacific Fair, 25 Martin Place, Crown Sydney, Westfield Doncaster, Westfield New Market (NZ), Commercial Bay (NZ), Britomart (NZ), Hudson Yards (US), Doral Yard (US), Terra-Eataly (UK), Arcade Food Hall (UK), Battersea Power Station (UK), Mercato Central (Italy), and many other projects confirm that food and beverage is a powerhouse.
In Australia, leading hospitality powerhouses such as Merivale and The Lucas Group are relentless in their investment in hospitality, delivering experience-led offers in coast, regional and city locations. International hospitality businesses are also investing in Australia, with global food concepts such as Mercato Centrale securing its first Australian location on Collins Street, Melbourne, opening an Italian food hall in 2023.
Research confirms, a growing number of diners prefer staying local when the offer is good. A great café, restaurant or bar can generate 80% of its weekly sales from repeat local customers; this is confirmed in the case of Domain Road, South Yarra, Melbourne, where investing time and effort to cultivate the local community is the simplest form of business success.
The trend continues unabated in modern airports worldwide and in Australia, where they are no longer mere departure terminals but shopping and dining precincts with landing rights!
On a recent visit to Rome's Fiumicino Airport (Leonardo da Vinci), I was not only impressed by the airport but also by its 50 plus food outlets. I'm glad to report that I did not see any of the well-known food and coffee chains, with a notable exception of McDonald's for families and time-poor travellers. The remainder were smart-casual cafés and restaurants offering authentic Italian pizza, pasta, bistro food, espresso bars, gelateria, trattorias, mozzarella and panini bars, speciality Italian vino and cocktail bars and family favourites.
The evolution of food and hospitality
It is important to note that during the past 35 years, shopping centres and retail destinations in Australia and Zealand have grown extensively, and they will continue to evolve as specialist retail destinations. However, as developers direct their investment dollars into food, hospitality and entertainment in various new formats, we will see more shopping centres transition to mixed-use destinations. These new centres will always feature retail as the core business. In addition to retail, a refocus on the volume and diversity of food, hospitality, entertainment concepts (eg. HOYTS Funderdome at Highpoint) will continue to grow along with hotels, residential, local government services, wellness and entertainment. Planned non-retail activation is the key to moving beyond traditional shopping centre trading hours.
The evolution of food and hospitality in mixed-use developments, living centres, retail and entertainment destinations, airports and local communities is recovering in the post-pandemic world. Overall, the future is optimistic. Our cities and regional towns are benefiting from significant investment in new mixed-use developments offering food and hospitality. Key food players are driving the standard up, along with the price, which maximises F&B revenue, resulting in higher rental returns, asset values and the continued optimisation of return for investors. Food is all about people in a simple equation: (1) better food and service; plus (2) a happy customer; equals greater spend and return. One plus one really does equal three.