Food and hospitality operators across Australia and New Zealand have been catastrophically affected by the coronavirus. However, in the face of ongoing adversity – increased creativity, care and innovation is cultivating a sense of community in the business world. This is the second part of the series 'The new world of food and hospitality' following part one which was featured last week.
While landlords can provide operational and marketing support, retail advice, cash flow support and emotional support to food operators, the real help to small and medium size business is dictated by Government. This support is still evolving as the Code of Conduct, JobKeeper and Rent Relief Packages are currently being finalised (at the time of writing). These pro-active relief packages are welcomed and will greatly help food operators across many sectors to survive and thrive. Locally and globally, many foodies are saying, "We can make it".
While shopping centre owners and property management companies plead for retailers to remain open, some operators are not willing to open, diminishing any possibility to make sales. But as Bell Potter analyst, Sam Haddad noted in the Australian Financial Review (14 April, 2020), "Given the high degree of uncertainty regarding the duration of imposed restrictions, we believe an ability to continue to sell product is a key advantage in the event restrictions remain in place for longer than expected."
For many food operators in retail centres, shopping centres, high streets and mixed-use developments, closing is NOT an option.
The show must go on; a commitment to staff, customers combined with an unyielding determination to survive and to save their businesses has forced many food operators to switch their approach in order to maximise their capability in challenging circumstances.
As the inevitable analysis of the way we have dealt with this crisis unfolds, it is essential that we are perceived to have been pro-active and supportive to operators.
Landlords and their representatives must work hand in hand with their food operators to ensure the following are prioritised:
1. Ensure that pro-active assistance is available to every food operator (e.g. Delivery ideas and identified pick-up locations in shopping centres), ensure that operators can get the cash to keep their doors open.
2. Keep abreast of all government assistance and how to apply for government assistance. Ensure that your retailers and operators know what to do.
3. Ensure that your retailers and operators know how to deal with outgoings such as debt, utilities, cash flow & staff costs. Provide advice when you can.
4. Ensure that your retailers and operators know what to do if they're struggling to pay rent. Do you/they know the code of conduct for rent assistance?
5. Do your retailers know what assistance is offered by their bank such as low-cost options and cash flow planning for a post-coronavirus landscape?
6. Develop ways to cope with stress and communicate strategies to maintain mental health during this crisis
7. Continual landlord-food retailer communications are essential – "Let's get through this together"
Delivery Platforms
Online-retail platforms, take-away services and pivoted brand focus have become common parlance and practice in a matter of weeks. Some retailers may never completely revert to their 'old' methods of operating again.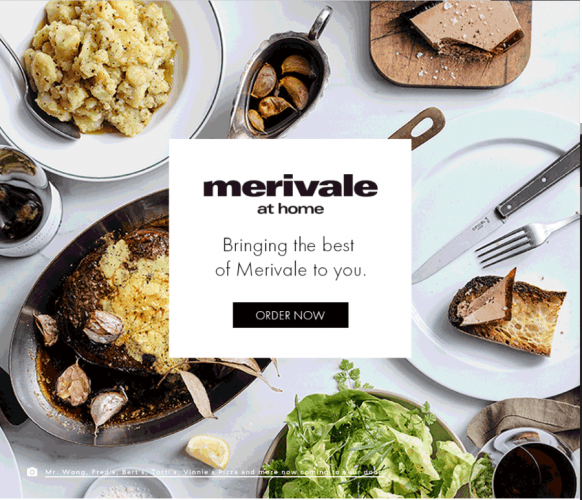 Delivery platforms have become an essential medium for many operators. While they have been seen to have the edge (historically), in negotiating terms with food operators, the current challenges faced by many operators have led to them publicly call out delivery companies for poor behaviour and unfair tactics. Grubhub in the US has faced substantial media coverage (Grubhub comes under fire for high fees, bad drivers – Chicago Tribune 13th April 2020) regarding their practices of loading cost and discounting onto their operators.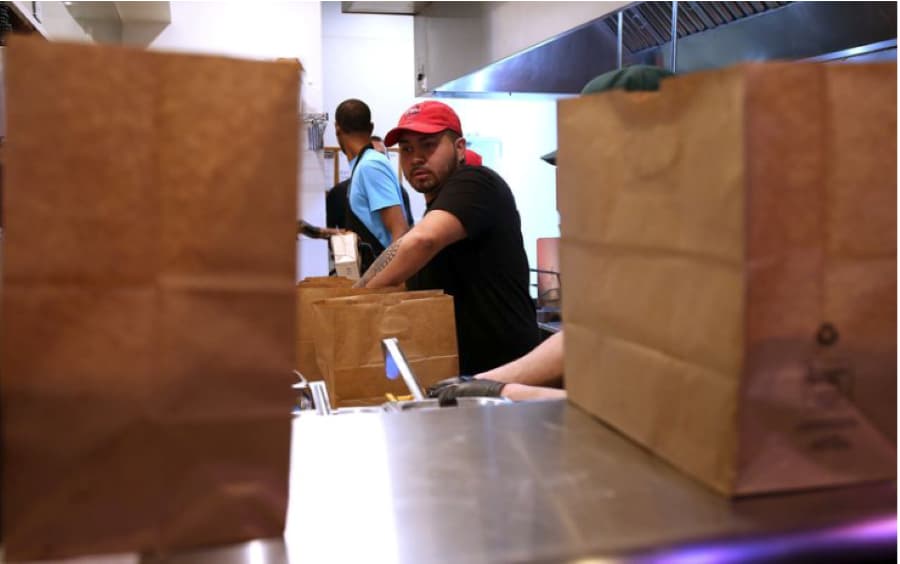 It's not all bad news though, companies such as DoorDash have been praised for their pro-active and partnership-based approach by reducing delivery fees.
CEO Tony Xu tweeted on 10th April 2020, "Local businesses are the fabric of our communities. To further help them, we're reducing commissions for local restaurant partners by 50% through the end of May". "This is not a deferral of fees, nor will merchants be asked to pay anything back," the company said. This approach appears to have paid off.
Here in Australia, burger chain Grill'd have announced their partnership with DoorDash and the launch of their 'own' delivery service powered by DoorDash Drive, the company's white-label platform that enables businesses to have their own direct delivery service.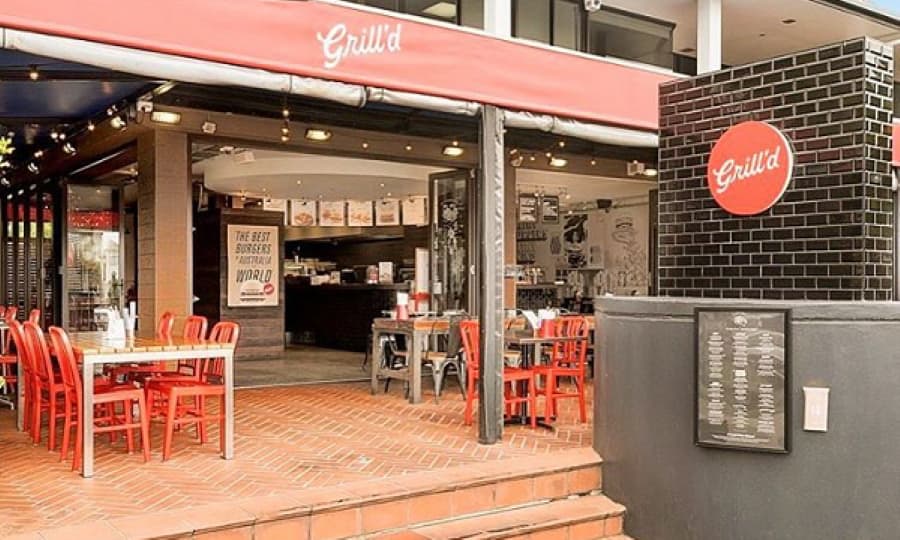 San Francisco has gone a step further and has implemented new legislation that limits fees that third-party delivery companies can charge restaurants. This cap is set to remain during the duration of mandated shutdowns during the coronavirus pandemic and the fee must be below 15%!
Rather than simply outsource delivery to third parties and thereby sacrifice all important margin, (many platforms currently charge around 30%,) some food operators are hand delivering their products in a 'Last Mile Delivery Innovation'. Some operators are leveraging their reputation or celebrity status to add value and a point of difference to their offer in the midst of a growing tide of takeaway/pick up menus.
It's Time for Innovation, Inspiration and Culinary Creativity
The overriding message that foodies are voicing is "Let's do this together!"
Food operators are building on their years of experience and their culinary edge to reinvent key aspects of their business, generate sales and find new direction that will out-live the coronavirus.
In addition, they are demonstrating that there has never been a better time to look after valued staff, provide free meals, create part-time jobs and donate food packages for those who most need help. This resilience and sense of community has been astounding. This is what will allow us to come out the other side, stronger than ever before.
From Foodie to Free-Thinker
The Prince of York Wine Bar in Sydney's CBD notes that "Times are changing, so we are too."
They observe with equal parts of realism, hope and enthusiasm that "A multi-level city wine bar isn't what Sydney needs right now, so we're bringing quality dinner and drinks to you, along with some great tunes to keep you entertained while in iso. We're safely creating jobs for our employees while lifting the spirits of as many people in our city as we can." "Cook at home and full party packs available. We're here for you Sydney, anything you need please just let us know and we will make it happen."
This approach is to be both praised and respected, a true demonstration of a flexible approach and a determined mindset of their staff and leadership.
For many restaurants one approach has been to adapt their recipes to Home Meal Solutions, producing boxes and pantry staples that can be picked up or delivered locally.
Nicholas Stevenson of Bakehouse Buns reports, "We have actually transitioned really well. We moved fast with setting up additional revenue streams. We have a pop-up store selling beef and then cook at home packs which are going great. Then we set up a separate burger business and called it bakehouse buns which is going gang busters."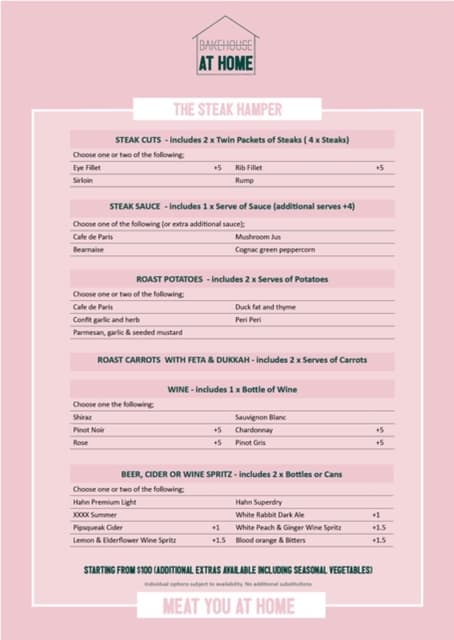 A next level approach to this is the 'Piatti Pronti' approach: Prepared Dishes from a limited menu of dishes and/or discount wines that can be picked up or delivered locally. The Highway Hotel in Adelaide sold 700 take-home dinners in a single day. Fonda owner Tim McDonald has a delivery service of vacuum-packed meals, while the Stanley St Kitchen, provides delivery of quality meals to greater Melbourne.
This innovation wave has recently been extended to beverage producers as well, with craft brewers like Gage Roads in Perth, Mismatch Brewing in Adelaide and Two Birds in Melbourne heralding a return to the bottle-shop drive-thru at their brewery/cellar door sites. Ballarat wine retailer Mitchell Harris is providing both a food and wine 'rescue' service, whilst Rochford Winery in the Yarra Ranges has evolved to include Rochford Grocery who happily service any customer with grocery and wine delivery across almost all of Melbourne.
Gift Cards
Selling gift cards is a great way to bring in cash flow, and for a restaurant/cafe to enable their biggest fans to support them during this crisis, yet many restaurants do not sell gift cards. Promotional site Umai lists "every restaurant in Australia" that sells gift cards so that consumers can support their favourite restaurants by buying for loved ones, those in need or themselves. Operators who are not on the Umai list can self-nominate to have themselves added. Just one more channel to keep revenue flowing.
From Caterer to Carer
In addition to random acts of kindness where cafés and food stores across the world are providing free food and hot drinks to first-responders and hardworking medical staff, larger corporate food operators like Domino's, Pret a Manger and McDonald's are providing food and drinks to front line essential workers (eg.NHS in the UK) at no charge. The hospitality that we extend to others is the way that we will be remembered.
The New York Food Truck Association has launched a GoFundMe campaign to support healthcare workers who are fighting on the front lines to help address COVID-19, while supporting local food truck members whose businesses have been shut down due to the pandemic. Many hospitals across NYC are in very short supply of food and beverage products because many food businesses are closed, and only minimal local stores are open from which healthcare workers can quickly buy food in between shifts.
Closer to home, many restauranteurs, facing tough decisions as employers, are caring for their staff that are ineligible for federal government benefits such as the Australian Government JobKeeper scheme.
Chef Charlie Carrington has nine employees at his Atlas Dining restaurant in Prahran, Melbourne, seven of whom are from overseas. Whilst their visas allow them to work, they are not able to claim any benefits. To keep the staff employed and fed, the government response to COVID-19 has forced him to completely rethink his business. Two weeks ago he began delivering curated ingredients boxes to his customers that links them via online masterclasses, instructing how to cook some of their favourite dishes. So far, he has been able to retain all his staff, keeping them busy as they develop the online programme.
Melbourne CBD restaurateur, Catherina Borsato, owner of Caterina's can't afford to employ her international staff anymore. "I had no choice, I had to put them off", she says. "But I have told them I will feed them for free and they can sleep on the restaurant floor if they need to".
Where to from here?
As leading New York chef Tom Colicchio points out, "The industry will rise again, Phoenix-like, from the ashes."
For hospitality, this time is an opportunity to rethink our operations and to take full advantage of this unpredictable reality, to learn from the innovators and industry leaders and to make our businesses more resilient. Retaining relevance to our customers' needs is more important than ever before.
We hope that you continue to find the strength and innovation to keep going our thoughts are with the entire industry at this time ¬ Owners, Management, Operators Wholesalers and Customers.
Finally, a small but important message from the author.
"Distancing may create a little social-pain now; but it creates a huge society-gain in the future".
Distance=discipline, a brilliant old-fashioned word that never fails. Please keep safe. Francis