** UPDATED 10 June, 2020 (with official opening day pics)**
At long last, western Sydney's new shopping, dining and entertainment destination is here. On Wednesday 10 June, after a pandemic-related false start, Eastern Creek Quarter (ECQ) opens to the community. Frasers Property Australia's new super-neighbourhood centre is anchored by a full-line 3,800m2 Woolworths supermarket and houses a mix of local concepts, quality brands and the unique ECQ Social revolving retail precinct. 
Felicity Armstrong, General Manager Retail Assets at Frasers Property Australia, says Eastern Creek Quarter brings something unique to the western Sydney retail landscape in an easily accessible location. 
"From the convenience of a new Woolworths supermarket, to a comprehensive health and wellbeing offer, and an Australian-first dining experience with a distinct local flavour, we're proud to welcome the community to its new super-neighbourhood centre,"
ECQ was set to launch in March but escalating COVID-19 restrictions and Woolworths' need to prioritise online orders for vulnerable people in the community meant the opening had to be deferred at the time. 
"Eastern Creek Quarter is not the only shopping centre affected by COVID-19 but it has nonetheless been a challenging and uncertain time for our retailers. Today many will open their doors after a patient wait, and their spectacular stores will be available for the community to enjoy." said Armstrong. 
Joining Woolworths at ECQ is BWS, Choice Pharmacy, Toy Deals, Red Dollar, CSD Fashion, Planet Mobile, Fonesolution, The Goodfellas Room, Hair & Co, CTC Eastern Creek, Bonds Outlet, Little Prince Flower Shop, Neo Body Laser Clinic, Lee's Massage & Acupuncture, Blush Nails & Beauty, Smile Dental Co and Star Car Wash. 
Additionally, Live Well Health Clubs gym will open on June 13 and Max Care medical centre is preparing to serve the growing Eastern Creek community. 
At ECQ Social, there's a diverse and delicious line up of concepts run by western Sydney locals including Vietnamese operator Pho Ever, Thai Master, Croatian concept Marijan's Grill, kebab specialist Middle East Feast, Desi Hatti Street Food Indian cuisine and the Filipino-dessert inspired Hanmade's Bakehouse. 
Amanda Whittle, Centre Manager at ECQ says: "There's nothing else like ECQ in Sydney and we encourage everyone in the local area to support the local businesses which will give ECQ its own identity." 
The offer within ECQ Social will change and evolve on a semi-regular basis to bring the best of the emerging food scene to the local community. With covered and alfresco seating and integrating the revolving street food tenancies with permanent dining choices, ECQ Social also features an outdoor deck, kids play area and large format outdoor digital screen.
Other food retailers set to open on Wednesday at ECQ include Bakers Choice, Pizza by Slice, Redly Chicken, Sushi Hub, Gotcha Fresh Tea, Paradise Charcoal Chicken, The Chocolate Room, The Shed Eastern Creek and ECQ Fruit World. Fishery & Co. will also be opening soon. 
Shoppers are encouraged to download the ECQ Rewards App, which they can use to accumulate points as they shop to be redeemed for vouchers and special offers, and to participate in competitions. 
Reflecting its high-profile Western Sydney Parklands location, ECQ is a global leader in environmental sustainability. Stage 1 has been awarded a 6 Star Green Star Design rating by the Green Building Council of Australia, representing world leadership. 
"The new Eastern Creek Quarter benefits the whole community by creating more quality local jobs and significantly contributing to the recurrent income for Western Sydney Parklands Trust over the long term. This allows the Trust to manage 98% of the Parklands including providing high-quality green open space, award-winning recreation areas, maintaining over 60km of tracks and trails and helping to fund a 1,000ha expansion of bushland corridor," says Suellen Fitzgerald, Executive Director, Western Sydney Parklands Trust. 
The first stage of ECQ covers approximately 10,000m2 of gross lettable area and features 1MW of solar panels, a 200kL onsite rainwater tank, water management features to capture and re-use water for irrigation and amenities purposes, extensive landscaping and trees in the external carpark area, bicycle parking facilities, internal landscaping and greenery, and more. 
With ECQ Stage 1 opening, Frasers Property is focused on leasing for Stage 2, which will deliver approximately 11,600m2 of large format retail space and approximately 350 parking spaces.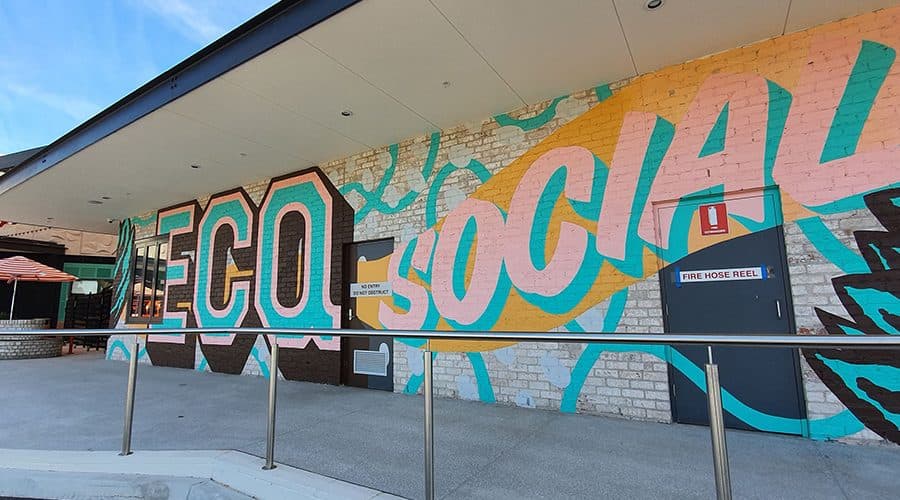 ECQ Stage 2 is among the projects named by the NSW Government to undergo a fast-tracked assessment process as part of the Planning System Acceleration Program, to inject investment into the economy and keep people in jobs during the COVID-19 pandemic. 
Frasers Property is on the lookout for homewares retailers, adventure goods stores, automotive specialists, whitegoods brands, pet supply stores and other showroom retailers. There are also opportunities for indoor recreation centre operators, including children's play centres and even swim schools. 
The fundamentals for large format retailers and showrooms are strong given the site's accessibility, with 11.2 million vehicles travelling along the Great Western Highway annually. ECQ is within a 15-minute drive for 330,000 people and a 30-minute drive for 1.2 million people. 
According to LocationIQ, expenditure in the ECQ trade area is forecast to grow to $23.6 billion by 2036. The area is categorised by younger, larger than average families with household income levels around 20% higher than the Australian benchmark.
To help ECQ's tenants adapt to the new normal and hit the ground running, Frasers Property is launching ECQ Order Up!, a bespoke solution to assist food retailers in providing contactless table ordering, take-away, curb-side pick-up and home delivery to their customers. ECQ Order Up! works similarly to other food delivery services but at a fraction of the cost to ECQ's retailers.