Vicinity Centres (ASX:VCX) today announced its results for the 12 months ended 30 June 2021 (FY21), with a statutory net loss after tax of $258 million, however the group delivered on strategy to preserve occupancy, at 98.2% with strong leasing activity in the second half of FY21.
While Vicinity continues to be impacted by the COVID-19 pandemic, FFO was 7.4% higher than FY20, largely reflecting strong Net Property Income growth, up 8.7% to $743.4 million.
Grant Kelley, CEO and Managing Director, said: "FY21 was an extraordinary year for Vicinity, our industry and the retail sector more broadly. The pandemic has had a significantly adverse impact on our business, however we are seeing some positive momentum in our financial results especially in regard to asset valuations, which seem to be progressing towards stabilisation.
"Since the onset of the pandemic in March 2020, Vicinity has allocated more than $230 million in the form of financial support to retail tenants, around 90% of which, was via outright rental forgiveness. This is in addition to the significant investment made to implement a wide range of COVID-Safe measures across our centres nationwide.
Vicinity will continue to support retailers in categories and locations most affected by the pandemic.
"While our financial results reflect the magnitude of COVID-19 impacts and retailer support in FY21, our balance sheet highlights our disciplined approach to managing capital during a period of heightened uncertainty and risk and creates opportunities for the future.
Kelley said, "Despite significant and often prolonged disruptions, consumer and retailer activity during the year demonstrated underlying resilience. In all states, when COVID- 19 restrictions eased, consumers were quick to return to retail malls with confidence and the capacity to spend.
Similarly, in states that have been largely COVID-free such as Western Australia, South Australia, Tasmania and Queensland, visitation has remained near to pre-COVID levels, while sales growth has been strong, benefiting from consumers shopping locally.
On Vicinity's portfolio performance, Kelley commented, "Operationally, the team's execution has been outstanding, especially given the disruptions and challenges faced by the retail sector. We delivered on our strategy of driving robust occupancy in FY21, with occupancy of 98.2%, 20 basis points higher than our 1H FY21 result. We negotiated 1,257 leases (FY20: 824), and more than three quarters of all new leases were negotiated on our standard terms with fixed 5% annual growth rates."
Many of the structural shifts occurring in Australia's retail industry prior to the onset of COVID-19 accelerated during the pandemic. The rise of online shopping, retailer demands for premium assets and locations which facilitate omni-channel retailing, heightened regulatory risk and the need to invest in data, digital and technology solutions to stay ahead of the innovation curve, are all trends that continue, but most customers maintain a strong preference for shopping in person.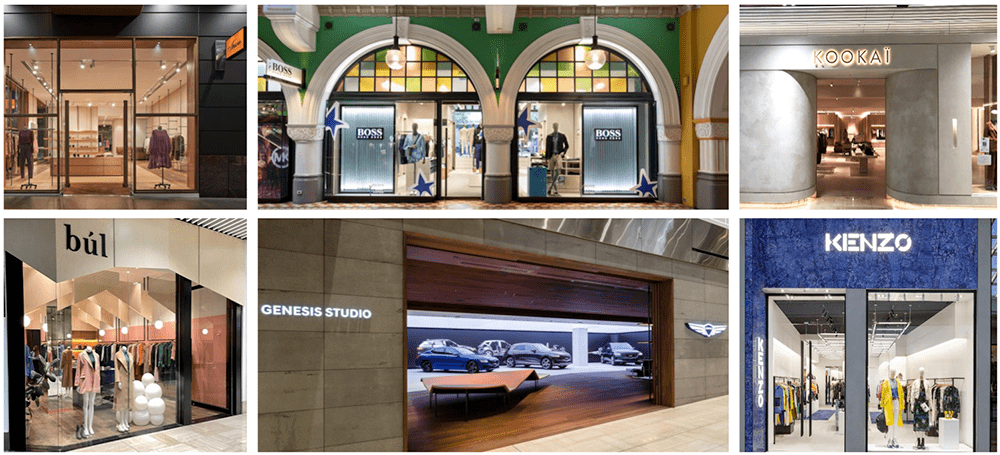 While Vicinity's vision of reimagining destinations of the future and creating places where people want to connect remains unchanged, the overarching strategy of how Vicinity will deliver this has expanded.
Vicinity will continue to optimise and grow its core retail portfolio to deliver enhanced performance with its well-developed retailer, consumer and operations strategies. As part of its portfolio investment strategy, Vicinity will continue to invest in and develop its Premium and DFO segments.
By leveraging these assets and capabilities more effectively, Vicinity expects to grow core retail property rental income and create new revenue streams in the following three areas:
Adjacent products and services utilising core assets and capabilities to create new products and services
Mixed-use developments bringing new users to our retail assets and new forms of rental income
Third-party capital creating strategic partnerships with aligned capital partners and a funds management business to drive fee income.
Vicinity's mixed-use development agenda is well established and will continue to be a key lever for growth. In FY21, town planning approvals were received for 12 projects and two additional mixed-use town planning applications were lodged.
Vicinity has also announced an investment with Taronga Ventures, a leading technology and innovation investor in Asia. This will provide Vicinity access to new and innovative technologies and will complement our growing, in-house new product development program that is so far delivering new data, insights and technologies, a large solar energy program and centre-based distribution solutions.
During FY21, Vicinity progressed all three of its Sustainability pillars; Community Significance, Low Carbon Smart Assets and Climate Resilience.
In summary, Kelley said, "FY21 was a challenging year for Vicinity, but it was also a year of significant progress for our organisation. Operational execution was outstanding, and our disciplined financial and capital management enables us to enter FY22 with a strong balance sheet, with capacity to withstand further COVID-19 disruptions whilst supporting our refined growth agenda".