Shopping Centre News speaks with Ryan Buzzell, President of TOMRA Collection Solutions, the technology provider for the Return and Earn NSW Container Deposit Scheme. Buzzell explains the environmental, community and financial benefits of hosting a reverse vending machine (RVM) at your retail shopping centre.
Since the Return and Earn scheme launched in December 2017, shopping centres across NSW have enjoyed the multi-faceted benefits of hosting automated reverse vending machines – known as RVMs – as return points for recycling empty 10-cent drink containers.
An initiative of the NSW Government, the benefits of the Return and Earn scheme stretch way beyond the value of the 10-cent refund for individuals and charitable organisations. The scheme has made a powerful difference to the environment and the economy – and shopping centres have been right at the heart of the success story.
"The benefits of hosting an RVM speak for themselves – increased foot traffic, additional income streams, contributing to a cleaner and more sustainable future and engaging with your local community." Said Buzzell.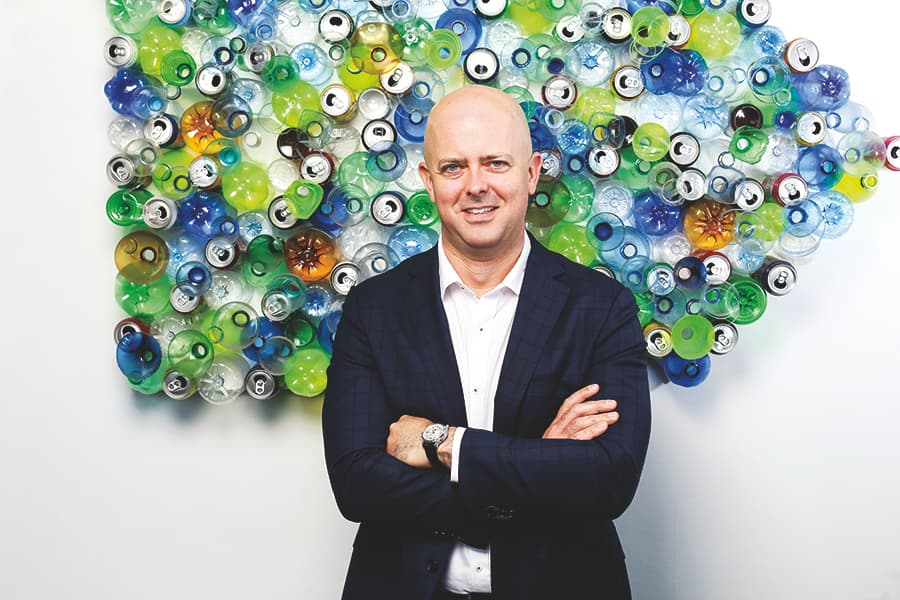 In nearly three years of operation, litter in parks, rivers and oceans has reduced by an annual average of 40%, according to Keep Australia Beautiful's annual Litter Index. This is because the percentage of drink containers being recycled has dramatically increased. Prior to the scheme's commencement, only about 32% of all drink containers in NSW were recycled. In NSW, the scheme has increased recycling rates, with the first six months of 2020 seeing three out of every four eligible drink container sold in the state returned for recycling through the scheme. Most of them are processed into new bottles and cans in a clean loop process that reduces the need for new materials.
Where do shopping centres fit into all this?
Well, each year, the typical Australian consumes about 450 drinks from single use containers. In NSW, where 75% of NSW residents have participated in Return and Earn, most of these empty drink containers are being brought back to RVMs at retail shopping centre car parks where between four million and six million containers per day are returned for recycling through the scheme.
Locating return points in shopping centre carparks substantially boosts returns by making recycling part of people's everyday routines. Instead of stockpiling empties for a trip to a depot, the community can simply return containers and collect refunds when doing their household shop.
The people of NSW are voting with their feet on this one. Container returns generate some $400,000 – $600,000 in customer refunds per day, the equivalent of more than $175 million per year. Most refunds are provided in the form of retail cash vouchers that the customer can choose to take into a participating retailer to claim either instant cash or, more commonly, a discount off their shopping.  All of which delivers a valuable increase in foot traffic for the shopping centre and the participating retailer – week in, week out.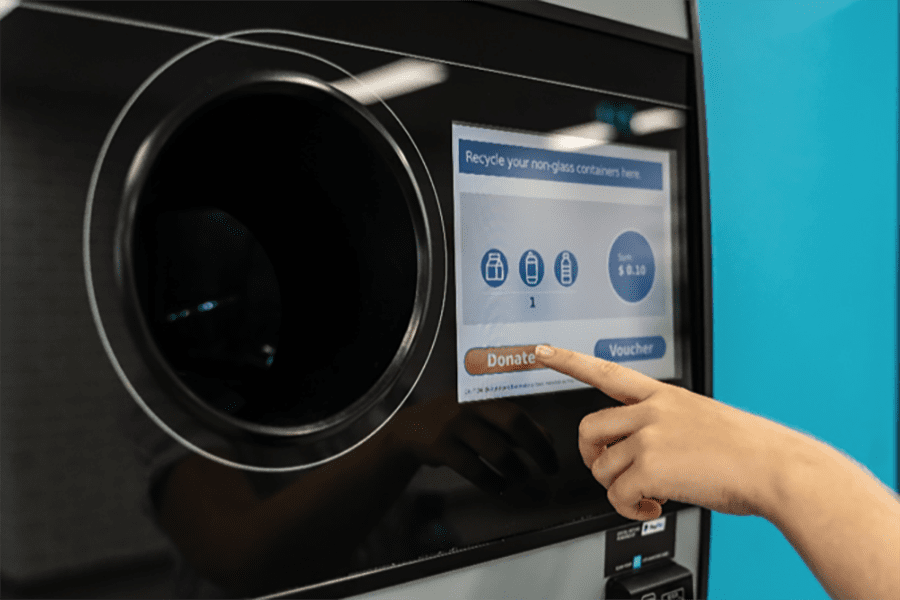 Colliers International analysis estimates that hosting an RVM on-site currently generates an annual 2.5% increase in incremental foot traffic to participating centres.
In addition, hosting an RVM within a shopping centre car park provides a direct and incremental source of revenue each month in the form of a monthly rent for the provision of the space that landlords provide to the RVM. The ability to generate an ongoing income from a few car spaces is something that has never been available before and is greatly appreciated by all those currently hosting an RVM.
With all cleaning and servicing provided by TOMRA on a daily basis, there are no ongoing costs or requirements beyond providing the space. All we need is power and permission – it's that easy!
But hosting an RVM is not just about driving foot traffic and meeting your sustainability targets; they also have the potential to engage your community and change lives for the better too. How? Because each RVM features up to four different charity donation partners – including a blend of major state-based charities and local charity partners. Each time NSW recyclers return their containers through an RVM, they have the option of selecting 'donate' on the interactive touchscreen to donate part or all of their container refund to one of the charities available for selection on the machine.
It might seem like a small thing, donating the refund value of ten containers or $1.00, but with the popularity of Return and Earn and the average weekly volume of more than 40 million containers – it can very quickly add up!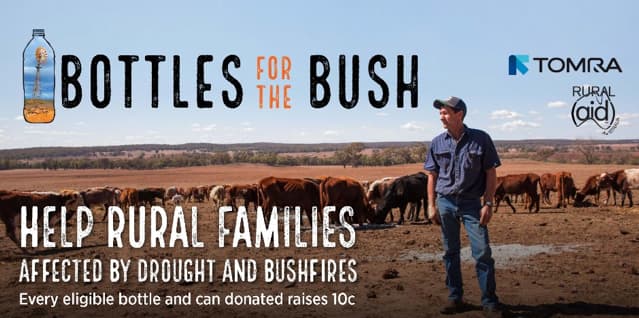 The potential for significant charity and community fundraising through Return and Earn was recognised early on in NSW. As the drought and bushfires continued to take their toll in late 2019, TOMRA launched the major national 'Bottles for the Bush' appeal in partnership with Return and Earn in November 2019. This time, Rural Aid was the sole charity donation partner available on the RVM screens to help rural families affected by drought and bushfires. In 16 weeks, more than $500,000 was raised and over 80% of the donations were made through the RVMs.
For more information on how to host an RVM at your shopping centre, please visit www.mytomra.com.au/host_rvm