Retailers play a vital role in creating great shopping centres and community spaces. At Shopping Centre News we think it's important to showcase and profile retailers to our audiences. This week, we speak to Natalie Brennan, General Manager of Food Co's Muffin Break. Natalie explains how the business has had to pivot and adapt to the ever-changing climate and how they are constantly working towards creating a better future for their communities.
What is your current role and main responsibilities?
For almost 20 years, I have worked for the Foodco Group, franchisor for the Muffin Break Bakery and Jamaica Blue Cafés. I am currently the General Manager of our largest brand, Muffin Break, which has been operating in Australian shopping centres for almost 32 years. I lead a team that helps our franchise partners succeed in their businesses, including operations, marketing, training, products and customer satisfaction.
Tell us a little bit about your career and how you got started in retail?
I originally trained as a high school teacher, but I never taught. Instead, I got a job as a customer service trainer when the then newly built Myer Centre opened in Brisbane. I had been working for McDonald's during my schooling and college, so I always had a love of food brands. Foodco was the perfect company for me; I found a job that combines my passions – food, people, and retail.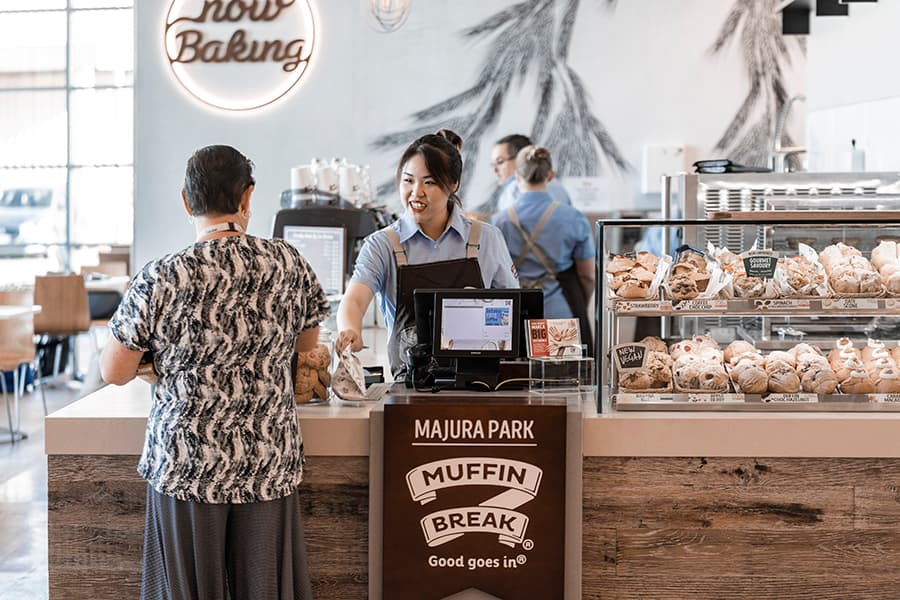 What are some of the ingredients that makes a successful retailer?
It sounds simple – but give the customers what they want. To do that, you have to listen, listen, listen. My Mum always said: "You have one mouth and two ears and there is a reason for that". Listen twice as much as you speak. Good retailers will always have the customers' best interests at heart. For us, that means constantly seeking out ways to make our customer's day easier, more enjoyable, or simply just putting a smile on their face. Our franchise partners, their teams and our brand aim to put a little bit of good into every customer's day, through the products we offer, the personalised service or simply by a friendly moment created in-store. And lastly, every successful retailer needs passion and enthusiasm. It is so important to love what you do and love the life you live!
What excites you most about your brand?
So many things, but it is the partnerships that excite me most about our business. Our franchise partners show up every day and put their hearts and souls into the business. They bake fresh every day on-site, which is uniquely different from our competitors. This is why our products taste so good; it's the love and care that they put in. There is no muffin-making factory, just families across the country baking their hearts out. Some of our franchisees have been with the brand for 20 years or more and I have been privileged to see these family businesses grow and thrive. It makes me and my team strive to do everything to help them achieve success.
I am also excited about the work we are doing with some of our brand partnerships. We are constantly working towards creating a better future for the communities in which we live, and this commitment to giving back is done through key partnerships. Working with Simply Cups, we have helped divert more than 12.8 million coffee cups from landfill. Our Strawberry Lamington Muffin has helped raised funds and awareness for Share the Dignity, which makes a real difference to women experiencing homelessness and poverty. And Wakakirri is Australia's largest Performing Arts Event, where we sponsor a school to help them get to perform at the national Wakakirri Story Dance Challenge.
What's your best performing store and why?
Our best performing stores are those in regional centres. The Muffin Break, always owned and run by a local family, becomes a hub within the local community. There is a real commitment in regional Australia to supporting local businesses and this is reflected in these sites' success.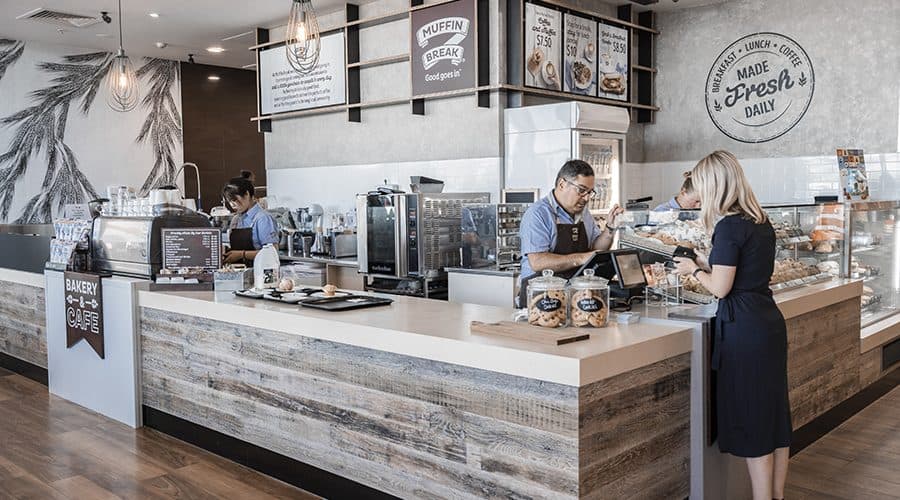 What are the best landlords doing well?
Good landlords create great tenancy mixes, and have centres that are hubs for the community, not just pure shopping. They see their tenants as partners and strive for their individual business success as much as for the centre's success. All customers are treated like true guests, so they don't charge for parking or over lease their spaces. They have facilities to enhance the visit from playgrounds to concierge services, valet parking to car washes, Click & Collect to free entertainment.
How has COVID-19 impacted your business?
COVID-19 has had a significant impact on our Franchise network, as it has throughout all the retail and food and beverage sectors around the world, including our stores in New Zealand and UK. At times, due to government lockdowns, we have had to close a number of our stores temporarily.
We've had to pivot and adapt to the ever-changing climate around us and new customer shopping and purchasing habits. This has meant going online, adding delivery services, going 100% take-away and creating activity packs for home bakers.
First and foremost, it has been critical that our customers feel safe and secure when visiting our stores that remain open. Since March, we have had a team in place to ensure that we are following all procedures and advice. It has also truly shown the resilience of our franchise partners and the network, and for that I am truly proud of each and every one of them. We are looking forward to the other side with optimism.
What could the shopping centre industry overall be doing better?
I would love to see all shopping centres having a stronger focus on sustainability. Shopping Centres are great creators of waste, whether it be for general waste, packaging, or take-away dining. Overall, to assist with closing the loop, they could be implementing ongoing sustainability goals that are actively implemented at a centre level. Doing their bit will assist to create a greener future.
If there was one thing you could change about the retail industry, what would it be?
I would love theatre to be brought back into retail, rather than it all feeling like a fast transaction. When I was a kid, the visit to a shopping centre included a free show on centre stage, including fashion parades and talent competitions. I loved the magic shows and the holiday performance of the Johnny Young Talent School of dancers. The arrival of Santa (often with a parade through the streets) was something I looked forward to every year. And with all those trips to the centre for a free show, my mother shopped. Take away everything but the transaction and we end up shopping only online. We need to bring back more joy and excitement to the average trip to a centre.
What other retailer(s) or brand(s) do you admire?
I admire a variety of brands, each for different reasons. In fashion brands – Peter Alexander, for not only being born and bred in Australia, but also for its love of whimsy, celebration and fun, which is evident in its shop displays, products and dedication to its customers. In big box retailers – K-mart, for everyday items, done well at affordable pricing. With two young children, K-mart is a regular stop for our family. Its transformation in the past 12 years has been extraordinary and sets the company up to be the leader in that space for many years to come. And in other food retailers – Zambreros, for its commitment to feeding those in need with its Plate 4 Plate program.
What keeps you awake at night?
Pre-COVID, I worried about the world in general, how consumption was driving practices that were not healthy for our environment or the world in general. Over the lockdown periods during COVID, the environment across the world seemed to catch up – pink flamingos returned to the waters of Mumbai, dolphins appeared in the canals of Venice – so now I worry about how we can maintain that environmental care, while also building back the economies of the world.
Locally, in Australia, I worry about all of our business partners; how quickly the economy will recover and, ultimately, how quickly will their businesses recover? It's thinking about navigating 2021, dealing with COVID and maintaining everyone's safety while trying to build back business. I am so optimistic about the future that, right now, my mind is full of ideas, which is why I can't sleep. We need to use this time as a re-set, and really evaluate what do we want to keep, change or delete?
Do you have any hobbies? What's your favourite pastime?
My most important job is that of being Mum to nine-year-old twin boys; so my favourite pastime is spending time with them. But regarding hobbies, for the past few years, the favourite family activity centres around our beehives. We have a couple of beehives in the back yard that we spend a lot of time on. That could be gardening to create the flowers the bees need or feeding the hives with sugar syrup when, during the past few years, we have had little rain. The boys help their Dad harvest and prepare the honey. They proudly bottle and label it and then run a honey stand in front of the house, to raise money for charity every year. It is an all-year-round project that keeps us as busy as the bees.