Following a challenging and extraordinary year so far, Sydney's iconic Queen Victoria Building (QVB) has collaborated with celebrated local artist, Gerwyn Davies, on a new large-scale art installation in the form of 'The 2020 Tree' – a reimagined interpretation of its iconic Christmas tree – with the vision to bring a little joy and light to the Sydney community. 'The 2020 Tree' is on display under QVB's Centre Dome stretching up through 3 levels from Wednesday 19 August 2020 until early October. 
Christmas Trees are traditionally, and universally, considered a symbol of hope and joy and 'The 2020 Tree' reflects these values, encouraging Sydney to pause, reflect and find joy as we continue to navigate the challenges of 2020. Rest assured, the beloved, iconic QVB Christmas Tree will be back once again from November when the Festive season launches. 
The concept for the tree has been created by local artist Gerwyn Davies and produced by Chas Clarkson to create 'The 2020 Tree'. The concept uses the QVB's historic architecture as a juxtaposition for a contemporary interpretation, solidifying the building's position as the ever-evolving, ever-present beating heart of the Sydney CBD in a time like no other.
Vicinity Centres Director of Premium Assets, Fiona Mackenzie said: "2020 has been a challenging year for our community, first with the tragic bushfires followed by the COVID-19 pandemic that continues to impact Australia and the world. The art community has been especially impacted during this time, so we wanted to bring the power of art to our building both physically and virtually, to be reminded that the simple things in life can bring us joy, and be anything but ordinary."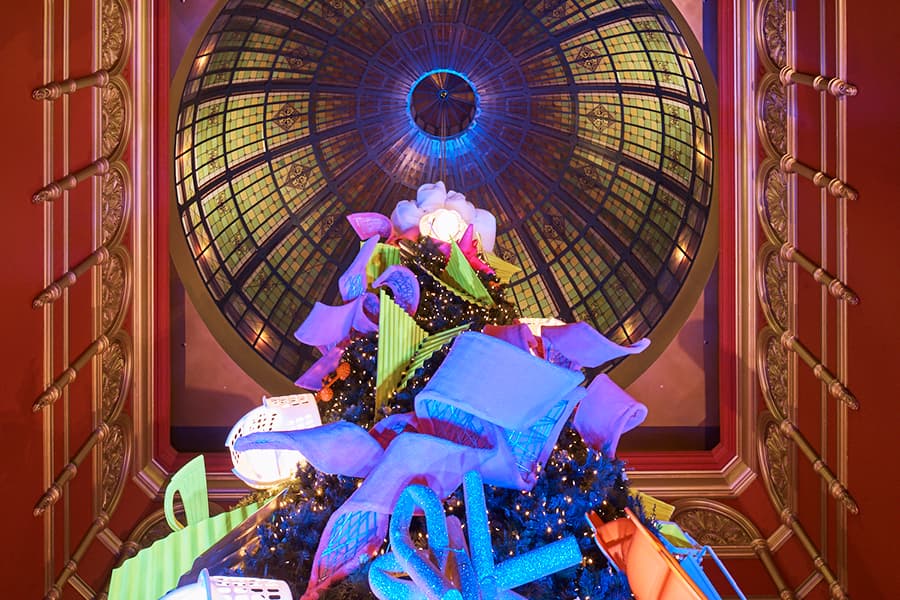 Made especially for this time, 'The 2020 Tree' has been adorned with everyday objects such as children's clamshell sandpits and traffic cones to bring to life how the ordinary has become extraordinary this year. The crowning lightning bolt stands tall on the top of the tree, as a symbolic gesture that sparks joy and reignites the city.
'The 2020 Tree' is on display until early October for people to visit in person, abiding by strict social distancing guidelines and within a safe and hygienic environment, or virtually, with behind-the-scenes footage, artist interviews and a virtual tree tour via the QVB's website and Instagram.
"Our priority remains the health and safety of our community, so we'll also be offering our customers who are at home a virtual experience to enjoy even if they're not able to visit the QVB or Sydney's CBD," Mackenzie said. 
The collaboration supports Sydney-based artist, Gerwyn Davies, whose practice brings together fine art and commercial photography. Davies was delighted to be given the opportunity to represent 2020 through his artistic interpretation and display his piece in such an iconic setting. 
"I want to work with everyday materials, domestic items we have spent a little too much time amongst this year, objects that are more functional than they are fascinating. By cutting them up and reassembling them as sculptures, I wanted to suspend the moment of recognition when someone encounters them on the tree and to turn their mediocrity into something a little bit more magical and playful," Davies said.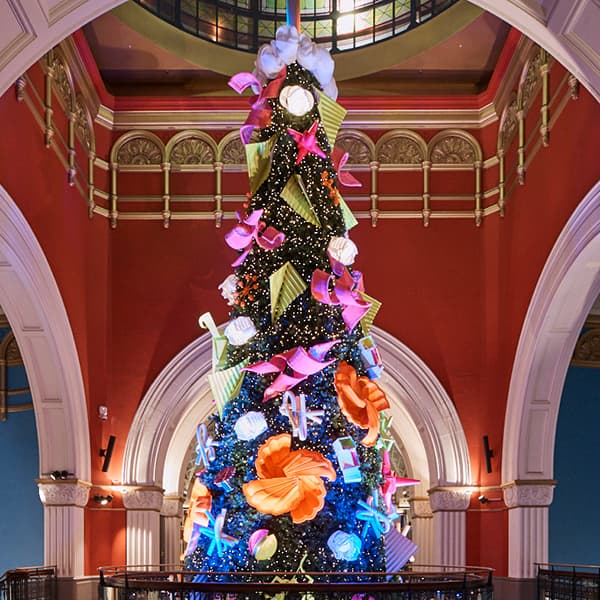 To mark the 2020 Tree's arrival at QVB, customers visiting are invited to enjoy offers and experiences from a range of participating retailers. This includes bespoke products such as personalised monogramming, sweet treats and gift cards, which have all been designed with COVID-19 safety in mind. 
The traditional Christmas will again take centre stage from early November, as it has for more than a decade.