Emerging as a beacon of prosperity in Melbourne's west, Sunshine is becoming a new commercial hotspot, with Sunshine Plaza revealing the redevelopment plans for its current site.
Approved by Brimbank City Council in 2020, the established essential services hub has uncovered its plans to build a 15,300m2, six-level A-Grade commercial office above the existing shopping centre, including a 120-child early learning centre, named Sunshine Plaza Corporate.
Creating 200 construction jobs and bolstered by its proximity, Director of Office Leasing at Savills Australia, Mathew Kent, said the western suburbs is a major growth corridor for business with Sunshine providing a thriving commercial office and retail hub.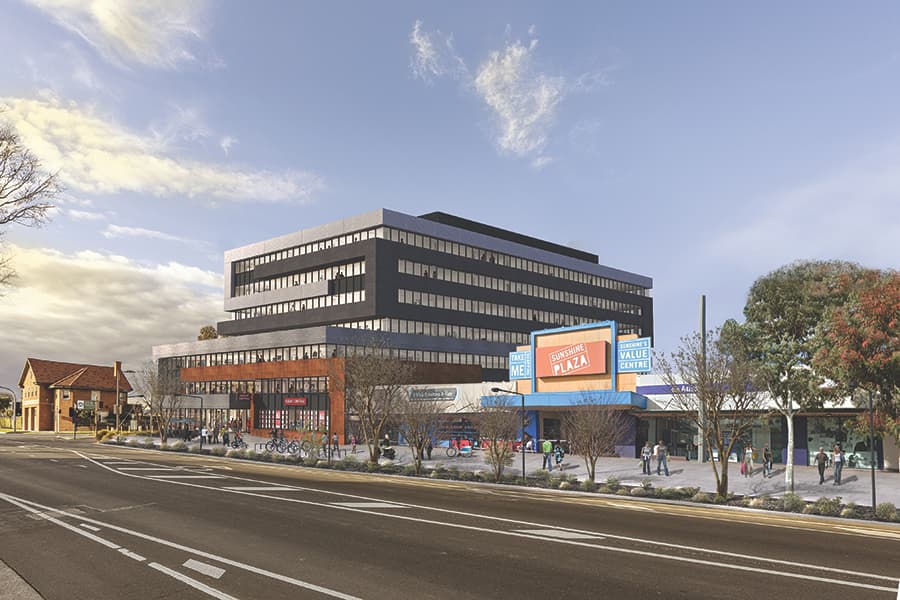 Major infrastructure such as the Melbourne Airport Rail Link, set to connect the Melbourne CBD and regional rail links to Geelong, Ballarat and Bendigo to the airport, the Westgate Tunnel Project, the Metro Tunnel and the Suburban Rail Loop all contribute to making Sunshine a winner in the continued shift toward decentralisation.
"Located only 11km from Melbourne's CBD, Sunshine has been identified as one of the six National Employment and Innovation Clusters (NECs) and is proposed to become a major jobs centre in the west's burgeoning economy.
"With an expected 79% of Victoria's population set to reside in Melbourne by 2027, the swell in numbers means we can expect to see more people living and working away from the city, even more so in a post-COVID era as people adopt a more flexible lifestyle.
"Given its optimal location, just 20 minutes from the CBD and proximity to key rail and road infrastructure, the investment into upgrading local facilities like ours, along with the likes of Sunshine Hospital and Victoria University, it is an exciting time for the west."
Designed by award-winning architects Gray Puksand, the striking and contemporary new look building will be an ideal addition in this high-profile location, with its commanding yet sensitive integration within the existing Sunshine Plaza retail facility.
Expressing an architectural language that features stacked and offset folded forms, the design encompasses multi-toned textured concrete and weathered metal feature boxes as keystone blocks, with the folds sliding and interlocking like a puzzle.
Acknowledging the site's context, history and geological topography, the palette consists of rich earth tones, including charcoal forms that pay homage to the volcanic basalt flow that characterises the local geology. While rust tones found in the weathered metal reflect the iron relics of the historic Sunshine Harvester Works in the early to mid-1900s.
Proud to be the suburb's premier essential services hub, Sunshine Plaza is also the city's greenest retail precinct; home to one of the largest completed solar installation on a shopping centre to date, marking it as one of the most substantial in Victoria.
Sunshine Plaza is a sub-regional shopping centre home to ALDI, Medical One, FMIG, Anytime Fitness, Vicfields Fresh Food Market, TerryWhite Chemmart and more than 30 specialty retailers.