Hong Kong's Link REIT has acquired a 50% interest in trophy Sydney retail assets the Queen Victoria Building (QVB), The Strand Arcade and The Galeries in a landmark transaction valued at $538.2 million.
The deal struck on a core capitalisation rate of 5.00%, represents Australia's largest CBD shopping centre transaction since late 2017 when Vicinity Centres acquired its 50% interest in the same trio of centres, which it continues to manage.
CBRE's Head of Retail Capital Markets – Pacific, Simon Rooney, introduced Link REIT and EG Funds (Link REIT's investment manager in Australia) and negotiated the sale on behalf of Singapore sovereign investor GIC, with the campaign jointly managed by Lachlan MacGillivray, Head of Retail Investment Services, Colliers.
"The Link REIT/EG acquisition is expected to instil further confidence into Australia's retail investment sector, demonstrating the enhanced institutional demand for core retail assets and the ongoing investor confidence in the future of CBD retailing," Rooney said.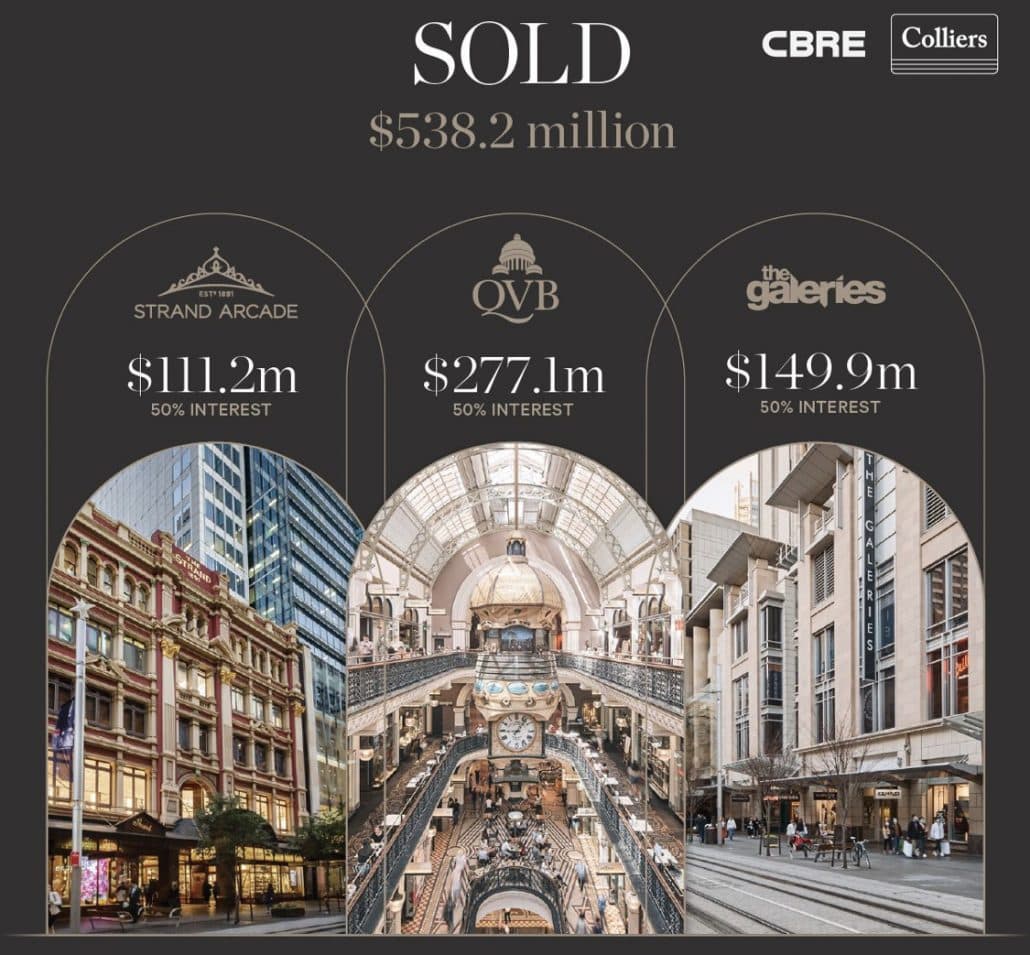 "Assets of this scale, quality and reputation are rarely sold and in the case of The Queen Victoria Building, The Strand Arcade and The Galeries, this was the first time the portfolio had been publicly offered to the market. These iconic centres are regarded as among the best in Australia and dominate Sydney's core retail precinct, which is positioned for recovery following the end of lockdowns, as workers, tourists and shoppers return to the CBD."
The three Sydney centres serve a resident total trade area of 3.8 million people, being the most densely populated residential area in Sydney and one with a combined retail spending power of $60.6 billion. The centres also cater to a fully returned Sydney CBD workforce of 168,460 – the largest in Australia
At the start of 2020, the centres had a moving annual turnover (MAT) of $613 million MAT and attracted 61 million visitors per annum. The Strand Arcade ranks 1st and QVB ranks 2nd in Australia for total MAT, while The Galeries ranks 4th in Australian for total specialty MAT.
The assets have a gross lettable area of 34,877m2 and comprise 334 tenants, 46.1% of which are unique and do not have another store in Sydney's CBD.
The QVB comprises one of the largest footprints in Sydney's core retail precinct, with almost 200 metres of frontage to George Street. It is recognised as Australia's largest Victorian Arcade and an historic Sydney landmark.
The Strand is the only remaining arcade of its design in the CBD and is regarded as a premium retail centre housing many of Australia's best designers, while The Galeries is a lifestyle and cultural destination for fashion and dining that offers a unique shopping experience. It has drawcard retailers unique to Sydney as well as a strong performing food-court and trendy dining operators.
The acquisition of the 50% stake in the Queen Victoria Building, The Strand Arcade and The Galeries represents the latest investment in Australia for Link REIT, following its $683 million purchase of Sydney's 100 Market Street office tower two years ago.
The group has been pursuing additional assets as part of an open-ended mandate with EG Funds Management.
Nicholas Allen, Chairman, Link said: "The acquisition of this prime retail portfolio is part of our Vision 2025 growth strategy to diversify and improve our portfolio mix. We are excited to have captured an opportune moment to invest in these iconic Australian retail assets."
George Hongchoy, Chief Executive Officer, Link added: "Given the high occupancy rate filled with leading Australian and international brands, the portfolio is well-positioned to capture the retail rebound with the improving consumption sentiment in the country. Coupled with the strategic partnership with a leading retail asset manager in Australia, we believe both parties will jointly enhance the portfolio to ensure these landmark assets will deliver the best retail experience to all shoppers and unlock their long-term growth potential."
Link will fully fund the acquisition through its cash resources and debt facilities. The transaction is expected to complete in the first half of 2022.
CBRE data shows that almost $4.52 billion flowed into Australian retail investments in Q2 and Q3, up 118% on the same period last year and markedly ahead of the comparative spikes in office and industrial transactions.
That momentum has continued into Q4, with Vicinity's $358 million acquisition of a half share in Harbour Town Gold Coast for $358 million from the Lendlease managed APPFR, UniSuper and Cbus Property's partnership with AMP Capital to take majority ownership of Pacific Fair on the Gold Coast and a half stake in Sydney's Macquarie Centre for $2.2 billion, Haben Property Fund and Hong Kong-based JY Group's acquisition of Wollongong Central for $402 million.