More than six decades after the first customers arrived, Chadstone is embarking on another project which continues the evolution at Australia's leading integrated lifestyle destination.
One Middle Road, a new 20,000m2 office building positioned in the heart of Chadstone, will redefine arriving at Chadstone for the wide array of visitors to the precinct, from shoppers to retail and office workers, hotel guests to the local community that takes advantage of essentials including gym, medical clinic and food markets.
In a highly visible location within the greater Chadstone precinct, One Middle Road will enjoy dedicated port cochere access and accommodate more than 2,000 direct and indirect full-time workers.
Celebrating Chadstone's location between the Monash Freeway and Princes Highway (Dandenong Road), One Middle Road is situated in one of Melbourne's most accessible transport corridors and has been designed with current and future employment trends in mind.
General Manager – Mixed Used Development, Truman Dare said the new nine-storey office building will further integrate Chadstone's world-class retail, dining and entertainment precincts along with Hotel Chadstone's five-star accommodation and conference facilities.
"In 2020, we learned that for employers and employees alike, there are a range of benefits associated with working and playing closer to home, and One Middle Road reflects this trend, Dare said.
"One Middle Road offers nine-storeys of energy efficient, state-of-the-art, campus-style office space and incorporates an outdoor Sky Garden – a first of its kind for office workers at Chadstone."
One Middle Road will target a benchmark 5-star Green Energy rating and International Living Future Institute zero energy certification, in addition to encouraging sustainable commuting with first-class End of Trip facilities.
Chadstone Centre Manager, Michael Whitehead, said One Middle Road will provide unrivalled convenience for people who will work in the new office.
"One Middle Road has been designed with hyper convenience at the forefront, delivering direct access to The Fashion Capital, including the proposed expanded dining and entertainment terrace. With additional plans to deliver new fresh food and wellness precincts at Chadstone, One Middle Road visitors will also enjoy the convenience of shopping for their everyday essentials and services, a stone's throw from the office every day of the week."
"It's fitting that today, as we celebrate the 60th year of Australia's most iconic shopping destination, we are able to share our plans for the next phase of Chadstone's evolution One Middle Road," said Whitehead.
The project is expected to generate more than 2,000 direct and indirect full time jobs and is expected to be complete by 2024.
In its 60th year, Chadstone – The Fashion Capital, marks a monumental milestone inviting past and present visitors to commemorate the community's achievements through a calendar of celebratory festivities. 
The series of special events will commence with a media announcement today, followed by an 'In-Conversation' event in August, with a prominent panel of experts to speak to guests on what the future of retail looks like. 
A curated cinematic exhibition will take place at Chadstone in September that will feature photos, archival footage and memories from visitors over the last 60 years, exploring the rich history of the centre and evoking waves of nostalgia. Finally, the year will go out with a bang with the biggest event of the 60-year milestone celebrations – a community carnival with rides, entertainment and fun at Chadstone, taking place in early October for family, friends and visitors to enjoy. 
For 60 years, The Fashion Capital has ignited memorable stories, iconic moments and world-class experiences. Today, Chadstone is excited to announce 'Step Back in Time' – calling out to all Chadstone customers to share their favourite stories of special experiences at the centre over the years.
 "We hope to ignite a sense of nostalgia, excitement and optimism through our calendar packed full of celebrations, and we invite visitors from near and far to join us in acknowledging all that we've accomplished together, and how far we've come as a society over the past six decades." 
 "This milestone is about celebrating everyone who has made Chadstone the place it is today. The success of The Fashion Capital is a testament to the hard work, constant love, dedicated patronage of our local community, and relentless efforts that go into the operation of the centre every day," said Whitehead. 
Paying homage to Chadstone's history and to its current owner, entrepreneur and philanthropist, John Gandel, the celebration further cements Chadstone as an integrated entertainment and lifestyle destination.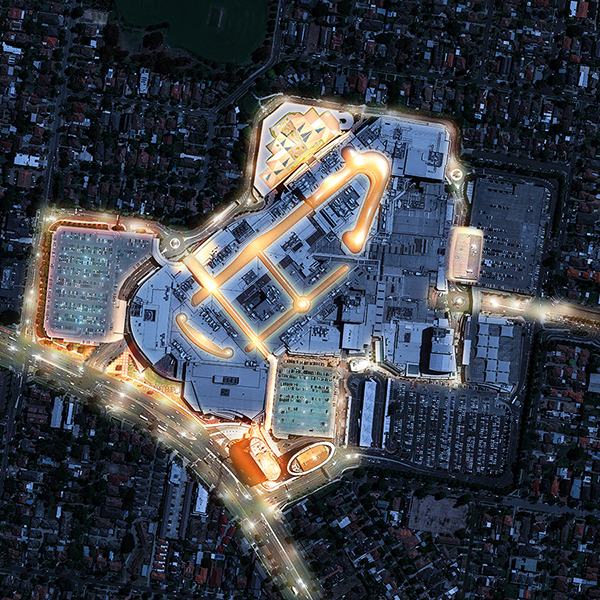 Chadstone's Key milestones
1960 Chadstone officially opened, built at a cost of £6,000,000

 

1983 John Gandel purchased Chadstone from Myer for $37m

 

1984 The original mall was enclosed, Target added to the retail mix

 

1986 Development included the addition of Chadstone's first cinemas

 

1989 Bi-Lo came to Chadstone as fresh food offer expanded

 

1990 The Galleria Mall was built including Australia's first food court and additional specialties

 

1991 The first office spaces were opened at Chadstone

 

1995 Chadstone Corner, K Mart introduced

 

1998 Expansion included Myer, 20 specialties

 

1999 David Jones opened along with another 40 specialty retailers

 

2000 The Entertainment Precinct was opened – HOYTS expansion, Time Zone, food offer

 

2007 Expansion of fresh food including Safeway and the development of a five-level office tower

 

2009 West Mall opened, including ground and lower ground levels, as well as luxury retailers

 

2016 Stage 40 opened including LEGOLAND Discovery Centre, HOYTS, H&M, Uniqlo, Zara, food central, dining terrace, more luxury and Tower One commercial office building

 

2017 Luxury Cross Mall Expansion featuring first to Australia Luxury brands Celine, Saint Laurent, Loewe and Moncler

 

2018 Victoria's Secret, Fresh Food Atrium and Youth Precinct Redevelopment
West Piazza Development welcomed Calia and Yu Kitchen along with the much-anticipated Visitor Lounge and Valet Parking

 

2019 Hotel Chadstone opened its doors to guests in conjunction to The Link – the connective pathway between Vicinity Tower One, Hotel Chadstone and The Fashion Capital