David Jones has contracted to sell its menswear store at 299 Bourke Street Mall to Australian-based investor Newmark Capital for $121 million, progressing with the retailer's plans to create a premium flagship experience in the heart of Melbourne's CBD. The highly sought-after property transacted on a short-term leaseback to David Jones.
Simon Rooney, CBRE's Head of Retail Capital Markets – Pacific negotiated the sale, alongside JACX Property, acting as transaction manager on behalf of David Jones.
Rooney said: "The highly unique offering of 299 Bourke Street attracted significant levels of international and domestic interest and enquiry, resulting in genuine bidder depth, reflecting one of the most competitive retail campaigns for an asset of this size and nature."
Rooney noted that Newmark Capital had been attracted by the opportunity to secure vacant possession of an iconic and landmark super prime asset post the leaseback to David Jones, enabling an exciting re-positioning play to transform the 2,247m2 site into a prestigious, mixed-use asset within Melbourne's iconic and very tightly held Bourke Street Mall.
The sale followed a highly competitive on-market sale process, with over 140 enquiries fielded and 15 bids received, representing a mixture of domestic and offshore investors, high net worth individuals, developers, and syndicate investors.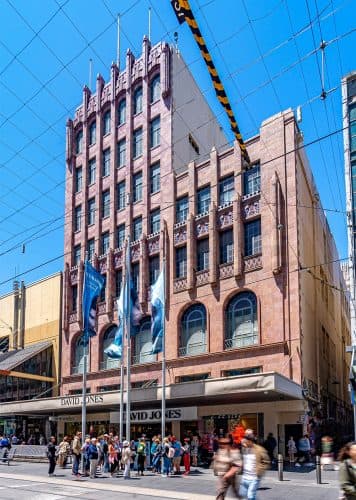 Rooney said buyer interest had been underpinned by ongoing investor confidence in Melbourne – the fastest growing capital city in Australia, which is expected to become the most populous by 2026. "We expect investors to continue to seek strategic,  high-quality core investment  opportunities that offer attractive return parameters in the current market and into the future,"
"Strategic investment opportunities such as 299 Bourke Street, located at the heart of Melbourne's super prime pedestrian mall provides enormous scope and opportunity for Newmark to reposition the asset when David Jones vacate and relocate. Seldom do we get the opportunity to transact these types of investment opportunities." said Rooney.
The transaction will pave the way for the 181-year-old retailer to create a cohesive flagship single-store experience in the heart of Melbourne along Bourke Street Mall, transforming its premier trading site at 310 Bourke Street into an elevated retail destination offering under one roof.
Victoria saw an increase in sales volumes in FY20 with total sales totalling $1.8 billion, up 13.5% on FY19. The largest transaction recorded in Victoria was Brimbank Shopping Centre, sold by CBRE for $153 million by Blackstone to Mulpha International.

David Jones CEO Ian Moir said the successful transaction of 299 Bourke Street and the pending redevelopment of 310 Bourke Street represented a significant milestone in David Jones' flagship strategy.
Moir said, "The divestment of 299 Bourke Street Mall will allow us to focus on the optimisation of our larger 310 Bourke Street store and deliver a more cohesive and elevated single store experience in Melbourne's CBD while simultaneously paying down debt as part of our ongoing debt reduction strategy. The redeveloped 310 Bourke Street, will be specially curated for our Melbourne customers with an emphasis on premium luxury and lifestyle brands across each of our categories."
Newmark Capital's Simon Morris noted, "The purchase of 299 Bourke Street Mall highlights Newmark Capital's focus on building an unparalleled portfolio of assets. We continue to acquire strategically positioned properties which offer unique investment opportunities for our investors."